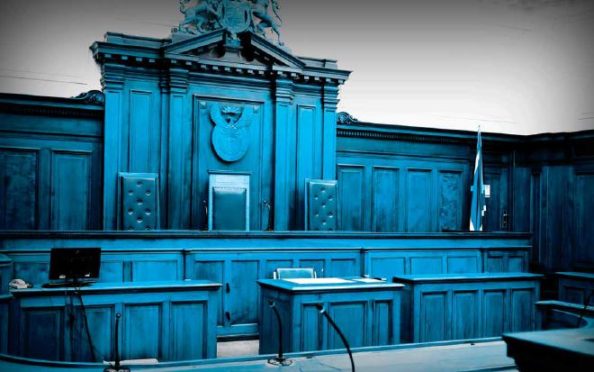 Scotland's court system is staring into the abyss with a backlog of cases which can never be cleared, experts have warned.
The head of the country's court service predicted last month that it could take a decade to clear almost 40,000 outstanding cases, a claim reiterated by Holyrood's Justice Committee last week.
But legal figures, including the former vice president of the Edinburgh Bar Association, dispute this and say the situation is now out of control.
Others, meanwhile, criticised court chiefs for adding to the delay by trying to conduct virtual trials when court buildings could instead have been reopened with safety measures put in place.
Solicitor Advocate Robert More said the rising number of cases, at a time the number of criminal defence lawyers are rapidly reducing, means the backlog cannot now be cleared.
He said: "The criminal justice system in Scotland is now staring into the abyss. Applying my daily experience of the system and having considered the proposals floated by the court service, my assessment is that the backlog cannot be cleared – ever."
Across all cases at High Courts, Sheriff Courts and Justice of the Peace courts, the number of outstanding cases has doubled from around 18,000 to over 37,000 since lockdown began.
Sheriff court summary trials, where a sheriff decides the verdict without the need for a jury, have resumed but their numbers alone have spiralled from 14,000 to around 27,000 cases.
Last month the Scottish court service published proposals for clearing the backlog of cases which has built up during lockdown. Further plans for remote jury centres were announced last week.
But the cases require to be dealt with amid continued reductions in the number of solicitors carry-ing out Legal Aid work, which are down 26% in the last ten years as we highlighted a fortnight ago.
Mr More, who practises in Edinburgh and the Borders, said: "The figures cited for outstanding cases are now jaw-dropping and far worse than the biggest pessimist would ever have feared.
"The most significant issue is that, while outstanding prosecutions rise exponentially, the number of solicitors undertaking Legal Aid work is decreasing, and fast.
"Even before lockdown, the number of High Court indictments had grown by almost a half in two years. In that same period, the number of criminal lawyers dropped by 12%. Those figures are incapable of being reconciled and the trends they reflect are incapable of being reversed.
"Many people might not lose sleep over fewer defence lawyers but the basic fact is you cannot have a fair prosecution without an accused person being properly represented."
On one of the suggestions mooted to deal with the backlog – conducting trials on Saturdays – he said: "Any attempt to compel solicitors to participate in weekend trials is only bound to increase the numbers leaving the profession."
Mr More added: "There is also the obsession of the Scottish Parliament with making laws, creating offences for conduct which Scots law already recognised as criminal, and creating aggravated offences when courts already took prejudice into account."
Matthew McGovern, a committee member of Scottish Young Lawyers' Association, added: "It's quite credible to suggest the case backlog cannot be cleared. A suggested introduction of Saturday courts is ludicrous as we do not have the resources or manpower to provide such court representation in addition to existing commitments."
Stuart Murray, President of the Aberdeen Bar Association, added: "In an attempt to allow sheriff summary trials to proceed again, the court service focused their efforts and finances on a Virtual Trials system. This was not received well by the legal profession and a great deal of time was wasted on it, rather than adapting court buildings to allow actual trials to be accommodated.
"Anyone walking into a shop was met with safety measures such as clear screens but the court service failed to implement such measures. In addition, the Crown Office has refused to consider dropping the less serious cases. If they were to consider this, the backlog of summary trials could be reduced."
Justice committee convener Adam Tomkins MSP said last week: "The scale of the challenge is not to be underestimated. Current delays are not acceptable for the victims, witnesses or those accused of crimes."
A report by the committee praised the use of remote jury centres based in cinemas, saying more digital technology was needed.
It also recommended considering extending court sitting hours and sentencing discounts for those who made early guilty pleas, while rejecting the idea of holding trials without juries in serious criminal cases.
Scottish Courts and Tribunal Service chief executive Eric McQueen told the committee last month: "We now have our full programme of courts back and that's running about 33 trial courts a day.
"What we would see is a gradual reduction in that backlog of about 2,000 a year but just simply running 33 trial courts a day would take a period of eight to 10 years to come back to the pre-Covid levels."
He said discussions were continuing with the Scots Government over funding to reduce the backlog more quickly. He added the running of trial courts at weekends could help.
Amanda Millar, President of the Law Society of Scotland, said locations such as university buildings or hotels should be considered as additional temporary courtrooms.
She said: "The Justice Committee report recognises that extra investment across the whole sector is required to address the backlog, including temporary sheriffs, additional court staff and prosecutors, and legal aid budgets."
A Scottish court service spokesman said: "We recently published our report which sets out steps taken to respond to COVID-19 and to manage recovery. Four reports for High Courts, Sheriff Solemn, Sheriff Summary and Justice of the Peace Court trials have also been published to analyse alternative models to reduce the backlog.
"With summary trials having resumed in all courtrooms, we are developing virtual summary trials and remote jury centres and are assessing options to increase the capacity for trials."
The Crown Office said: "We are committed to working collaboratively to ensure the justice system fully recovers and will continue to use available technology to improve access to justice and its service to court users."
A Scottish Government spokeswoman said: "We understand the impact delays have on victims, witnesses and accused and announced £12 million to establish the ground-breaking solution of remote jury centres which will allow the High Court and Sheriff Courts to return to pre-Covid capacity over time.
"The impact of Covid-19 is being felt by jurisdictions across the world. We continue to work with victims' groups, courts and prosecution services, and the legal profession, to identify the best ways to deal with the backlog."
---
We are a year on and there is still no trial. It's been hell for us. It's torture
The family of an alleged murder victim have told of their distress at the case being caught up in Scotland's trials backlog.
A man was arrested late last year and charged with murder over the killing which happened in Central Scotland.
To the victim's family's anguish, several court dates have been postponed and, a year on, they still do not know when the trial will happen.
Giving their account today, we have not published details which might identify the case in order to avoid prejudicing the trial.
A relative of the alleged victim told us: "The lockdown and the effect it's had on court cases has hit us hard. We are a year on from the arrest and we still don't know when the trial might start.
"It might be this year, it might be early next year, it might be the end of next year. It's hell for us.
"One of the family has health problems and wants to know what's going to happen but there's a strong chance they won't see the case conclude.
"It was due to call in court around the time lockdown happened so it was put off.
There was a new date but that's also been put off.
"It's torture. You build yourself up and then, just before it happens, you get told it's off.
"We are still waiting for a preliminary hearing so we have no idea when we'll have to get ready to deal with the trial.
"We need answers and we can't deal with things while this is hanging over our heads."
Victim Support Scotland chief executive Kate Wallace said: "The real life and negative impact that delays to trials have to people impacted by crime cannot be underestimated. There is a mountain to climb for the justice sector to get back on its feet."
---
Build us a Nightingale court to aid the backlog
One of Scotland's leading defence advocates says the case pile-up is a "crisis" and today calls for an injection of resources to deal with it.
Donald Findlay QC said: "We need the whole court system back to work and we need more staff in all areas. We need the justice system to be better resourced, to have more people involved.
"Justice should be served as soon as possible and the Scottish Government needs to be prepared to put resources into this.
"I make no criticism of the many millions of pounds spent on the temporary centre set up in Glasgow as the Scottish equivalent of the Nightingale Hospital. I don't think it has treated a single coronavirus patient and I make no criticism of that either.
"But we have a justice system that also deserves resources so why can't we have the equivalent of Nightingale courts? We could take over an exhibition centre somewhere and get more people back to work. Let's have such a facility, if for no other reason than to deal with the backlog of sheriff court summary cases which do not require a jury.
"All you need is something quite basic to deal with these cases. You wouldn't need jury boxes, jurors or any of that, just a space where a sheriff can sit with a clerk in a degree of security and get on with it.
"The criminal justice system has been largely ignored for a very long time and, as a result, is under-resourced.
"This is now a crisis, with people needing justice. We need to get cases done, have justice served, and allow people to get on with their lives."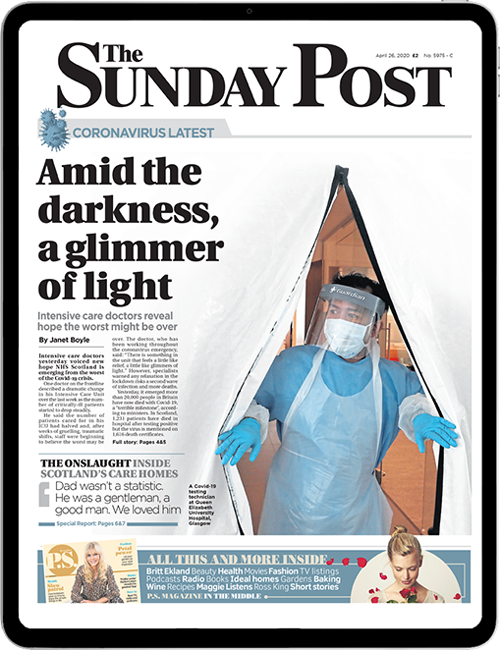 Enjoy the convenience of having The Sunday Post delivered as a digital ePaper straight to your smartphone, tablet or computer.
Subscribe for only £5.49 a month and enjoy all the benefits of the printed paper as a digital replica.
Subscribe