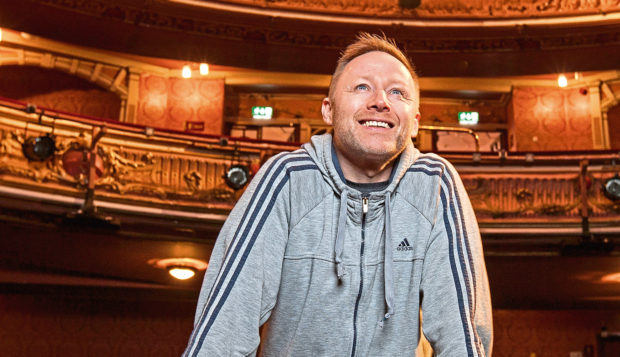 The BBC has announced that Scots comedian Limmy will create and star in a new comedy series.
The internet sensation, full name Brian Limond, will be the only cast member in Limmy's Homemade Show, which promises to take DIY comedy to a new level.
He will write the sketches, star in them and film them himself using a camera and tripod.
Limmy had previously made a pilot episode of the show, which aired as a one-off special last year.
I can finally announce that I'm making a series of Limmy's Homemade Show.

— twitch.tv/Limmy (@DaftLimmy) August 21, 2019
The 44-year-old, who has just finished a run at the Edinburgh Fringe, said: "I've been asked at my shows and on my streams if I've got any telly stuff coming up.
"I've had to lie through my teeth and say that I don't know, so I'm delighted to finally become an honest man.
"I can't wait to make Limmy's Homemade Show, and I hope everybody likes it as much as I'll enjoy putting it together."
Fans in Scotland will also be treated to a one-off episode of Limmy's Vines.
BBC Scotland carried three series of the hit Limmy's Show, and the Glasgow comic also featured on Charlie Brooker's Weekly Wipe.
He has built a huge following online through his videos on the now-defunct video platform Vine as well as Twitter and gaming stream service Twitch.
Three episodes of Limmy's Homemade Show will shoot this autumn and air on BBC Scotland and BBC Two in the new year.
Gavin Smith, commissioning executive, BBC Scotland, said: "Limmy is one of the most original talents around and we're delighted he's coming back to entertain our audiences with his trademark mix of laugh-out-loud, dark and surreal comedy."
The series was unveiled as part of BBC Two Controller Patrick Holland's appearance at the Edinburgh TV Festival.
Speaking at the festival, he announced a major history series about the British Empire, new comedies from Sara Pascoe and Sarah Willan, a documentary series with unprecedented access to parole board panels, a brand new jewellery competition format and Impeachment: American Crime Story, the third instalment of the award-winning franchise.