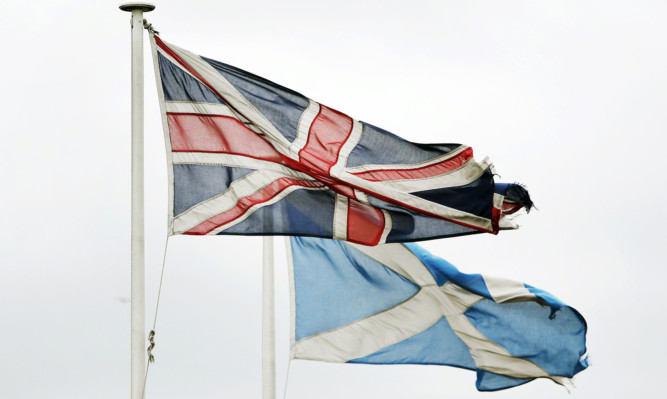 A NEW poll has shown Scots are split 50/50 on the issue of independence.
Among those who expressed an opinion and who were certain to take part if a second independence referendum was held, half said they would vote to keep the Union together while half would vote for Scotland to leave the UK.
When those who were not certain if they would vote were included, the research – by Ipsos MORI for STV News – showed a slim majority for staying in the United Kingdom, with voters split 51% to 49%.
It comes as Theresa May prepares to trigger Article 50 this month, formally beginning the UK's process of leaving the European Union.
The result of the Brexit vote in June 2016 – with Scotland voting to remain while the UK opted to leave – prompted First Minister Nicola Sturgeon to warn another ballot in independence was "highly likely".
Conservative plans for a so-called "hard Brexit", taking the UK out of the single market, led to more speculation the SNP leader could be about to demand another referendum.
The latest poll found 52% of those questioned believe Ms Sturgeon is doing a"good job representing Scotland's interests in the process of the UK leaving the EU", with 29% strongly agreeing and 23% tending to agree.
---
READ MORE FROM THE SUNDAY POST
Nicola Sturgeon'not ruling out Scottish independence referendum in 2018′
---
Only 24% said Prime Minister Theresa May is doing a "good job representing Scotland's interests" in the Brexit process, with a third stating the Tory leader is doing well representing the UK.
A total of 1,029 Scots aged 16 and above took part in the survey, with the research being carried out between February 24 and March 6.
More than half of those questioned (52%) backed the idea of a second referendum being held across the UK when the Brexit deal is completed – with 36% strongly agreeing this should be the case and 16% tending to agree.
In contrast, 26% strongly disagree with the idea of a second Brexit referendum while 14% tend to agree, with 6% who neither agreed nor disagreed and 2% who said they did not know.
Looking at support for independence on a scale of 1 to 10, 28% said they "completely support Scotland becoming independent" while 38% said they "completely support Scotland staying part of the UK".
If Scotland does become independent, almost half (48%) said it should be a full member of the EU while a further 27% were in favour of the country having full access to the single market without being a member of the EU.
Less than a fifth (17%) said an independent Scotland should not be in either the EU or have access to the single market while 8% either did not know or refused to answer.
Mark Diffley, Ipsos MORI Scotland director said: "In the immediate aftermath of the EU referendum vote last June there was an increase in support for independence, which ebbed away later in the year.
"This poll suggests some modest movement back towards independence since we last measured opinion six months ago.
"It will certainly provide the SNP with a lift ahead of their spring conference in Aberdeen next week."
Meanwhile, among those who are certain to vote in May's Scottish council elections, 46% said they would back the SNP, with the Conservatives coming in second place with 19% support, ahead of Labour on 17%, the Greens on 8% and the Liberal Democrats on 6%. Ukip, the pro-Brexit party, polled 3%.