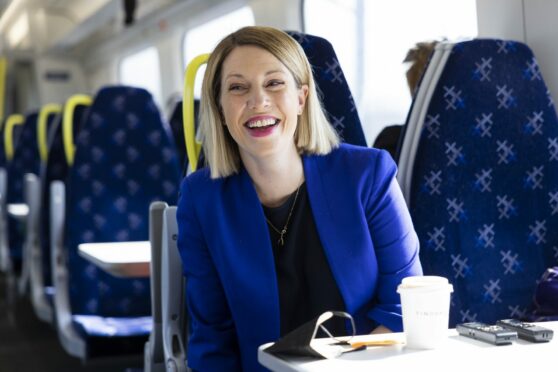 At least the train was on time. After a fraught few days when ministers were, again, forced to defend the Scottish Government's role in a flagship transport fiasco, the 12.15 from Glasgow's refurbished Queen Street left Platform 7 for Edinburgh Waverley bang on schedule.
Jenny Gilruth, the country's recently appointed Transport Minister, meeting The Sunday Post on board for an intercity interview, could relax and order a coffee secure in the knowledge a delayed train would not provide an easy headline.
That morning's coverage had made difficult reading for ministers, the day after the shambles on the Clyde had again dominated debate at Holyrood as another delay was announced to two CalMac ferries, already years late and millions over budget, and an excoriating Audit Scotland report revealed a litany of official failures including how ministers had agreed the contract without insisting on standard financial safeguards.
The public finance watchdog could find no paperwork to reveal who awarded the £97 million contract to the Ferguson shipyard, in Port Glasgow, without the normal guarantees for the work on the ships, which will now be at least five years late with one government adviser telling The Post last week the eventual cost might hit £400m.
The Sunday Post view: Curtains in our public buildings are sewn shut. It is time to let the sunshine in
Gilruth, navigating one of the Scottish Government's trickiest in-trays, is about to oversee fundamental reform of Scotland's railways with ScotRail becoming publicly owned on Friday, April Fools' Day. She insists the slow-motion shambles at the nationalised shipyard on the Clyde should not undermine public confidence in the nationalisation of ScotRail, which, she says, will deliver a seamless transition to a new system and better service.
On the ferries, she said: "We've got to improve, we've got to do better. There is a recognition about where those failings happened and also where we need to make improvements.
"But I don't think the ScotRail experience can be directly compared to Ferguson's. We've got a real opportunity to make sure that ScotRail works for the public. It's quite exciting that ScotRail trains are going to be owned by the people of Scotland. That's why the national conversation is so important. People should feel as though they have a vested interest in this and that the railways work for them."
Passengers won't see an immediate change to Scotland's much-criticised rail services when they come under new management, according to Gilruth but the new company will be more accountable and willing to listen to travellers than previous operators Abellio.
The Dutch state-owned company took over the ScotRail franchise in 2015 but had its contract ended early amid anger over delays, cancellations and overcrowding. The company was fined £12m over four years for missing key performance targets, and thousands signed a petition calling for Abellio to be stripped of its contract.
Disgruntled commuters also questioned why they were helping Abellio make millions for Dutch state railways. Gilruth said: "There was a frustration from the public that public money was being used to fund a private company that wasn't delivering a service that met passengers' expectations. Things had to change."
She said public ownership of ScotRail was not a "panacea" because the tracks were still under the control of UK body Network Rail. "But in the current constitutional framework, it gives us a way forward the Abellio approach didn't," she said.
From Friday, ScotRail services will be provided by an arm's length company that will be owned and controlled by the Scottish Government. Gilruth said: "From day one, you might not necessarily see anything that looks different but the major difference is accountability. It has to be a railway that listens to the needs of passengers, whether that's to do with ticket office closures, fares or timetables."
New ScotRail timetable means 10% fewer services than pre-pandemic, Labour say
ScotRail has confirmed, however, most of the senior management who worked for Abellio will remain in post. The minister said: "Some of the people will remain the same. There are new people coming in though. But ScotRail will be more accountable, with MSPs able to request updates, for example, on train performance or carriage availability on key services. That provides a different level of accountability that didn't exist under the Abellio structure irrespective of the personalities that are involved in the process itself.
"So I foresee a lot more scrutiny of ministers, myself directly, in a way that just didn't exist when Abellio was there."
A Fair Fares Review is under way and Gilruth invited opposition politicians and trade unions to take part in a "national conversation" about rail services. Unions have called for fares to be affordable as people return to offices after the pandemic. ScotRail fares have risen by 3.8% this year, the largest increase in nearly a decade. A season ticket for the train journey taken by the minister on Thursday lunchtime, for example, Queen Street to Waverley, now costs an eye-watering £4,432 a year.
Gilruth said: "We did increase ticket prices recently in line with the Retail Price Index. There is a challenge here around cost of living and the cost of public transport, and how do you get people back on trains when you're putting up ticket prices. What I would say is our tickets in Scotland are 20% cheaper than the rest of the UK.
"Our review is an opportunity to look at fair prices on buses, rail and on other modes of public transport. We need to look at concessionary travel and at opportunities and ways in which we can incentivize people to come back to the railways." This weekend, for example, children will be able to travel free anywhere in Scotland by train on Saturday and Sunday to mark the nationalisation of ScotRail.
Gilruth took over the transport brief in January following the resignation of Graeme Dey for health reasons. Two weeks before her appointment, ScotRail announced after a consultation exercise plans to close three ticket offices, although two of which have since been given a reprieve, and cut the opening hours of 117 of its 140 others.
Gilruth said: "The last time this type of consultation was carried out was about 30 years ago. People weren't using an app on their phone then. So I think the rationale for carrying out the consultation was sound. However, I recognise that since the consultation, a number of concerns have been raised about passenger safety and what it might mean for more vulnerable passengers. So what I've said to the unions is I will not make any decision on this until we reach agreement on pay."
At the height of the first lockdown, ScotRail's passenger numbers dropped by 95%, and only 60% of pre-pandemic passengers have returned since then. From May, it will run 2,150 daily services compared to 2,400 before, a cut of 250 services and 50,000 fewer seats.
The minister said this will be kept under review: "The timetable had to be redesigned because people have not been coming back. ScotRail are running empty trains but we also need to incentivize people coming back to use the railway. So there's got to be a balance, which is why we need to keep it under review."
Gilruth has also promised to make the railways safer saying there is a "systemic problem" of women being scared to use public transport because of "men's behaviour".
She told MSPs she would not board the last train home because of drunk men who "squeeze in beside you despite the fact that you're surrounded by empty seats".
Gilruth said after her speech she was contacted by a number of women who said they also felt unsafe on trains late at night and echoed her concern. She will now consult widely on what might be done.
She said: "I think it's an issue. I think it's systemic. I don't think it just happens on trains, so we need to look at it right across the transport network. If we want people to come back to public transport, we need people, particularly women, to feel safe.
"If I'm on a train late at night and I see a conductor, I feel safe because there's somebody there. So we need to look at that in terms of a staff presence on trains but we also need to look at our stations in terms of women feeling safer, whether that is more lighting or the presence of British Transport Police."
Gilruth told parliament last month she would consider the suggestion by women's safety groups of female-only carriages on Scotland's trains but trade unions warned they would be a nightmare to enforce and could lead to guards being assaulted by drunk passengers.
She said: "It's not something I would be initially drawn to because I think that minimizes the wider systemic issues and I'm not sure it's the solution.
"However, what I did do last month was commit to a wider consultation with women's groups. I'm not particularly drawn to that as the solution because I worry that it doesn't actually tackle the behaviour that we need to get to the root cause of how to make our rail carriages safer for everyone."
And, with that, the 12.15 from Glasgow eased to a halt into Edinburgh. Bang on time.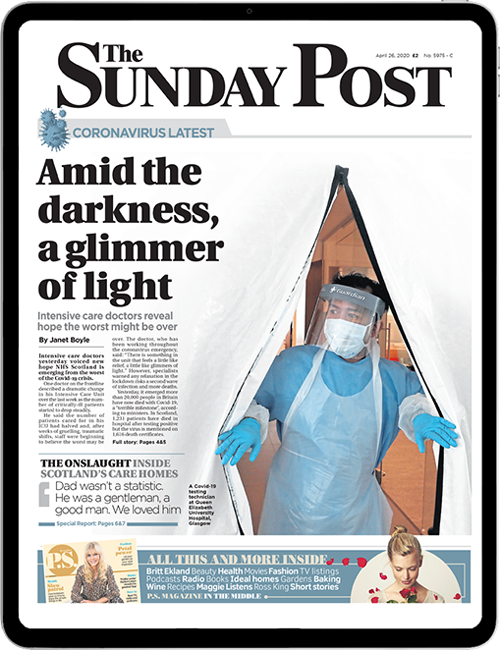 Enjoy the convenience of having The Sunday Post delivered as a digital ePaper straight to your smartphone, tablet or computer.
Subscribe for only £5.49 a month and enjoy all the benefits of the printed paper as a digital replica.
Subscribe