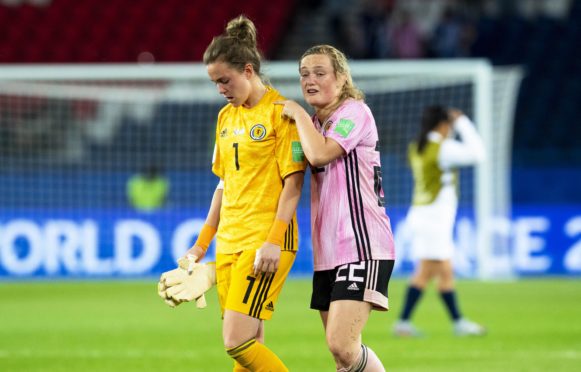 Scotland's women maintained the national tradition of being home before the postcards when they were bundled out of the World Cup by Argentina at the Parc des Princes on Wednesday night.
Freelance journalist ALAN CAMPBELL has been following the fortunes of the Scotland Women's National Team for 20 years, and was in France for the duration of their involvement.
Here he answers the burning questions surrounding manager Shelley Kerr and her squad.
---
Where is women's football in Scotland now in comparison to 12 months ago?
In terms of recognition, on a different planet.
Back in Glasgow on Friday it was the main topic of conversation among people I met. They had been watching the games on TV and that was a first.
There was almost no reaction when I returned from Euro 2017 in the Netherlands.
In terms of the domestic game, that's a different story. Even the eight clubs in the top league are amateur. Crowds are derisory.
Unless the top men's clubs invest more in their women's teams nothing will change.
SFA chief executive Ian Maxwell, who was in France, believes they will benefit as more money from sponsorship and TV comes into the sport.
I have my doubts, but will be delighted if proved wrong.
Did the events of Wednesday night lose the Scotland team credibility in the eyes of those who were giving it the benefit of the doubt?
Losing a 3-0 lead with only 16 minutes remaining can't be defended. Individual mistakes, tiredness and the intervention of VAR all contributed.
But underlying that is a problem which has also undermined the men's team.
Namely, that if there is a way to not qualify for the knock-out stages of a major championship, a Scottish side will find it.
If it was about credibility, the Tartan Army would have called it a day in 1978.
Ironic, then, that Argentina played a role again on Wednesday.
Had Steve Clarke been guilty of the tactical errors made by Shelley Kerr, there would have been calls for his head. Does Shelley deserve the same treatment?
It's not about gender. Managers and head coaches should be judged on results, not the unpredictability of birth.
Let's strip it back a bit further, though. The SFA's performance strategy is a joke.
Targets to qualify for Euro 2016 and the 2018 World Cup were set – but not achieved.
Nobody got sacked as such, however, and there were a few recriminations.
Gordon Strachan coming to the end of his contract was a convenient get-out clause for the SFA. In any other performance sport, failure to meet stated aims simply would not be tolerated.
On the other hand, the women's team have achieved both their targets – qualifying for Euro 2017 and the World Cup. That's the basis on which Shelley Kerr will be judged.
Nevertheless, she did set her own target of reaching the last 16 and that wasn't achieved.
The head coach will be asking what she and the players could have done better.
In football, everybody has an opinion. Mine is that she should have picked an aggressive ball-winning midfield player for the opening games against England and Japan.
Leanne Crichton came in to perform the role against Argentina and made a big difference.
And, in that crucial last game, did she make the necessary adjustments when the opposition pulled one back to make the score 3-1?
There were tired legs in Paris but no subs came on until 86 minutes – with disastrous consequences, as it turned out.
Kerr is honest and self-critical, and will have learned lessons.
Was the VAR farce and incompetent refereeing a welcome smokescreen for Scotland's failure to see out the game?
Yes. But as VAR and incompetent refereeing were also factors against England and Japan it's understandable why Scotland felt so aggrieved.
Will the same personnel be around for the Euros in England in 2021?
Pretty much. The fact the Euros are being staged down the road makes the tournament even more attractive for all concerned.
Three players – No 2 goalie Shannon Lynn (33), Hibs captain Joelle Murray (32) and Glasgow City midfielder Jo Love (33) – may decide to retire.
Love holds the all-time cap record for a Scotland outfield player with 191, and deserves to reach 200 – but will she?
Are there any rising stars?
Erin Cuthbert is only 20 but has already ousted Kim Little from her long-time mantle as the team's outstanding player.
The big problem is the general quality of the national Under-17 and Under-19 sides.
It's below what it has been for the last 10 years, and that could spell trouble ahead.
How should the SFA build on the profile this World Cup has given the SWNT and women's football in general?
They have to ensure the performance pathway is overhauled to provide a continuing stream of good quality international players.
But their record with boys doesn't inspire confidence. Despite the performance strategy, and all it was supposed to deliver, the men haven't qualified for anything since 1998.
They can't force clubs to do more for their women's teams, either.
Hearts, though, have announced ambitious plans. Celtic say their team will go full-time from next season – but have yet to give any details.
Should the SPFL take more of a role?
Can't see them adding any value. However, some in the game believe the SFA should assume responsibility for the top two SWPL divisions.
Should the SFA look for a dedicated home ground for the SWNT, such as Tynecastle?
Qualifiers used to be played there, but there were problems with the old main stand. It would be a good venue now, however.
The Simple Digital Arena was used for World Cup qualifying – but its capacity is only 8,000.
More than double that turned up at Hampden for the World Cup send-off game against Jamaica.
Scotland gave England a run for their money in the opening game. Will England go on to win the World Cup?
On the basis of what we've seen, the US look likely to retain the trophy. And you can't rule out France.
They are a good side anyway, but being the hosts will only become more and more of an advantage.
We saw that with Holland at Euro 2017.
Maybe one day Scotland will host the Euros!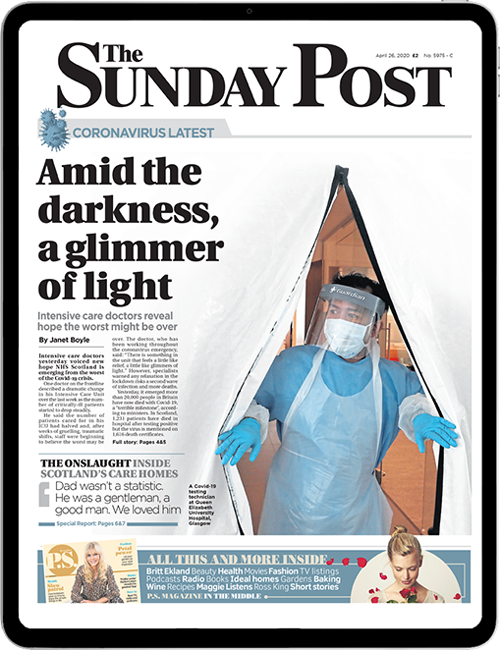 Enjoy the convenience of having The Sunday Post delivered as a digital ePaper straight to your smartphone, tablet or computer.
Subscribe for only £5.49 a month and enjoy all the benefits of the printed paper as a digital replica.
Subscribe