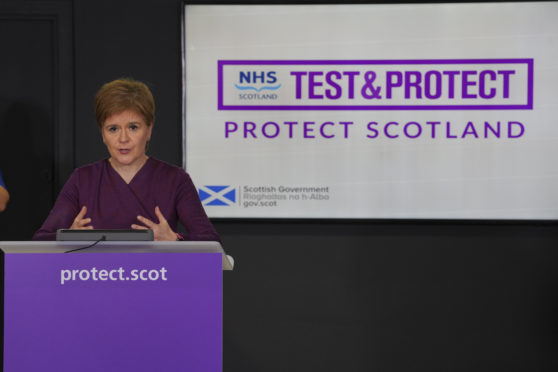 Nicola Sturgeon has announced further restrictions she has judged are "absolutely essential" in Scotland's fight against coronavirus, and avoiding a return to full lockdown.
A ban on visiting other households in private indoor settings, already in place locally in the west of Scotland, will be extended nationwide.
A curfew will also be applied on hospitality venues, with pubs, bars and restaurants forced to close at 10pm from Friday onwards.
Ms Sturgeon told the Scottish Parliament on Tuesday afternoon: "The measures I am announcing today are tough – I will not pretend otherwise – but they do not represent a full-scale lockdown of the kind imposed in March.
"Indeed, today's measures are an attempt to avoid another lockdown."
She said that the efforts in getting cases to a low-level over the summer and the introduction of the Test and Protect system allowed measures to be more targeted than the full lockdown of earlier in the year.
However, she said she could not rule out further national or local restrictions when called for.
Announcing the new measures, the First Minister implored people to "stick with this".
She said: "Keeping to all these rules isn't easy – but they remain the best way for all of us to protect ourselves, each other, the NHS and ultimately save lives."
Ms Sturgeon added: "All of this is incredibly tough – and six months on it only gets tougher.
"Though it doesn't feel like this now, this pandemic will pass.
"It won't last forever and one day, hopefully soon, we will be looking back on it, not living through it."
Ms Sturgeon will make a televised address this evening to further explain the restrictions at 8:05pm on the BBC.
---
The key points
Meeting in other people's homes
Restrictions on meeting in other people's homes will now be applied nationwide.
Test and Protect data, the First Minister said, has shown that a high proportion of cases are from this type of interaction.
She added that early indications from areas in the west of Scotland where these restrictions are already in place show that they are having an effect.
Extended households, couples not living together, those who need childcare and tradespeople will be exempt from the measures.
The changes only impact meeting in people's homes, with regulations for outdoor and public indoor meetings remaining the same as announced earlier this month.
However, the First Minister announced children under 12 will be exempt from the limit of six people from two households when meeting outside and those between 12 and 18 will be able to meet a limit of six others from six households outdoors.
Addressing teenagers specifically, the First Minister said: "I know how miserable this is for you and you have been so patient.
"We are trying to give you as much flexibility as we can. In return, please work with us and do your best to stick to the rules, for everyone's sake."
Curfew
Similar to Boris Johnson's announcement earlier for England, a 10pm curfew will be put in place for hospitality businesses in Scotland from Friday onwards.
Ms Sturgeon said that the Scottish Government was seeking to strike a balance between reducing the spread of the virus and safeguarding jobs in the industry.
She pointed to the fact that the furlough scheme was not, at present, being extended.
Ms Sturgeon said: "This decision today means we can reduce the amount of time people are able to spend in licensed premises, thereby curtailing the spread of the virus while still allowing businesses to trade and provide jobs."
"This is the best balance for now."
Further resources will also be given to environmental health officials to step up enforcement of regulations and inspections to ensure that social distancing and other hygiene guidance were being adhered to.
---
Sharing a car
Ms Sturgeon also advised, on the basis of Test and Protect data, that sharing a car with someone outwith your household should be avoided.
Working from home
Workers in Scotland have been asked to continue to work from home if they can, while employers who have encouraged people back to the office have been urged to "rethink that."
The First Minister added that if there is non-compliance from employers, then the Scottish Government may impose a "legal duty" on businesses to allow home working.
A media campaign will also be launched north of the border, the First Minister said, to urge compliance with public hygiene guidance from members of the public.
---
Six month timeline
Tomorrow marks six months since the first lockdown measures were imposed. And with today's new restrictions there have been reports that they could be in place for a further six months.
But Ms Sturgeon said that imposing them "early and substantially" will hopefully shorten the timescale.
She told MSPs: "It is certainly the case, until scientific developments such as a vaccine change the game in the battle against Covid-19, it will have an impact on our lives.
"That doesn't necessarily mean that all of the new restrictions I am announcing today will be in place for six months.
"By acting early and substantially, our hope is that these new measures will be in place for a shorter period than would be the case if we waited longer to act."
The measures will be reviewed every three weeks.
---
Shielding
Those who are shielding should continue to follow the guidance for the general public but can sign up for text alerts from the Government on coronavirus risk.
---
Self-isolating
The First Minister said that the FACTS campaign will be reinforced in the coming weeks.
This includes the vital measure of self-isolating when required.
Ms Sturgeon said that there would be more support offered for people who have to stay at home for 14 days and risk losing income or struggling to get supplies.
A grant of £500 for those on low incomes is set to be introduced, with an emphasis being placed on support rather than enforcement of rules.
---
"Circuit breaker"
Ms Sturgeon also responded to reports circulating about a more substantial lockdown based around the October school holidays.
She said that the Scottish Government had taken no such decision, but it would remain under review.
The First Minister did, however, urge people not to book trips abroad during the break.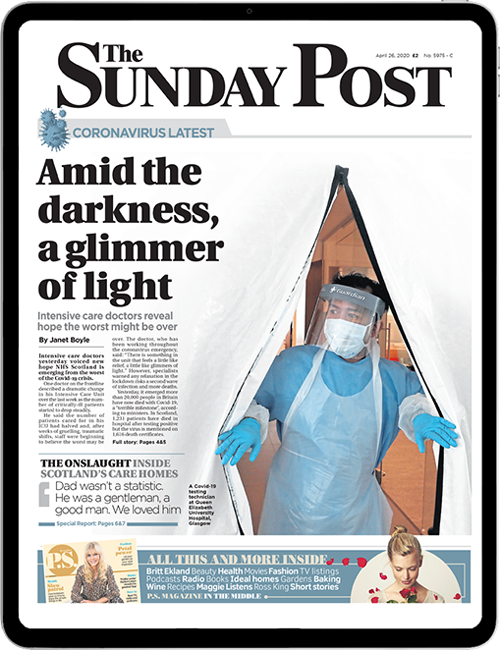 Enjoy the convenience of having The Sunday Post delivered as a digital ePaper straight to your smartphone, tablet or computer.
Subscribe for only £5.49 a month and enjoy all the benefits of the printed paper as a digital replica.
Subscribe