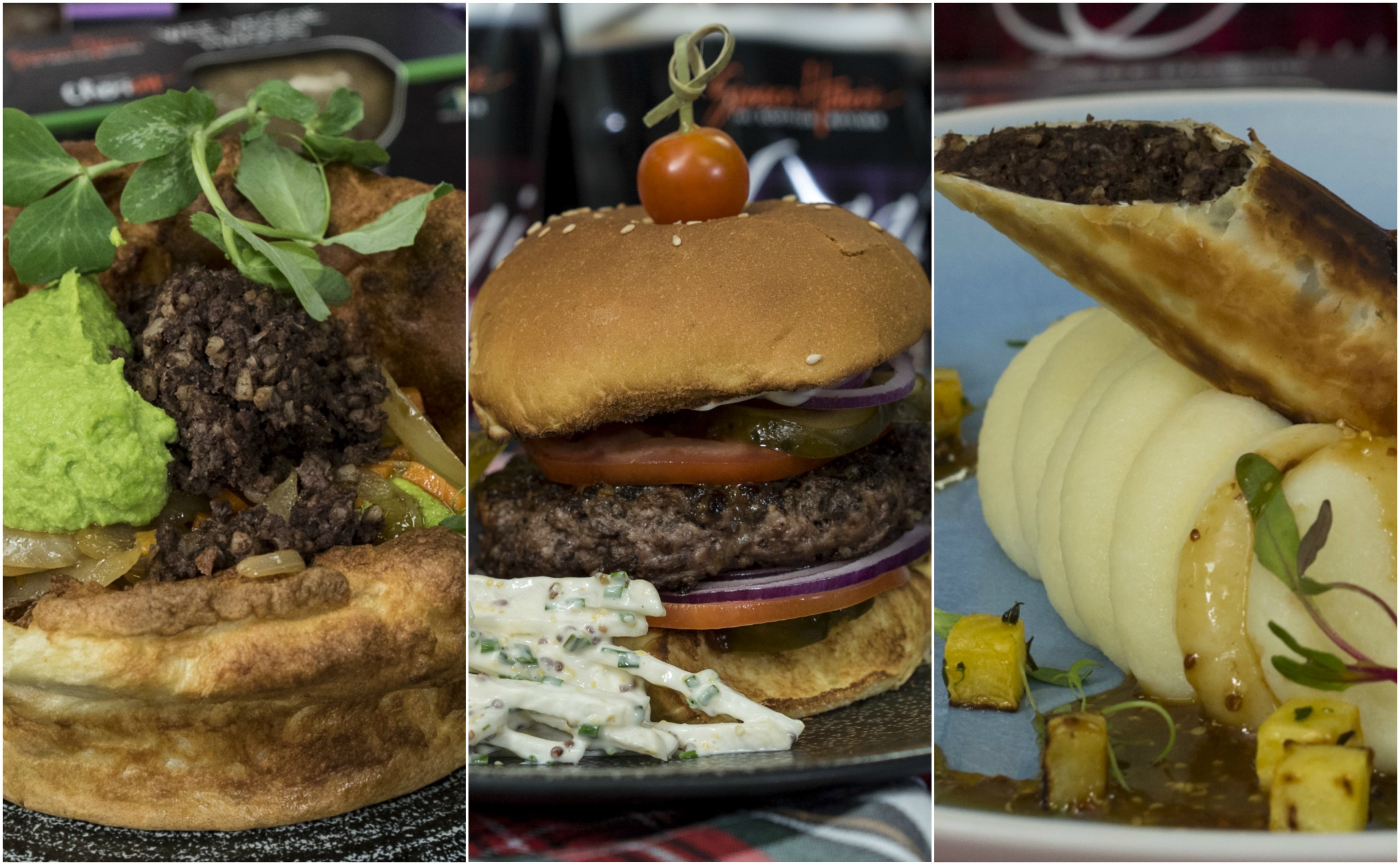 SCOTLAND'S new national chef has teamed up with Scottish butcher Simon Howie to produce exciting new haggis recipes with a twist ahead of Burns Night.
Masterchef: The Professionals winner Gary Maclean's show-stopping haggis dish took him to the show's finals, and he's got a few more tricks up his sleeve for our national dish.
Working with Howie, the duo have come up with three exciting recipes to re-invent the Scottish staple, including crispy fried haggis, haggis burgers and haggis Yorkshire puddings.
Maclean's Crispy Fried Haggis, first seen on MasterChef: The Professionals, turns the classic texture of haggis on its head, shallow frying Simon Howie haggis wrapped in a light filo pastry and combining it with a red onion chutney, mashed potatoes and roasted turnip.
Simon Howie haggis burgers have been created as a guaranteed crowd pleaser, with haggis added to beef mince to create perfectly seasoned burgers, served with hand cut chips and celeriac and whole grain mustard slaw.
Haggis sales south of the border have grown significantly in recent years and Simon Howie now sells almost half of its haggis (48% in 2017) in the rest of the UK, outside of Scotland.
The third recipe fuses two Scottish and English culinary staples together, filling Yorkshire puddings with Simon Howie haggis and serving with a pea puree and onion gravy.
Howie said: "Haggis is such an iconic dish here in Scotland and is growing in popularity south of the border too, in fact almost half of our haggis sales are outside Scotland.
"We know families up and down the country will be celebrating Robert Burns' birthday with haggis on or around 25 January, and we wanted to offer some new ideas on how to enjoy our national dish beyond the well-loved classic of haggis, neeps and tatties.
"And who could be better than Scotland's very own national chef to come up with some inspiring new ideas for our national dish?  We hope people have fun creating and sharing the dishes.  We think Rabbie would approve!"
Maclean, addeted: "I absolutely love haggis.  I've really enjoyed working with Simon Howie to create a few twists on our national dish. I have to say, I'm pretty excited about my Yorkshire pudding stuffed with haggis for something totally different plus a haggis burger recipe, sure to be such a crowd pleaser.
"I've also included what has really become a signature dish for me, and the one that got me through to the finals of MasterChef: The Professionals, my crispy fried haggis."
Simon Howie will be hosting a Burns Tour in select Tesco and Morrisons' Scottish stores, so shoppers can taste for themselves why Simon Howie Original haggis is the most popular choice for Burns Night.
Further information on Simon Howie can be found at www.thescottishbutcher.com
The recipes
Crispy, fried Simon Howie Haggis with red onion chutney, mashed tatties and roasted turnip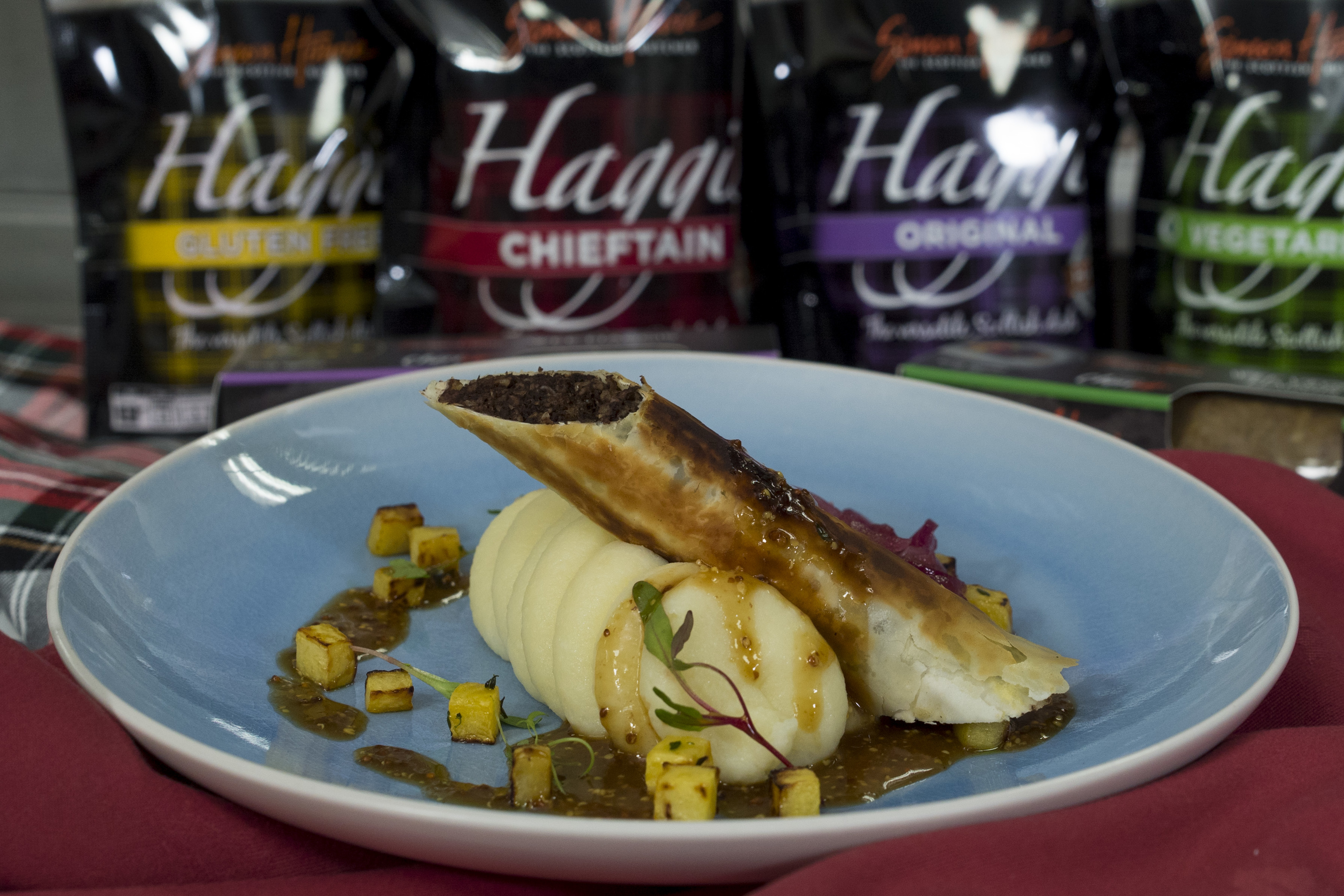 Serves 4
Ingredients
1 Simon Howie 454g Haggis (Original, Vegetarian or Gluten Free)
4 sheets  Filo Pastry
1 Egg for egg wash
1 Turnip
3 sprigs Thyme
20g Butter
250g Potatoes (2 large potatoes)
25g Unsalted butter
Pinch of  Salt
Pinch of Nutmeg
For the red onion chutney:
20mls Vegetable oil
3 Red onions (sliced)
3 sprigs Thyme (picked and chopped)
50mls Port or red wine
1 tbs Redcurrant Jelly
2 tbs Vinegar
Method
For the haggis…
Break down the haggis.
Roll into 15cm lengths approx 10mm thick tubes.
Half the sheets of filo pastry and egg wash, lay on the haggis and roll up tightly.
When you are ready to serve shallow fry your pastry wrapped haggis until crisp, turning frequently.
For the turnip…
Peel and cut the turnip into small dice.
Place into a pan with the butter and herbs and slowly cook.
Baste the turnip with the butter.
Cook until turnip starts to caramelize.
For the mash…
Boil potatoes in salted water until cooked.
Drain and dry out on the hob.
Beat in the butter add the nutmeg and season to taste.
For the red onion chutney…
In a thick bottomed pan, heat the oil, add the sliced red onion and cook down gently for 10 minutes.
Add the port, redcurrant Jelly and the chopped thyme.
Cook till reduced and sticky.
Serve
Pipe or spoon the mash on to the plate. Slice the haggis and place on top. Serve with the turnip and onion marmalade and gravy if desired.
Simon Howie Haggis burgers with hand cut chips and celeriac and whole grain mustard slaw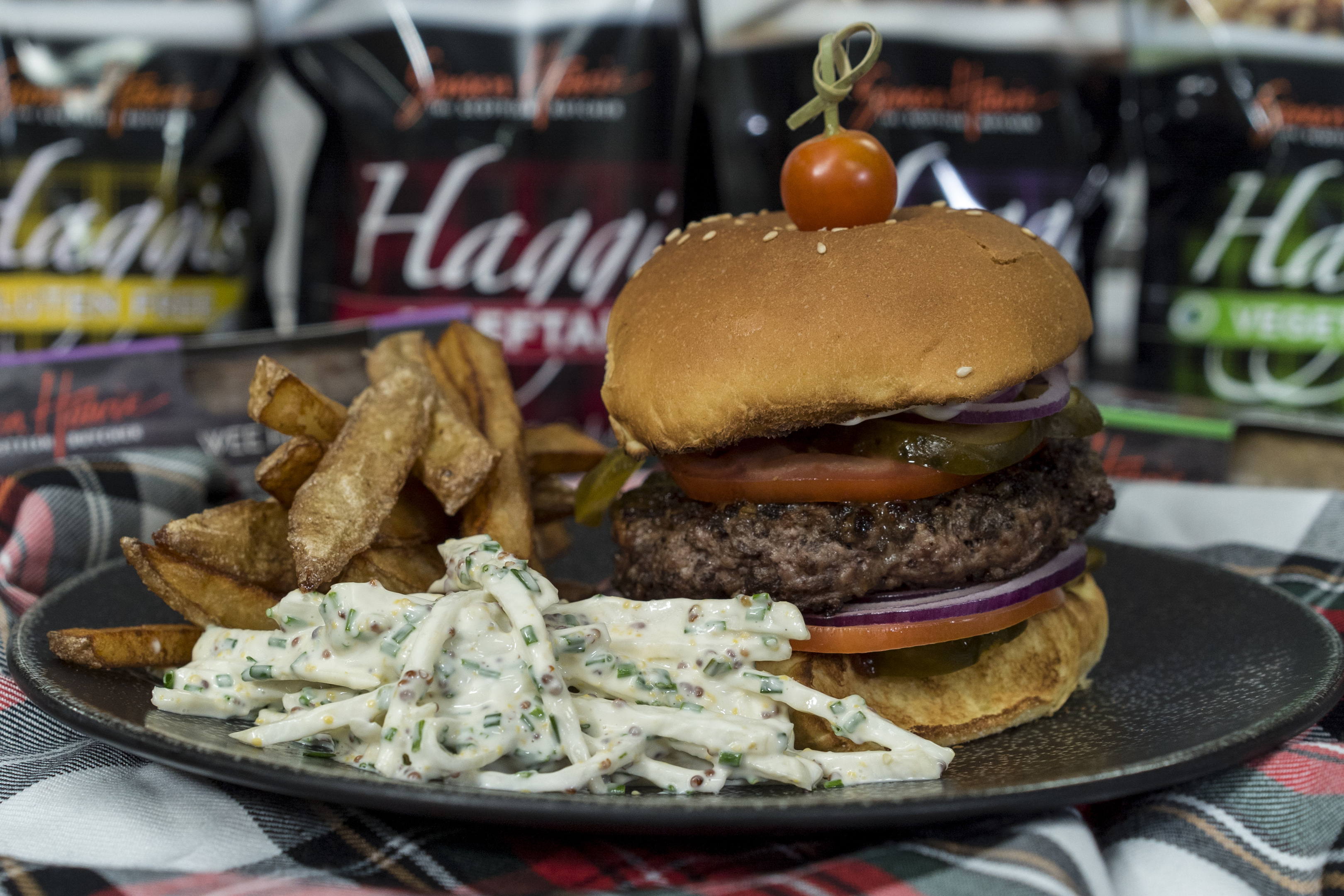 Serves 4
Ingredients
1 Simon Howie 454g Haggis (Original, Vegetarian or Gluten Free)
450g Beef mince
4  Quality buns (toasted)
2  Beef tomatoes (sliced)
2  Red onion (sliced)
2  Large Dill pickle (sliced)
1 jar Relish
2 Gem lettuce
Method
The first thing you need to do is make the burger mix, normally when you make burgers there is a certain amount of skill and practice in getting the seasoning correct, the great thing with adding Simon Howie haggis to the mix is the seasoning is done by the haggis and gives the burger an amazing flavour while also helping to hold in the moisture. To make the burger it's as simple as mixing the haggis and the minced beef together and adding a little salt.
In my opinion I think burgers should be pressed. A butcher would have a fancy pressing machine at home but you can recreate this pressing by using a plastic lid. Find a lid that's about 12cm wide x 3cm deep. Place the lid onto the work surface and then take a large piece of cling film and cover the lid. Then take some of your mixture and press it into the cling film covered lid. Get as much of the mixture into the lid as you can then fold over the cling film, upturn the lid and bang down onto the work surface to release the 'pressed' the burger.
To cook the burger heat up a griddle pan or frying pan, add a little oil then place the burger into the pan. The secret is not to touch the burger or turn it over until it has a chance to brown.
While your burger is cooking through on both sides toast the soft sides of your bun under the grill.
You can now start to construct it all, I like to build the burger up in as many layers as possible. Relish – Burger – tomato – onion – pickle – lettuce – mayo etc etc – This will make every mouthful different.
Celeriac and whole grain mustard slaw
Ingredients:
1 med Celeriac
½ Lemon
1 small bunch of Chives
50g Whole grain Mustard
150g Mayonnaise
Method:
Peel then shred a medium-sized (450g) celeriac. The shreds should not be too fine, nor should they be much thicker than a matchstick.
Toss them immediately in the juice of half a lemon.
Mix together 4 heaped tbsp of mayonnaise the whole grain mustard and 2 tbsp of chopped chives.
Season with salt and black pepper, then fold into the shredded celeriac.
For the Chips
Ingredients:
500g Frying potatoes (Maris pipers)
Oil to fry the chips
To make chips is very easy, the first thing is to cut the chips as thick or as thin as you wish.
The next task is to blanch the chips. Blanching is a process of softening the potato before colouring. You can blanch a couple of different ways you can steam, boil or cook in oil at a low temperature of 130°C until soft.
To cook fry at between 175-180°C until crisp and golden.
Haggis Yorkshire pudding with onion gravy and pea puree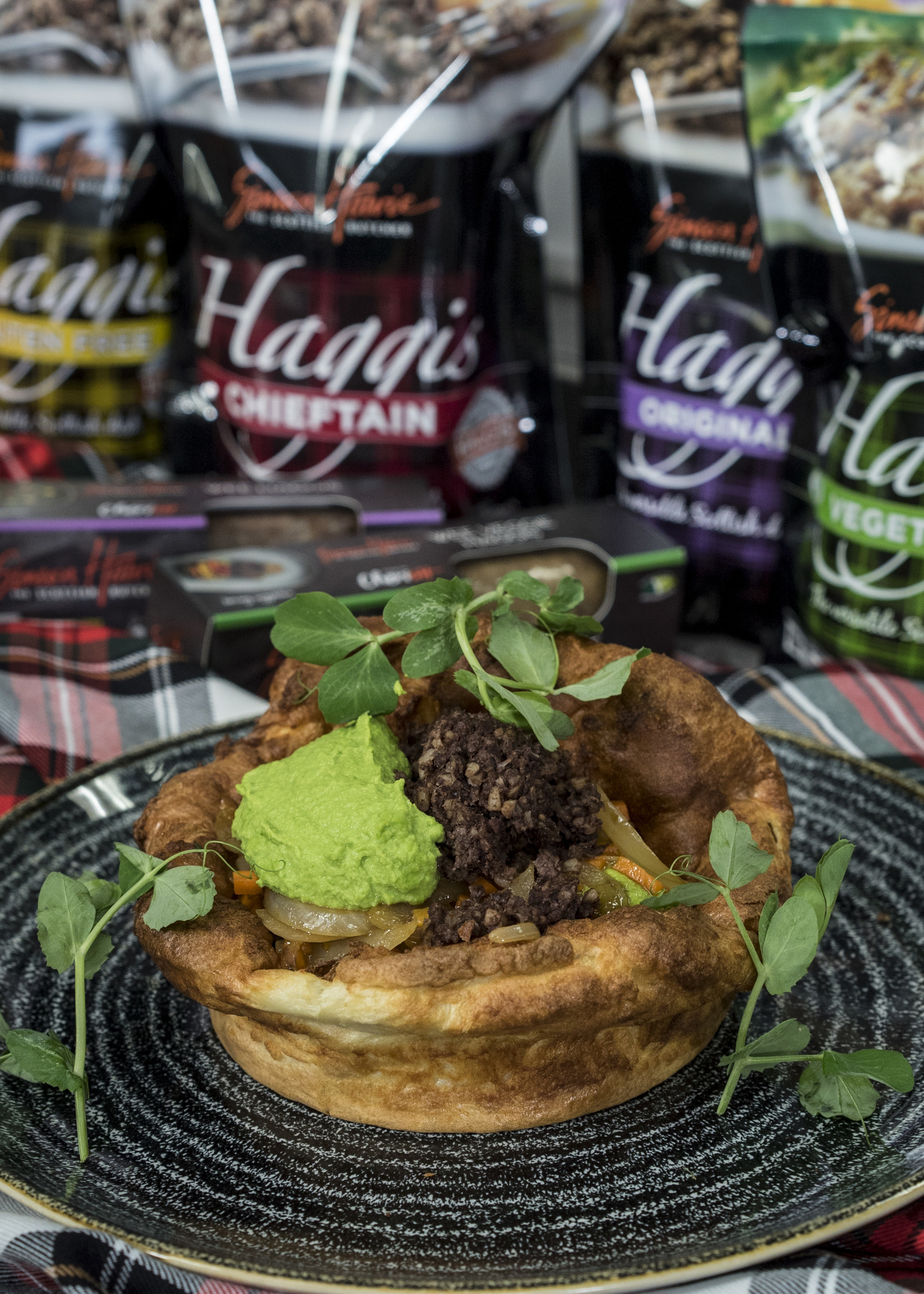 For the Haggis
Ingredients
Simon Howie 454g Haggis (Original, Vegetarian or Gluten Free)
Method
 Remove the haggis from the outer packaging.
Wrap the haggis bung in tin foil and simmer for 70 mins until the haggis is piping hot.
For the Yorkshire pudding
Ingredients
1 cup  Eggs
1 cup  Plain flour
1 cup Milk
Pinch   Salt
Method 
The "cup" size is dependent on how many and how large you want to make the puddings.
Put a little oil in each of your tins and place in the oven until the fat is really hot and beginning to smoke.
Meanwhile combine the ingredients and beat to form a batter of the consistency of double cream. To do this pour the milk and eggs into a large bowl then gradually add the sieved flour.
When the oil is smoking pour in the batter don't over fill.
Cook for about 20-25 minutes by which time they will be puffed up and crisp.
For the pea puree
Ingredients
300g Frozen peas
50g Butter (unsalted)
Salt and pepper
Method
Blanch the peas in a pan of boiling salted water.
This should only take a few minutes, as soon as the water comes back to the boil remove the peas and blend in the food processor with the 50g of butter.
For the onion gravy
Ingredients
2 White onions
1 Carrot finely diced
150ml  Red wine
1 tsp Plain flour
3 sprigs Thyme
300ml Brown chicken stock
Method
Wash peel and rewash your onions, slice as thin as you can, cut with the grain (follow the lines on the onion).
Add the onions with a little oil to a wide bottomed pan and place onto the heat. To caramelise the onions this is a long and slow process, you are trying to colour the onion without high heat this give you the best flavour.
Whilst the onions are caramelising you can start to dice your carrot, once the onions have achieved good colour add the finely diced carrots.
Add the red wine and boil until the wine is half gone, sprinkle the flour in and then add the brown stock, thyme and reduce until it thickens.