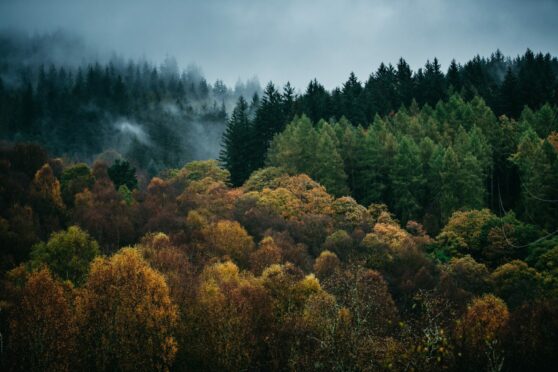 Even on the darkest, dreichest days, Scotland's forests have a special kind of majesty, an eerie type of beauty.
Windswept and soggy, I am outside The Lodge Forest Visitor Centre, perched high on a spindly, twisting hill close to Aberfoyle.
It overlooks the vastness of Queen Elizabeth Forest Park which, as autumn arrives, is a mosaic of verdant greens, ochres, and gold. The sky is a foreboding grey, and a heavy white mist glides and mingles among the tops of the trees.
Even though it is freezing, I could stand and watch it roll past for hours. The scene is so dramatic and atmospheric that is seems almost unnatural, and in a way, it is.
Queen Elizabeth Forest Park is run by Forestry And Land Scotland and, while sheltering from the rain under a large spruce tree, John Hair, head planner at FLS, tells me the forest is mostly manmade, with many trees being planted there in a flurry after the Second World War.
In fact, every single tree looming above our heads had been planned and planted by his predecessors.
He said: "In the 40s, 50s, 60s and 70s, thousands of hectares of Sitka spruce were planted all at once. The foresters at the time planted every square metre of forest, up the edge of streams and lochs, and they were really successful because they only had one goal: produce timber, and nothing else."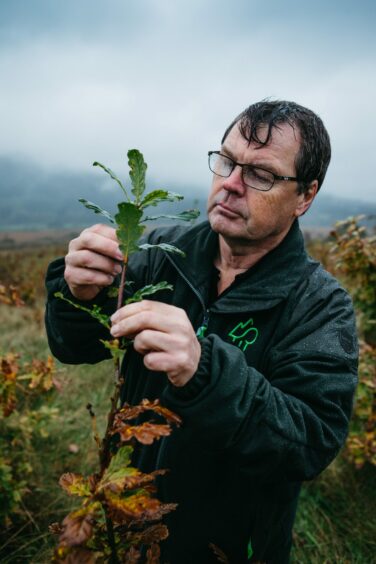 The UK has one of the lowest rates of land-tree coverage in Europe at only 13% (Scotland is slightly higher than the rest of UK, at 18%) as a result of swathes of forests being cleared during the Bronze Age to make way for agricultural and pastoral ground, never to be replanted and replaced.
Despite a lack of homegrown timber for the best part of 3,000 years, Britain historically got around the problem by flexing the muscles of Empire, simply taking the required wood from abroad to build at home.
By the time the 20th Century arrived, however, Britain's control over its colonies had waned and hard lessons would be learned from crippling German blockades during the world wars.
The government set about planting trees for timber, wherever and whenever they could in case of another global conflict, but attitudes began to change towards the end of the century. John continued: "By the time of the 1980s and the threat of nuclear war, the amount of timber we had in the country was not going to swing the outcome of a conflict significantly in our favour.
"There was also a growing understanding in the wider population about the environment. People began using the forest for recreation much more than they had."
Due to the growing climate crisis, however, timber is again a hot button issue. We are currently the world's second-largest importer of timber, behind only China, an increasingly uncomfortable fact as we pledge to cut carbon emissions.
The climate crisis is putting pressure on the timber industry, with wildfires and storms destroying crops across the globe, driving up prices as natural destruction causes the resource to become ever scarcer.
As we search for new, ­sustainable building methods, timber is increasing in popularity, with architects and engineers struggling to find superior eco-friendly ways to move beyond the use of steel and concrete.
It is undeniable, then, that the UK has to boost its timber production, but a debate has sprung up about how best to do it, and as a result, about the future of our forests.
This is because the amount of native woodland in Scotland is incredibly low, with only 4% of its trees being indigenous to the land.
As most trees that produce quality timber tend to be non-native conifer trees, there has been disagreement about what deserves the most focus – planting non-native for the sake of timber, or planting native for the sake of biodiversity.
George Anderson, ­communications officer at Woodland Trust, said the shortage of native woodlands has ramifications beyond climate change: "Only 4% of Scotland is native woodland and over half of those woods are in poor condition. Just 1% of our land area has ancient woodland – where the soils, trees and other plants and wildlife have developed together over centuries.
"These tiny remnants of what once covered most of the country are precious and irreplaceable, yet we continue to chip away at them to make room for things such as the golf course at Ury in Aberdeenshire five years ago or, more recently, the duelling of the A96, which destroyed ancient woodland.
"We estimate 60% of new woods being created are non-native, but we would like to see it be 50/50 native to non-native.
"There is a biodiversity crisis as well as a climate crisis and properly managed native woodlands in the right places are essential in the fightback.
"Loss of habitat and use of pesticides means we have fewer insects, so there is less food for things like birds and bats.
"It is important to Scotland's wellbeing that we respond to not just the climate crisis but the biodiversity crisis. The natural world is not separate from us. It sustains life itself."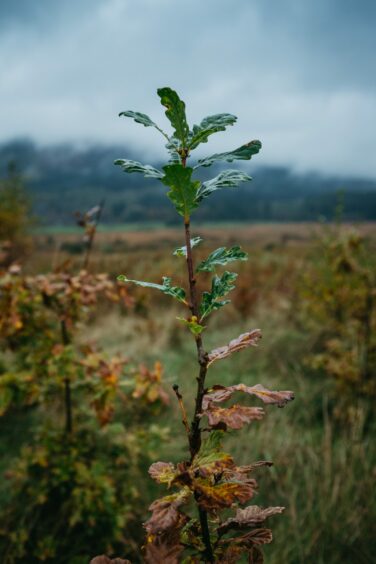 Anderson acknowledges there is a place for non-native trees – but said it was essential for Scotland to have more natives in the mix. "We think there is a place for more woods of all kinds, from commercial forestry with non-native trees, through to native woods."
At the end of my trip with Forestry And Land Scotland, I stand on the edge of a field made mush by the rain, regretting my poor shoe choice and my feet sink into the sludgy ground.
Still, I cannot deny that what they have made me wade through long grass and muddy puddles for is a lovely, hopeful sight. Rows and rows of native Scottish broad-leaf saplings, which will not come to full maturity for another 80 years.
Mick Bottomley, head of marketing for FLS, tells me he believes Scotland is big enough for both native and non-native trees.
He said: "Whether it's the environment, conservation, recreation, carbon sequestration or climate change, forestry has an answer for it. It gives us options.
"I don't want to get drawn into arguments about which is better, native or non-native, because it's about the right tree in the right place. Why not both? After all, forests are tree communities. They work together to survive."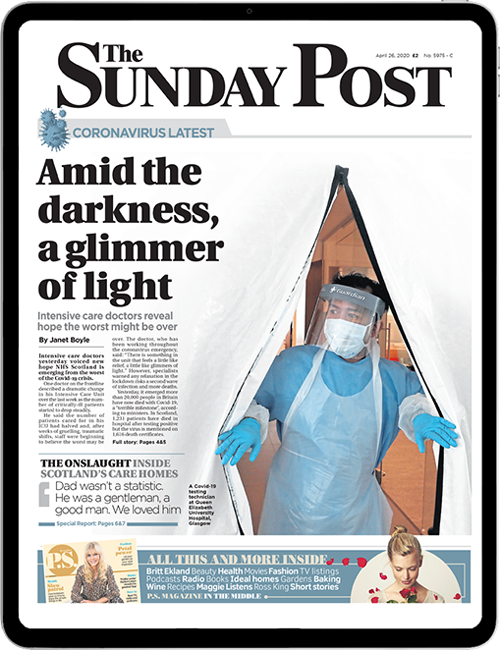 Enjoy the convenience of having The Sunday Post delivered as a digital ePaper straight to your smartphone, tablet or computer.
Subscribe for only £5.49 a month and enjoy all the benefits of the printed paper as a digital replica.
Subscribe