The number of English children living in Scotland's five secure care units has nearly doubled in a year despite calls for urgent action to free up more spaces for vulnerable Scots.
Figures have revealed a huge rise in teenagers from England being sent to Scotland's secure care units while places taken by Scottish residents have dropped.
The lack of spaces has led to children being sent to young offender institutions, including 16-year-old William Lindsay who took his own life at Polmont.
The sheriff dealing with him wanted to send him to secure care but no rooms were available, with many secure care units taking children from England to ensure full capacity and protect income.
The Scottish Government is now being urged to introduce a policy for all children under 18 in Scotland to be sent to a secure care unit and to ensure enough places are available for Scottish residents.
Nick Hobbs, head of advice and investigations for the office of the Children and Young People's Commissioner Scotland, said: "The Scottish Government has a duty to make sure that sufficient alternative provision is available in Scotland so that children under 18 are not detained in prisons, other adult provision, or young offender institutions.
"Where children do need to be detained, it should be for the shortest possible time and in an age-appropriate facility capable of protecting their physical and mental integrity and wellbeing."
In February this year there were 47 under-18s in YOIs in Scotland – including 15 boys awaiting trial – up from 40 at the same time the previous year.
There are five secure units in Scotland, providing 84 places.
The number of residents from outside Scotland in these centres has nearly doubled in a year, from an average of 19 in 2017 to 36 in 2018, according to figures.
Meanwhile residents from within Scotland dropped by 18% over that time, from 56 to 46.
The practice of under-18s being detained in young offender institutions came under increasing scrutiny after William Lindsay's death in October. The 16-year-old took his own life after being remanded in Polmont Young Offenders' Institution, despite being flagged as a suicide risk and a sheriff wanting to send him into secure care.
Together, the Scottish Alliance for Children's Rights, which includes charities Aberlour, Barnardo's Scotland and Who Cares? Scotland, raised the issue in a submission to the UN Committee on Torture, which is currently conducting a review of the UK's policies on punishment. It warned: "There has been an increase in cases where Scottish centres have been at full capacity, raising questions over how the needs of highly vulnerable children will be met in such instances."
The submission is calling for the Scottish Government to introduce a policy that means all children under 18 should go to secure care and to ensure there are always secure care placements available when required for Scottish children.
Fiona Dyer, interim director of the Centre for Youth and Criminal Justice, said: "What we have highlighted is the inconsistency in Scotland where some children aged under 18 are treated as children and are remanded to secure care, whereas others go to a Young Offender's Institution where, according to evidence, they are not treated as a child."
Paul Carberry, director of charity Action for Children, said Scotland had a progressive, welfare-based approach towards children at risk or in trouble.
But, he added: "However, we still have the situation where young people are not only tried in adult courts but then locked up in prison when alternatives, such as community-based orders or secure care, would offer a more appropriate solution."
Last year The Sunday Post revealed how one of Scotland's secure care units has stopped taking in young people from England.
Sinclair Soutar, director of the Kibble Centre, in Paisley, Renfrewshire, said it was no longer "ethical" to take in teenagers from down south when vulnerable young Scots are in need.
Justice Secretary Humza Yousaf has ordered a review of mental health services for young people in Polmont following the death of William and 21-year-old Katie Allan, who also took her own life while in custody at the institution.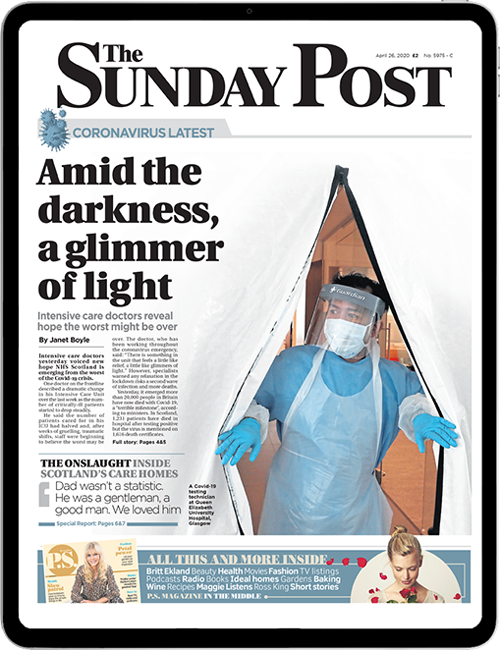 Enjoy the convenience of having The Sunday Post delivered as a digital ePaper straight to your smartphone, tablet or computer.
Subscribe for only £5.49 a month and enjoy all the benefits of the printed paper as a digital replica.
Subscribe