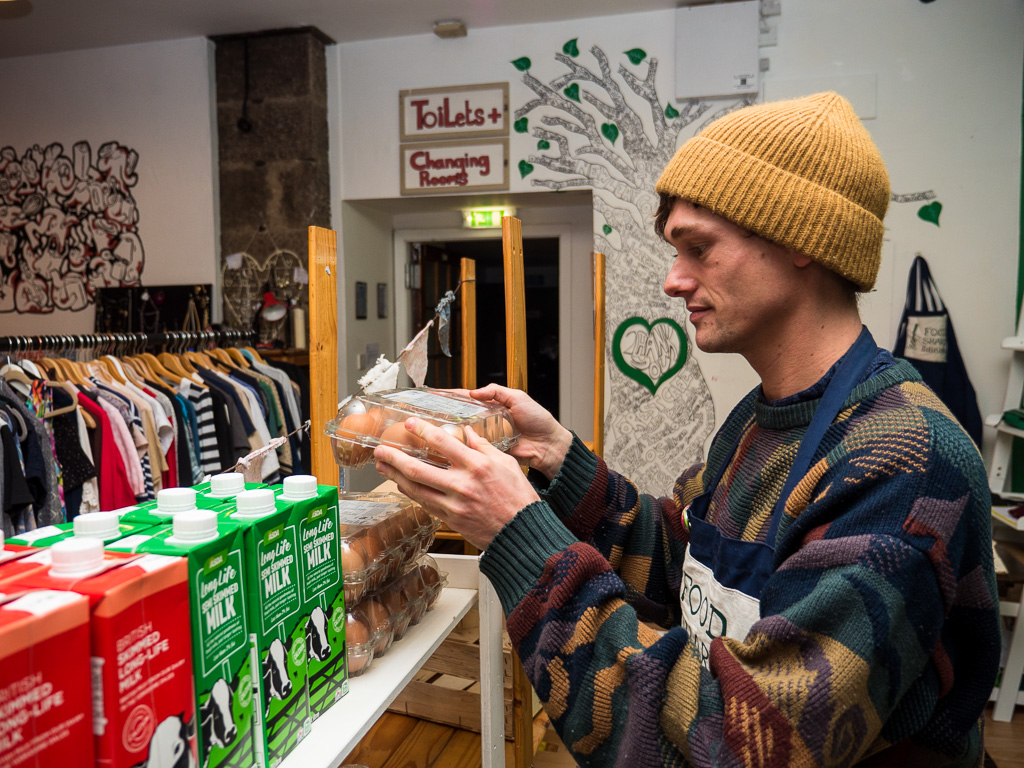 SCOTLAND'S first excess food shop has opened in Edinburgh in an attempt to tackle the millions of tonnes of produce wasted each year in Scotland. 
The Food Sharing Hub on Edinburgh's Bread Street, which opened on Friday, is stacking its shelves with fruit, vegetables and bakery products which supermarkets would previously have binned as they were past their best-before date.
Every morning, a team of volunteers collect still-fresh food from local Tesco, Lidl and Coop stores and stock the shelves of the hub for the community to access affordably on a 'pay as you feel' basis.
The hub is run by volunteers at SHRUB Coop, a collective passionate about food waste who have been distributing food for the past five years.
In 2018, SHRUB Coop collected 30.36 tonnes of surplus food from 25 small businesses and redistributed it, on foot or by bike, to local charities.Currently, Scotland throws away a total of 1.35 million tonnes of food and drink waste per year.
In central Edinburgh, 27.1 tonnes of food go to waste every week – the equivalent of roughly 54,000 meals unnecessarily thrown in the bin while 8.4 million people across the UK suffer from food poverty.
In an effort to combat this, the Food Sharing Hub has introduced a membership system, costing £1 a month to join. Once a member, shoppers can fill a basket with food every day, and contribute a donation to help cover the costs.
Sydney Chandler, shop coordinator said: "We've only been open three days now but the results so far have been really good.
"The customers we have had come in have been really enthusiastic and are super aware of the massive amounts of waste in the country.
"These are customers who are happy to buy things that are a little bit bashed or bruised but are still perfectly edible or useful.
"We have loads of bread, fresh fruit and vegetables and a lot of Christmas biscuits coming in as they reach the end of the season."
They added: "I think instead of being really obsessed with looking at best before dates on labels, we should just use our common sense to work out whether something is still perfectly fresh or not.
"I'm completely baffled by the idea we live in a system that builds in waste rather than shuts it out."
The Food Sharing Hub is part of the Zero Waste Edinburgh project to establish long-lasting strategies to reduce waste in the south side of Edinburgh's Old Town.
Laurie King, food waste campaigns manager at Zero Waste Scotland said: "The Food Sharing Hub is a great way of making sure food that would otherwise have been wasted is put to good use.
"Every year, millions of tonnes of food waste is generated in Scotland at a massive cost to our economy and our environment.
"The Hub will be a real asset to the local community, not just in making sure that food finds a home but in giving practical support to people to help them waste less food in their own lives."
SHRUB Coop also offers a swap shop initiative, which allows customers to bring in old clothes or items in exchange for ones in the store, promoting a circular economy.
In addition the collective offer DIY bike workshops to help reduce the impact of Edinburgh's carbon footprint.
The store is open three days a week, on Thursdays, Fridays and Saturdays, from noon until 4pm.
---
Find out more here.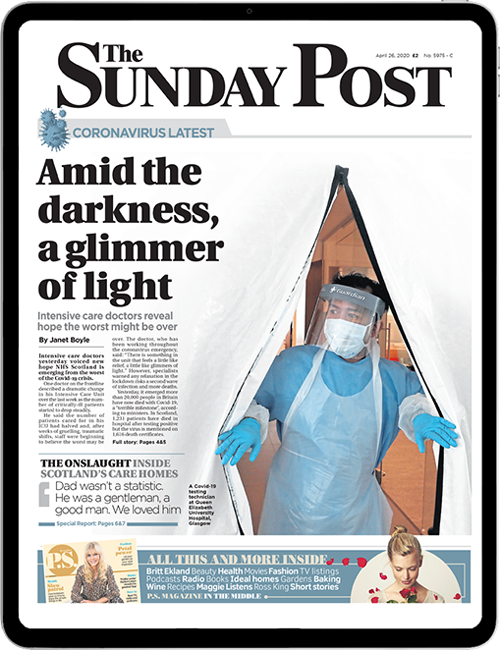 Enjoy the convenience of having The Sunday Post delivered as a digital ePaper straight to your smartphone, tablet or computer.
Subscribe for only £5.49 a month and enjoy all the benefits of the printed paper as a digital replica.
Subscribe