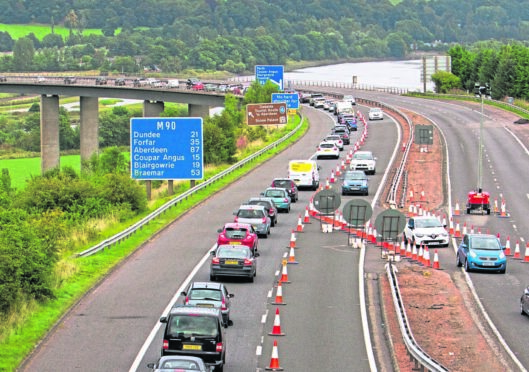 More than 7,500 roadworks will be ongoing this week as drivers despair and business leaders call for a national plan to tackle Scotland's crumbling roads and infrastructure.
Official data shows 7,572 roadworks being carried out between today and Saturday, forcing 925 road closures and including 1,372 "high-impact works" likely to cause delays or include lane closures or contraflow systems.
In Glasgow alone, there will be 3,542 roadworks affecting traffic, according to the Scottish roadworks register, as the Scottish Chambers of Commerce said a national plan to tackle road repairs was needed to avoid damaging the economy.
Chief executive Liz Cameron said: "Maintaining a functioning local road network and investing in large-scale road infrastructure projects should be a consistent priority if we are serious about connecting all of Scotland to the economic, cultural and social opportunities that are necessary for growth and prosperity."
Colin Borland, head of devolved nations at the Federation of Small Businesses, said: "Our roads are essential economic arteries that need to be kept moving."
The RAC Foundation earlier this year warned that Scotland has over 400 sub-standard bridges which would cost nearly £1.5 billion to bring up to a good standard.
Director Steve Gooding said: "Scotland has almost 37,000 miles of road – a national asset easily as important as the power, water and telecom networks. Proper planning is needed not just to ensure critical maintenance gets done, but to manage the impact on traffic."
Office worker Angela McGuinness, 32, usually takes just around 20 minutes to get to her Glasgow city centre workplace. Now the same journey takes more than an hour.
She said: "I cannot believe how long it now takes. I drive from Coatbridge into the city centre and should take 20 minutes or so but now takes well over an hour. It is doing my head in. They really need to speed things up."
Other cities will also be hit hard, with 1,737 planned in Edinburgh, 669 in Aberdeen, 383 in Dundee and 160 in Inverness. Earlier this year figures were obtained from local authorities by Scottish Labour showed the cost of fixing potholes on Scotland's roads would be £1.7 billion.
Scottish Labour transport spokesperson Neil Bibby said: "Scotland's roads are crumbling after years of cuts and neglect under the SNP. Drivers face misery on the roads, as they try to dodge thousands of ongoing repairs and many more unfixed potholes. Even with mass roadworks, we are still nowhere near tackling the £1.7 billion pound repair backlog littering our roads."
Scotland's roadworks commissioner said there were 141,743 roadworks in Scotland last year, up 18% on the previous year. He said that before the pandemic, the number of roadworks was consistent at around 130,000 per year.
Commissioner Kevin Hamilton said: "The reasons are a combination of three main factors. Firstly, public utilities and road authorities were more able to undertake works with the easing of restrictions and lessening impacts of the pandemic. Secondly, there was an element of catching up on work that had to be postponed from 2020. Finally, there has been a significant increase in activity in the telecommunications sector as utilities expand their networks to deliver superfast broadband across Scotland."
Transport Scotland said it is spending £586 million on the country's motorways and trunk roads in 2022-23, and 12,700 potholes had been repaired last year.
The government agency said: "We are making significant investment to support our programmes of essential road carriageway maintenance and bridge strengthening and repairs. In addition, the overall condition of our network is being enhanced through the delivery of our capital investment programme.
"Maintenance of the local road network is the responsibility of local authorities and it is the responsibility of individual councils to manage their own budgets and to allocate the total financial resources available to them on the basis of need and priority."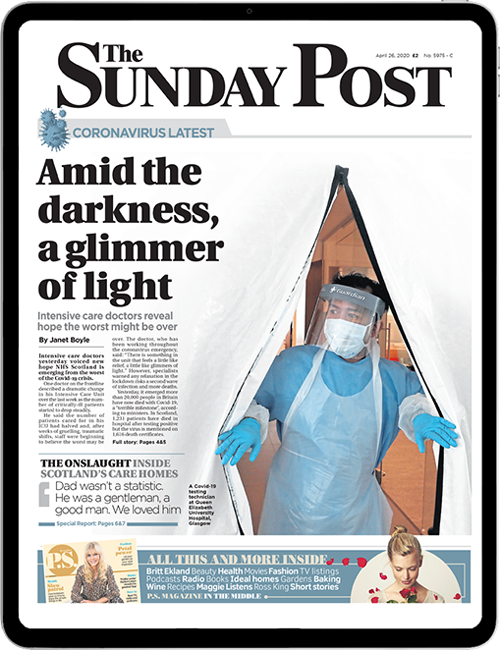 Enjoy the convenience of having The Sunday Post delivered as a digital ePaper straight to your smartphone, tablet or computer.
Subscribe for only £5.49 a month and enjoy all the benefits of the printed paper as a digital replica.
Subscribe