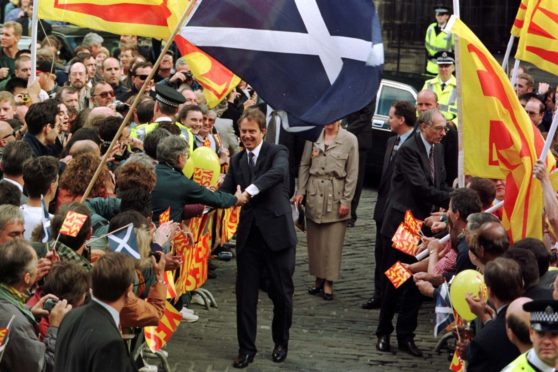 Tony Blair has claimed Scotland could have been independent by now if Labour hadn't offered devolution in 1997.
In an exclusive interview with Holyrood magazine, the former Prime Minister said devolution had been "essentially a success" because Scotland has remained part of the UK.
However, Blair admitted he had overestimated the degree that devolution would end calls for independence.
He said: "I think if I had any regret, I would have looked at more ways to keep Scotland and the UK feeling more culturally aligned.
"But having said that, I think people forget that there was a huge amount of pressure for devolution as an alternative to independence and if we hadn't offered that alternative, you might have had an independent Scotland by now."
In 1995, Labour's shadow secretary of state for Scotland, George Robertson, now Lord Robertson of Port Ellen, famously declared devolution would kill nationalism "stone dead".
Referring to that claim Blair said: "Ultimately, I think we overestimated the degree to which devolution would quash independence.
"But I think were it not for Brexit now, probably the mood in Scotland would be less in favour of independence than for some time."
He said that while the lesson of other countries such as Canada and Spain with independence movements was that calls for independence would not go away, it probably would have waned in popularity here, were it not for Brexit.
The former PM also compared the campaign for Scottish independence to Brexit.
He said: "I don't want to offend supporters of independence, but independence has a little bit of the Brexit spirit in it in that you end up thinking the answer to your problems is to have a different form of constitution, whereas I think the answer to most of your problems lies in policy."
Blair suggested that constitutional changes would not in themselves bring about a better education system, a better healthcare system or a better run economy.
He said: "It's a really important thing – government ultimately is about the quality of the policy-making. . .but if you look at what's happening with Brexit, a lot of people supporting Brexit are doing so because they think it's the answer to their problems.
"It's not actually the answer to anything. And that's the truth.
"Now, if you believe that getting out of Europe is necessary to take the decisions that make your life better, then that's a reason for Brexit.
"Likewise, if you believe that there are things that you can't do, that if only you were able to do, it would transform Scotland, that makes the case for independence strong, but I struggle to see what these are.
"The experience of devolution so far with different parties in power is if you look at the basic issues for people – law and order, education, healthcare, etc, etc, devolution, – it gives you the ability to make policy, but it doesn't tell you what is the right policy."
He also said that one of the reasons that support for independence until Brexit "somewhat ebbed" was because people could see that simply giving powers to Scotland did not necessarily make things better.
He added: "When they [the SNP] had control over education and healthcare, were there massive improvements? Was there a big different way of doing things?
"No, you basically had the same policy issues you had before."
Asked whether he understood why Scotland had voted so differently from the rest of the UK in the EU referendum, he said: "Yes, because I think it was driven by a sense of English nationalism, which is obviously going to be more powerful in England than Scotland, and also because I think Scotland is quite comfortable with a European identity."
However, Blair acknowledged Brexit may have made independence more likely.
He said: "I'm not saying it will happen, because I still think there are very strong arguments against it, and obviously I'm not in favour of it, even after Brexit – if we do Brexit.
"But it seems obvious, if Scotland is in favour of staying in Europe, and you wrench the UK out of Europe, then the people arguing for independence will have another dimension to their argument."
Read Mandy Rhodes' interview with Blair in Holyrood Magazine www.holyrood.com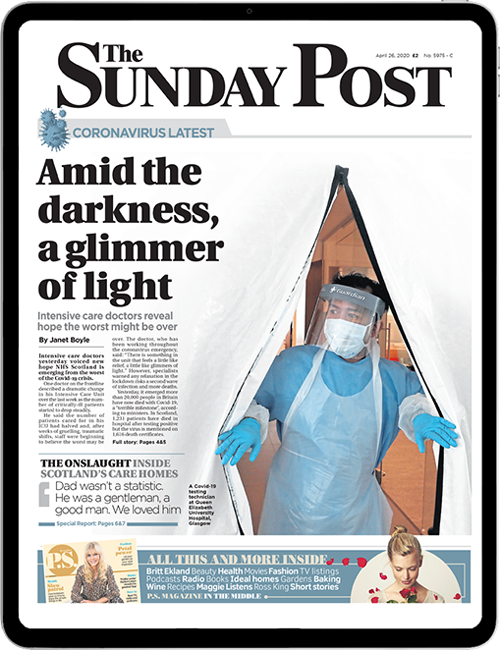 Enjoy the convenience of having The Sunday Post delivered as a digital ePaper straight to your smartphone, tablet or computer.
Subscribe for only £5.49 a month and enjoy all the benefits of the printed paper as a digital replica.
Subscribe