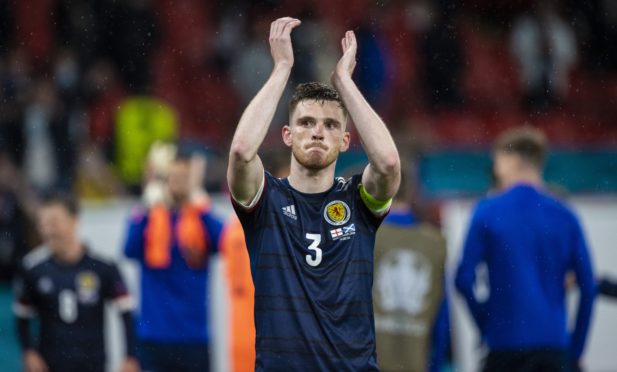 Scotland fans desperate to see the team's most important match for generations were warned off touts yesterday as the price of gold-dust tickets for Tuesday's big game soared.
After securing a crucial point at Wembley on Friday night, Scotland must beat Croatia at Hampden on Tuesday night to have a chance of qualifying from the group.
Victory in Glasgow could see Scotland progress from the group stages at a tournament for the first time in history. But only 12,000 fans will be inside Hampden because of Covid restrictions.
The game will be broadcast on STV, who showed Scotland's goalless draw with England – the most-watched game of the tournament so far, peaking at 20 million viewers. But fans desperate to be there are looking at the black market where tickets were selling yesterday for more than £1,000.
Iain Emerson of the Famous Tartan Army magazine believes the Croatia game is the biggest Scotland have faced since they played England at Euro 96.
He said: "It's the biggest game for years – the chance to go through to the next round. If you think we haven't qualified for 23 years and now we're one game away from doing what no other Scotland team has managed to do. I'm just like everybody else, really looking forward to it. It's now become even more important.
"It's really exciting, almost like a cup final game. I think the nation is enjoying it. Everyone is joining in and it's given us all a lift."
Lifelong Scotland fan Andy Redmond, 74, was equally upbeat, and said: "The road we have travelled over the years has led to here.
"We have been everywhere with Scotland, dreaming that one day we could get ourselves into this position.
In pictures: Scotland supporters urged to be cautious as Tartan Army takes over London
"We only have to beat the team that was in the last World Cup final, that's all. And after that, who knows?"
Some extra tickets to the game were released by UEFA yesterday for fans who had been able to buy them in the original ticket ballot only to have them cancelled and refunded when spectator numbers were reduced because of the pandemic. But some fans faced ­disappointment as they could not secure the cheaper tickets they had originally chosen.
Iain Harrison paid €100 (£86) for two tickets to take his 10-year-old son to the game but the only tickets he could have bought yesterday would have cost €360 (£310), for a pair of seats with a better view of the pitch.
He said: "We have season tickets for Hibs and it's not far off that for me and my 10-year-old for the whole season. If UEFA want kids to grow up loving football and watching Scotland, then they need to make it affordable."
Ticket-selling sites have also been cashing in. A category one ticket – which would have cost £158.95 from UEFA – was on sale yesterday for a total of £1,007.20 from the website livefootballtickets. The brief was advertised as costing £769, but the site also wanted a £230.70 booking fee and £7.50 for special delivery.
Category three tickets with a face value of £42.96 – were being offered for a total of £402.50 each on Ticketkosta.
But fans tempted to shell out the inflated prices could still end up disappointed as UEFA does not permit ticket resales and monitors the internet so it can cancel tickets being sold on.
UEFA said: "All tickets for UEFA Euro 2020 are issued by UEFA and are subject to strict terms and conditions which prevent their unauthorised resale and transfer.
"We encourage fans not to be duped by touts who demand exorbitant prices despite often not being in possession of the tickets they claim to have for sale.
"Any tickets offered for sale on ­secondary ticketing platforms, social media, marketplaces etc are advertised in breach of the ticket terms and conditions that all ticket buyers agree to before the purchase.
"Our organisation has actively enforced its ticket terms and conditions, including by monitoring the internet for unauthorised offers.
"UEFA will not hesitate to take action – including cancelling tickets – where such unauthorised offers are identified and take legal proceedings against third parties involved in the unauthorised resale of tickets, as we have done in the past."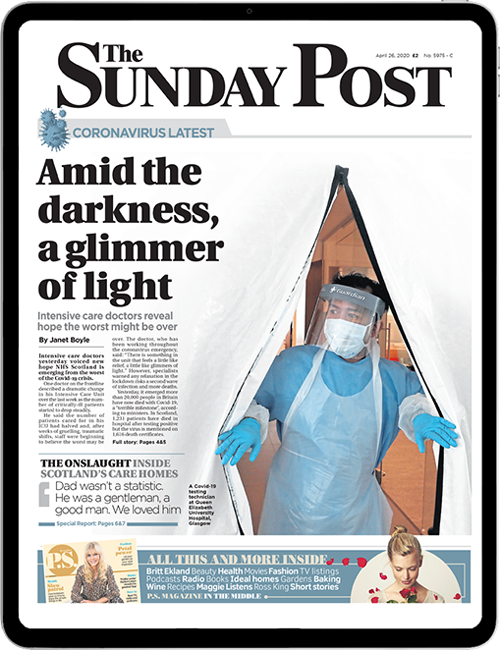 Enjoy the convenience of having The Sunday Post delivered as a digital ePaper straight to your smartphone, tablet or computer.
Subscribe for only £5.49 a month and enjoy all the benefits of the printed paper as a digital replica.
Subscribe