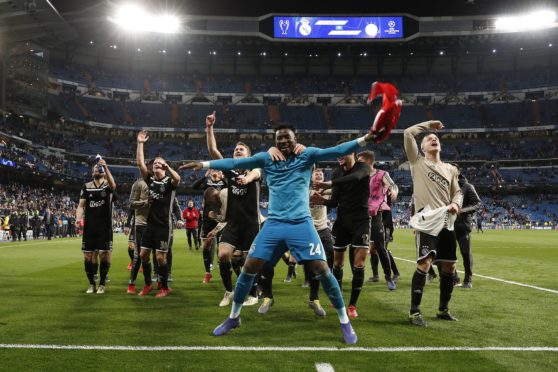 The whole of Europe sat up and took notice of Ajax's stunning Champions League victory over Real Madrid in midweek.
Buried away behind the headlines was a message for Scottish football.
Maybe the idea of having the likes of Celtic and Rangers' colts teams playing in League Two of the SPFL is not such a bad one after all.
And if we can learn to show a bit of patience, maybe the work being done at the grassroots of the game will eventually bear fruit.
Former Motherwell and Dunfermline defender, Michel Doesburg is now a scouting coordinator at Ajax.
He makes sure the Amsterdam club leave no stone unturned, at home or abroad, in the search for talent.
So the fact that Ajax thrashed Real 4-1 in the Bernabeu with a few players in the team who have progressed from the club's academy made it all the sweeter.
For those not involved but playing in the second tier of Dutch football for Jong Ajax – essentially the club's youth team – it will give them hope of finishing the pathway to the top team.
Perhaps there is something to take from there in terms of how Holland's top teenagers learn their trade in a competitive environment, rather than playing in Under-20 games on a midweek afternoon in front of less than 100 spectators, as is currently the case in Scotland.
Doesburg said: "Whether you are a coach or a player, Ajax is a tremendous environment to be involved in.
"We have a strong identity, with the likes of Edwin van der Sar being general Ddirector, and Marc Overmars as sporting director, both former Ajax players.
"We have a strategy and a philosophy, from the youths to the top team.
"We believe in it, but we are not so arrogant as to believe it is perfect and can't be improved upon.
"That's why we will look at the bigger nations to see what we can glean from elsewhere.
"You must never stop learning and never stop striving to improve.
"But as you long as you stick to your core principles, with a mixture of head and heart, you will be fine.
"What happened with Ajax in Spain, and the improvement in the national team in the past year, has given everyone in Holland a huge boost.
"A few years ago, when things were not going so well, I always said for everyone not to panic, to stay calm and believe in the future. The good times will come around again.
"It has to be the same thinking in Scotland.
"Believe in what you are trying to do, and do not chop and change your core principles every year or two. That is not the way to do it."
Doesburg watched the Bernabeu drama unfold on TV at his home in Beverwijk, on the outskirts of Amsterdam.
He ended up on the phone to his best friend, former Rangers full-back, Arthur Numan, both biting their nails as they waited to see if the referee would award the third goal, scored by Dusan Tadic, after an extensive VAR check.
Doesburg admitted: "It was a special night and an unbelievable victory.
"I know for sure that if you ask me in 20 years time about this game, I will remember it in every detail – where I was watching it and who scored the goals.
"Arthur is the same. We only live a few minutes from one another, but we were on the phone and texting non-stop.
"We were like little boys when we waited for the referee to make a decision about Tadic's goal, which he eventually gave to make it 3-0.
"Now, we move on and see where we go in the next round. But I've already booked my flights and hotel for the Final in Madrid. Arthur and I are going together.
"I've been to five or six Champions League Finals, but now there is the possibility we could be watching Ajax in May.
"That would be unbelievable. But we must not get carried away.
"However, what happened in Madrid was not a fluke. This has been building and developing for a while.
"Remember, Ajax had the youngest ever squad in a European Final when we lost to Manchester United in the 2017 Europa League Final.
"We had Matthijs de Ligt in the starting team. Frenkie de Jong and Justin Kluivert were on the bench.
"I've only been at Ajax for a year, but it is great for my colleagues who have helped with the continuous development of such players to see them doing so well."
Kluivert was sold to Roma last year for around £17-million.
De Ligt is just 19 now, but already the club captain. He has played more than 100 first-team games and is set to move this summer for £70m, with Barcelona, PSG, Liverpool and Manchester City wanting to sign him.
De Jong has already agreed a move to Barcalona for £65m.
Doesburg will be sorry to see them go – but he remains confident the conveyor belt will continue.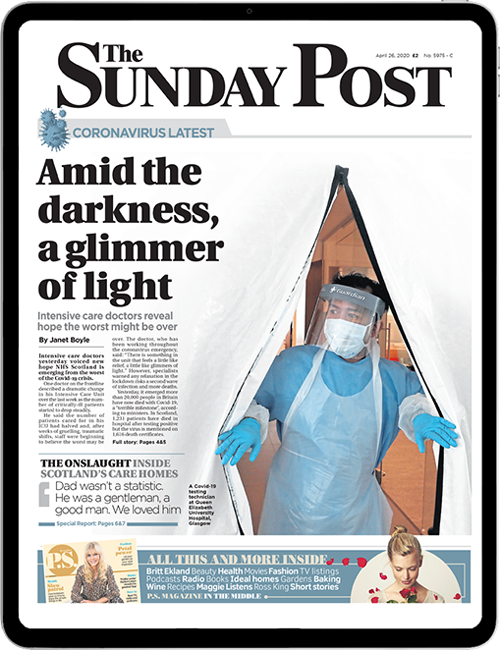 Enjoy the convenience of having The Sunday Post delivered as a digital ePaper straight to your smartphone, tablet or computer.
Subscribe for only £5.49 a month and enjoy all the benefits of the printed paper as a digital replica.
Subscribe