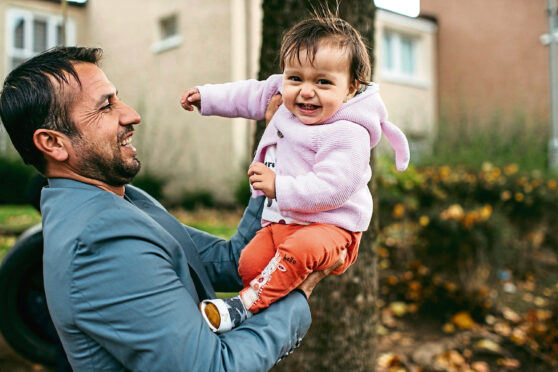 An Afghan who fled the Taliban has described the perilous journey over the English Channel in a crowded dinghy to reach safety in Scotland.
Abdul Qadeer Masaum came to Scotland 10 years ago as a refugee but returned to Afghanistan after five years when his father became ill.
He fled Afghanistan again in August as the Taliban swept to power following the sudden departure of US and British forces without warning.
He said: "Because I had lived in the UK, the Taliban probably thought I had become westernised and was a spy for the British. They were getting more powerful by the day and were taking people out of their homes, torturing them and killing them. It was impossible to remain. You could not hide from the Taliban because they were everywhere."
His parents paid for an agency to take him to Britain but he was forced to leave behind his wife and one-year-old son.
Please don't forget the people of Afghanistan – @WFP_Afghanistan doing all we can and more to help those facing hunger.▶️ pic.twitter.com/BszgeACbfl

— WFP Afghanistan (@WFP_Afghanistan) December 17, 2021
He said: "It was a very dangerous journey. Much of the journey was by foot and we didn't have enough food and water. People were starving. It was a journey you would not wish on your worst enemy."
Determined to return to Scotland despite the dangerous Channel crossing, he said: "The conditions I saw for refugees in France were terrible. People were sleeping rough and without shelter. They are waiting months for accommodation. In Scotland,  I have friends and relatives."
Catastrophic famine looms in Afghanistan as experts warn more refugees are fleeing Taliban and hunger
After reaching the coast of France, he was then able to continue his journey in a small dinghy with about 25 people.
He said: "It was too crowded and when the waves hit the dinghy I was convinced that I was going to die.
"I thought of my wife and son, my parents, and I prayed that God would keep me safe through this journey."
Masaum returned to Scotland and last spoke to his wife a week ago: "They do not have a fixed address, moving from place to place. My wife said the situation is very bad, with more and more restrictions on women.
"I feel so much pain not having my family with me. I have nightmares knowing that they are not safe.
"But there is no way I and other Afghans can return to Afghanistan under Taliban rule.
"We urge the Home Office to grant us refugee status so that we can live here and rebuild our lives."
Mohammad Asif, director of Scotland-based Afghan Human Rights Foundation, said: "The Taliban are rounding up and torturing ex-soldiers, former government employees and people who worked for the West.
"They have disappeared and their families don't know where they are.
"Responsibility lies with Britain and America because they invaded Afghanistan, occupied the country for 20 years, costing the lives of thousands of soldiers and hundreds of thousands of Afghans, and then handed Afghanistan over to the Taliban barbarians.
"We urge the Home Office to grant status to the Afghans here. The Taliban is not going to change. It is not going to be safe for people to go home."
---
The people here have been friendly
A journalist forced to flee his home in Afghanistan because of articles he'd written critical of the Taliban said he and his family have been touched by the welcome they've received in Scotland.
Omid Asak, who has been here for four months with wife Zarifa, their two sons and baby daughter, managed to get on a flight to England from his home in Kabul after receiving a written warning from the fundamentalist regime, which he'd criticised in print, to leave the country.
Asak, 38, who has found a home in North Ayrshire, said: "We have been here since September and it has been good so far. We had a nice Christmas and the people here have been friendly.
"Our neighbours brought us some biscuits and some toys for the children and we thought that was a very nice thing to experience.
"Our two boys are aged seven and five and are in school and doing OK although getting to know the language has been difficult for them.
"We also have a baby girl aged one. The boys don't completely understand English yet but they are trying to improve. Their teachers are very good.
"I was a journalist in Afghanistan and that is something I would like to try to get into perhaps in Glasgow, now I am here. My English is not as good as it could be so that is what I am working on.
"I want to achieve more education and experience here so that I can get back into my career in journalism and I am looking also to study politics and sociology.
"I lived in the Afghanistan capital Kabul so it is obviously a very different experience living here in Scotland but we have found that the people here are friendly. I have already learned to love the cloudy and rainy weather and that has not been a problem for us.
"Afghanistan and Scotland are so different that it's difficult to explain but we are happy here and it is safer for us. Scotland has been very good so far."
---
There is so much green in Scotland, trees and grass. It is very nice, even in the rain
The parks and green spaces of Scotland have been a revelation to a former Afghan interpreter and his family.
Naqibullah Eshaqzai, 36, was forced to flee his homeland when the Taliban took over last summer, having previously worked with Nato forces, including Scots troops.
The dad of two is now settling in the Glasgow area and studying to get his English up to the level required for a job in computing. Meanwhile, he said he wanted to thank those who had extended the hand of friendship since he and his family moved here.
He said: "It's very nice here in Scotland even though, of course, there is a lot more rain.
In Afghanistan it is very dry and dusty. It's very green in Scotland by comparison, with lots of trees and grass everywhere and that's why it is very beautiful here to us.
"I am now at college three days a week studying English and my aim is this will help me to get a job, maybe in computers or IT.
"My children are now at school here, my son is in primary two and daughter in primary three, and while the language is difficult for them, they are trying to learn and we hope it will get better. We have encouraged them to try to make friends with other children. Everyone has been friendly to them and it is going well.
"Our children received Christmas presents from school and we also got some presents from a community group here which we really appreciate.
"We were also able to buy the children some clothes and some sweets for Christmas and they were very happy.
"We try every day to get out and to go for walks in the park near where we stay. The children like playing in the park and I enjoy running and walking.
"We see a lot of football on the television but we haven't really got into it any more than that yet.
"The Scottish people have been helpful and kind. It has helped us settle in here and we are very thankful for people's friendliness towards us."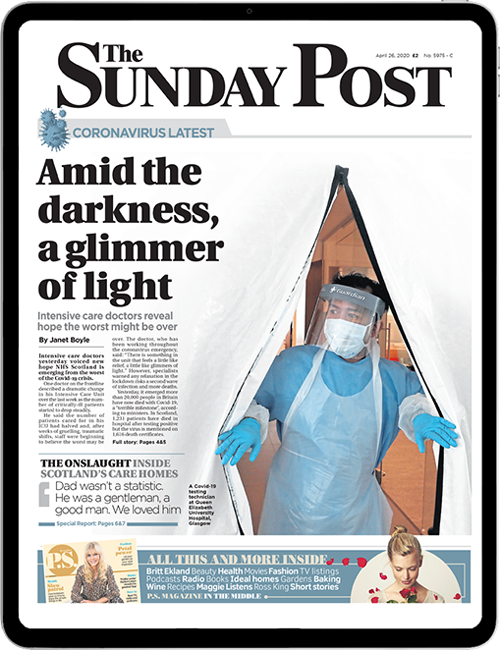 Enjoy the convenience of having The Sunday Post delivered as a digital ePaper straight to your smartphone, tablet or computer.
Subscribe for only £5.49 a month and enjoy all the benefits of the printed paper as a digital replica.
Subscribe