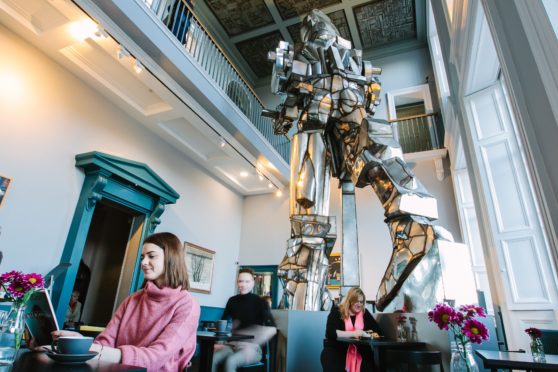 Much as an artist turns brushes and paint into a masterpiece, a baker's simple supply of flour, eggs and sugar can produce the most fantastic art form.
Sculpted into a perfectly plump mound of doughy flesh, and baked to just the right shade of golden brown, in my eyes the humble scone is just as artistic as the likes of Andy Warhol's Campbell's Soup Cans – although they don't tend to stick around for quite as long to be admired.
I recently found the perfect way to indulge my taste for creative crumbs and modern art at the same time, visiting the newly refurbished Paolozzi's Kitchen at the Scottish National Gallery Of Modern Art in Edinburgh.
The 72-seat Cafe Modern Two is set around pop art genius Eduardo Paolozzi's 24ft Vulcan sculpture, an imposing welded steel structure of the Roman god of fire, complete with swinging hammer and marching stance, which reminded me of my own stomping stride whenever I spot a cake display.
The cafe is a beautiful setting for a spot of afternoon tea or lunch, with everything from the crockery and cutlery to the paintwork and pasta paying homage to the renowned Scottish artist and sculptor, whose studio is currently on display in the Gallery until the end of March.
When I stopped by the cafe, two dear friends and their adorable little granddaughter joined me for a late lunch, and it seems you can never be too young to appreciate a little culture.
While the adults perused the menu, our toddler companion was happily transfixed by the Vulcan, and every so often the quiet stillness of the gallery was pierced by exclamations of "Big shiny man!" which our fellow diners seemed to find quite amusing.
My friends opted to sample a few savoury dishes, ordering bruschetta with white bean and confit garlic hummus from the "lighter bite" section, and a steaming hot bowl of the soup of the day, served with little oatcakes.
Of course, I couldn't pass up an opportunity to expand my waistline, so I didn't hesitate to order the Paolozzi's Kitchen Cream Tea.
Served with a pot of tea or coffee or a soft drink, you can choose either a plain or fruit scone, served with clotted cream and homemade jam, or a savoury wholegrain mustard and herb scone with butter, a wedge of Tain cheddar and spiced pear chutney, all for a smidge over £7.
My sweet tooth was aching, so I devoured the soft and crumbly fruit scone, as well as the light empire-style biscuits that accompanied it. Delicious.
With fine food and even better art, this chic cafe comes high of my list of Edinburgh eateries, and I'll be sure to pop by for a visit again.
---
Welcome
Warm and friendly. It's nice to see a cafe with table service rather than DIY. 9/10
Location
A 15-minute walk from Haymarket Station. Warning – the car park gets very busy! 8/10
Scone
Plump and filled with fruit, just as they should be. 9/10