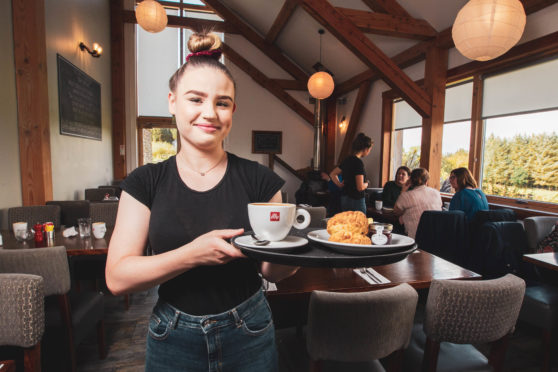 Although I keep my Scone Spy alter ego strictly incognito, it is slightly more difficult to hide my voluminous midsection and, with it, my love of food.
That is why, on an all too regular basis, friends will insist there is a new café or eatery that I simply must try.
It is fair to say that these suggestions are of varying quality. I have stirred coffee with a greasy spoon on more than one occasion, let me assure you.
So, when a pal told me about Canada Wood on the hills outside Falkirk, I kept my expectations at a suitably low level.
I visited for breakfast on an autumn Sunday morning and I was struck by the spectacular location.
The café, a Scandinavian affair, all lightwood and stonework exterior, overlooks a huge rolling pasture that is boxed in on all sides by the pinewood forest that gives the café its name.
Off in the distance, the impressive Ochil Hills were bathed in light as a beam of sunlight slid across their summits. The place was a hive of activity. A group of cyclists were making last-minute checks after visiting the onsite bike hire shop. They quickly packed up and whizzed off down one of the many miles of mountain biking trails. And a steady stream of walkers took a rest from walking along the John Muir Way. You can even hire a Segway if you are feeling really brave.
However, exercise is not my thing. And, though it took a lot of willpower, I gave up dieting years ago.
That is why I skipped the outdoor options and headed straight inside.
The welcome was extremely warm. The young woman who greeted me led me to a table by the panoramic windows that run the length of the small café.
It was still early but already the place was about half-full and filling up quickly – a sure sign the food is of top quality.
I chose the Stornoway Benedict, a Scottish version of the classic dish. It came with a toasted muffin, poached eggs, Stornoway black pudding and hollandaise sauce. It is hard to overstate just how good it was. The black pudding had a lovely spicy kick. A sharp tang of vinegar cut through the silky Hollandaise sauce. The muffin was crisp and light.
I could have ordered a second helping if I wasn't on duty. Instead, I asked the waitress to bring me the finest scone available to humanity. She duly delivered, clearly stumped by the Withnail & I reference.
It came with butter and a pot of raspberry jam and it more than maintained the excellent standard of the previous dish. The scone was light and fluffy but with enough substance to hold a sizeable slab of butter and jam.
Eager to prove I'm not some type of glutton I took a skinny latte with my bake. The coffee was similarly delicious, the milk steamed perfectly so it was airy and light and the coffee strong and dark.
This place exceeded all expectations and, with the option of a post-meal forest walk, I can categorically say that Canada Wood is tree-mendous.
Canada Wood, Lochgreen Road, Falkirk, FK1 3AZ
Welcome
Slick and professional service with a smile. 8/10
Location
Rolling pastures and woodland with stunning views to the distant Ochil Hills. 10/10
Scones
Like everything else on the menu, top class. 10/10