Scone Spy: Edinburgh's Bridgend Farmhouse Cafe is a leader in its field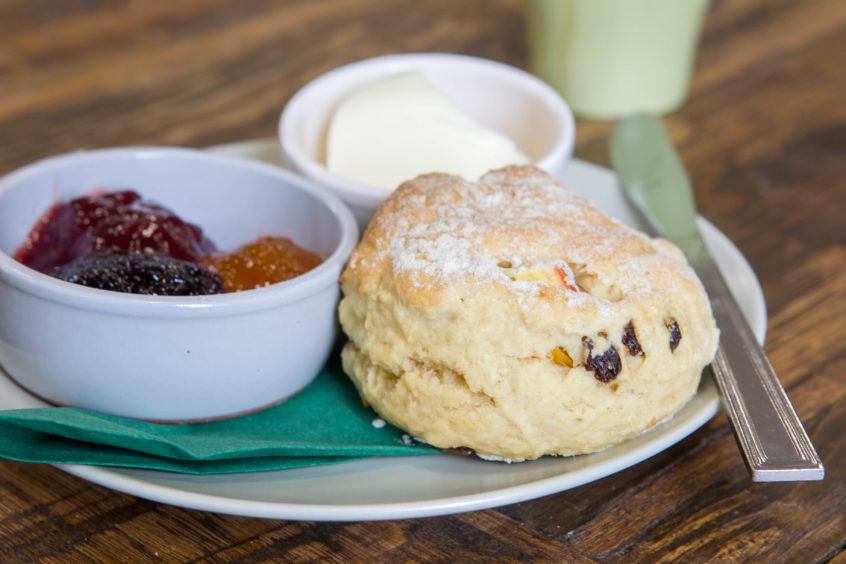 There's a saying that nothing brings people together more than good food. And on my latest little jaunt, I begin to realise there could be some truth in that statement.
It has been commercialised as a slogan on posters, but at Bridgend Farmhouse, it's a saying that rings true.
Owned and run by the community, this cute little café is one that gives – and keeps on giving. Tucked away in the suburbs of the capital, it's one of Edinburgh's best kept secrets.
Unless you know it's there, and then it's a secret you want to keep all to yourself! The old farmhouse building has been restored to create a café area with a sense of calm. The pastel green walls and distressed wood are homely and welcoming.
It does seem a bit like a farm. There are no cows, sheep or chickens but there's plenty going on. Looking out of the window, I spot a series of outbuildings, home to workshops in arts and crafts, bikes, outdoor education and DIY. And there's a few children playing in a lovely little garden.
There is a real sense of community, where people can learn and grow together. It's quite quiet when we arrive at lunchtime on a weekday, but Bridgend doesn't take long to fill up.
And browsing the menu – where everything is cheap as chips – I begin to realise why.
Food here is pretty straightforward. There's toast and breakfast rolls for the early risers, then baked potato, bagels or beans on toast for lunch. Then a series of sweet treats if you have any room left afterwards.
I decide on a baked potato. The fillings seem to be flexible as it states "what is available".
The staff fail to explain that you need to order at the counter, so after sitting for a while, waiting for a waitress, I eventually work it out.
I think that's the thing about a community venture…you do need to have patience. It's volunteer run so, while they try their best, nobody is a professional in the field. They're all just learning as they go.
I'm delighted to hear the chef can rustle up some cheese and coleslaw fillings – and when the steaming hot potato arrives, it looks and tastes delicious.
It's pretty filling, but as we all know there's always room for dessert.
And, as always, I aim to add another notch to my scone-scoffing bow by ordering one. And this time it's apple and cinnamon.
It's a tad tarte, but tasty all the same. It comes with side dishes of butter and jam too, which no scone is complete without.
As I devour the last of the crumbs, I look out to the veranda, which is a lovely little sun trap. Ideal for the summer months.
I leave with a full belly and a sense of community spirit. A fellow customer says, "See you next time" as I depart.
It seems good food certainly brings people together – and has them coming back for more.
Bridgend Farmhouse Cafe, 41 Old Dalkeith Road, Edinburgh
Welcome
Community spirited with an assumption that you will return time and again. 8/10.
Location
Full of industry and bustling with life. 9/10.
Scones
The apple and cinnamon is a tad tarte, but tasty all the same. 7/10.