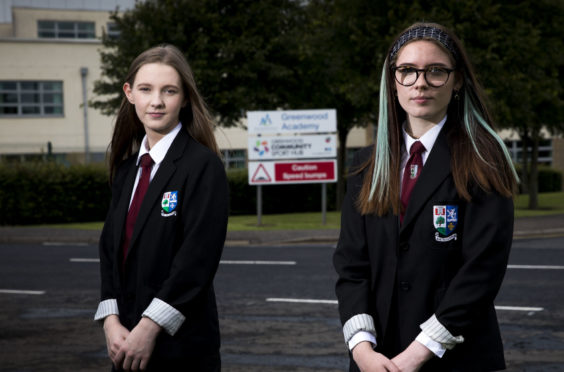 A pupil at Nicola Sturgeon's former school has made a personal plea to the First Minister to sort out Scotland's exam results fiasco.
Sixth-year pupil Nicole Tait attends the Ayrshire school Ms Sturgeon credits with helping her reach the top of Scottish politics.
But Nicole fears that her and her classmates' futures may have been jeopardised by how their grades were assessed by the Scottish Qualifications Authority.
The SQA downgraded nearly a quarter of all the recommended results for pupils, rejecting 124,000 submissions made by teachers. Data showed pupils from deprived areas were far more likely to see their higher grades lowered than those from the richest parts of Scotland.
Ms Sturgeon attended Greenwood Academy in Dreghorn, near Irvine, in North Ayrshire, which is ranked as the fifth most deprived council area in the Scottish Index of Multiple Deprivation.
In the letter, Nicole, 16, wrote: "Young people should not have their futures limited by where they live or where they go to school as you have proved. What chance do any of us have if we are graded on where we live and not what we can do?"
Ms Sturgeon attended Greenwood Academy in the '80s, before going on to study law, working as a lawyer and then entering politics.
In 2015, she said: "My priority for my time as First Minister is that every young person gets the same advantage I did when I was growing up in Ayrshire. They should know that if they have the talent and they work hard enough they should be able to fulfil their potential, they should be able to achieve their dreams, that there is nothing in their background or family circumstances that will hold them back."
Nicole received two Cs in her Highers and two Ds in National 5s, but based on coursework and prelims believes her grades should have been higher.
She said: "I just felt so angry that after all the hard work I had put in I received grades like that.
"The SQA should stick with the grades given by the teachers. They know how hard we work."
Nicole, who hopes to become a forensic scientist, said: "I need three Bs and one C to go to university, and will have to either work a lot harder next year at school, even though I worked extremely hard this year, or I will have to go college the year after."
Fellow pupil Ellie Little, also 16, received one B, one C and two Ds in her Highers and an A for a National 5.
Ellie received a C in sociology but expected at least a B after receiving an A in a test pupils were told to treat as a prelim.
She said: "Sociology is the one I'm really annoyed about because I received a conditional offer from college to study social sciences. I needed a B in Higher English, which I got, and a B in sociology, but got a C.
"Nicola Sturgeon has made it. There could be lots of other people in our school who have the potential to do the same, but have been held back because of their results."
A Scottish Government spokesperson said: "The First Minister understands why pupils like Nicole feel so strongly – and it's essential that any pupil who feels they have been treated unfairly talks to their school about the free appeals process."
---
The Letter
Dear First Minister
As a fellow Greenwood Academy pupil, I am writing to ask you to take just a few moments to think about the young people who have had their exam grades lowered because of where they went to school.
Young people don't need to go to a private schools to succeed as you have proved after leaving Greenwood and going onto university and a successful career in politics. All I, and my classmates, are asking is that we are given the same chance, that we are given a fair chance.
Our teachers know us. They have taught us, marked our work and given their honest estimation of the grades we deserve. The SQA know nothing about us apart from our postcode but that is enough to mark us down. We have been punished for the school we go to. Results day was meant to be a happy day, a celebration, instead I have cried a Clyde full of tears.
First Minister, you have spoken a lot about the attainment gap but words are easy.
What chance do any of us have if we are graded on where we live and not what we can do. If our futures are shaped by the performance of our schools in years gone by, what chance do we have of using our knowledge and talents in the years ahead. We are all individuals and should all be given the chance of the future we deserve.
I beg you, First Minister, please do not forget where you came from. Some of us still live there.
Yours sincerely,
Nicole Tait, a devastated S6 pupil at Greenwood Academy
---
Under this policy, I would not have been able to go on to university…or go on to teach at university
Education should be an engine of social mobility. Closing the attainment gap is at the heart of the Scottish Government's education policy, and the First Minister has staked her reputation on her record on education.
The philosophy behind the government's "Getting it Right for Every Child" approach to education is to put the individual child at the centre of education policy. And yet the SQA and the Scottish Government have made a conscious choice to adopt a policy
which appears to privilege the integrity of statistics over the exam results of individual pupils.
Even worse, whether intended or not, by adjusting individual grades to better fit historic performance in exams in certain areas, this policy entrenches existing inequalities in our society.
Some may point out that grades have increased across the board this year, in affluent and deprived areas alike. But how can we explain this to the pupil who has worked hard and performed well in their coursework, only to find their grade adjusted downward because of where they live, or how their predecessors in that school have performed in exams?
This policy sends a message to pupils in the most deprived local authorities that they cannot aspire to do better than their peers in previous years. If this policy had been in place when I was sitting my Highers, I would almost certainly have had my grades adjusted downwards, which would have meant that I would not have gone on to study law at university, and would not be teaching law at the University of Glasgow today.
How many will miss out on the social mobility I enjoyed, and are instead going to be left behind due to a policy which adjusts grades on the basis of socioeconomic status rather than merit?
Some will ask what the SQA could have done differently. There is an answer to that question, too. At the University of Glasgow, where I am assessment officer for the LLM in the School of Law, we, like many other universities across the UK, operated a "No Detriment" policy. Essentially, this meant trying to ensure a student's final grade was not out of line with the work they had submitted before the pandemic. This was not easy to implement, but the goal was to use an individual student's past performance to calculate their final grade.
Why the SQA and the Scottish Government decided not to do similarly, relying on pupils' coursework, and the estimations of the teachers who know them best, is unclear.
Perhaps it was simply a desire to avoid more pupils receiving higher grades this year than would otherwise be expected. But would this really have been so bad?
What is clear is that the alternative, the policy that has been adopted, is far worse as it is fundamentally unfair to pupils and also reinforces inequality in our society. It must be revisited, and fast, in order to avoid causing lasting damage to the lives of young people who need our support the most.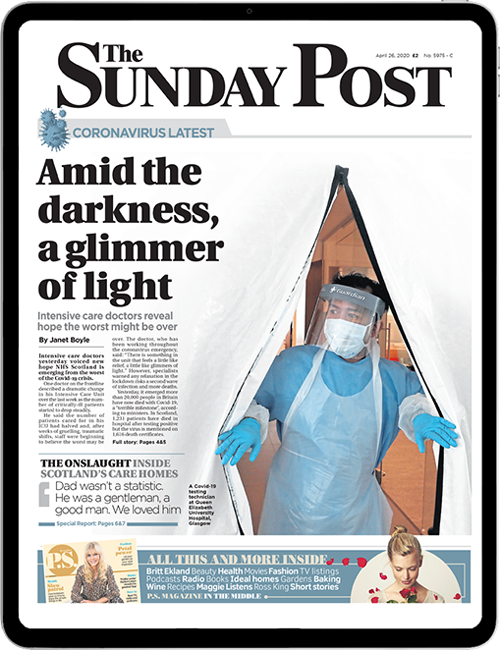 Enjoy the convenience of having The Sunday Post delivered as a digital ePaper straight to your smartphone, tablet or computer.
Subscribe for only £5.49 a month and enjoy all the benefits of the printed paper as a digital replica.
Subscribe