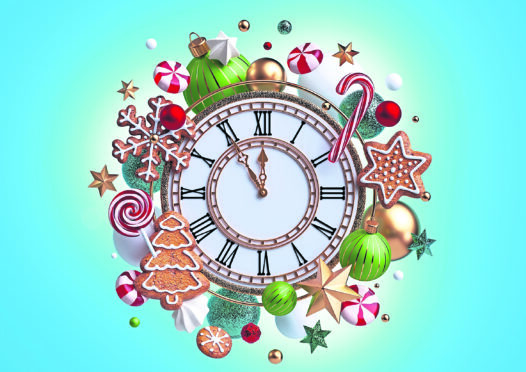 Santa's on his way but are you still not feeling Christmassy? Need a booster jag of festive spirit? Our experts know just the thing…
Play a song
The one song to absolutely get Christmas going? It's got to be Slade
"Anytime you hear those opening chords, they are instantly uplifting. You can't feel sad and un-Christmassy whenever Slade's Merry Xmas Everybody comes on," says Bryan Burnett, the host of Radio Scotland's enduringly-popular request show, Get It On, writes Murray Scougall.
"From my days of DJ-ing I know that's the one song to lift everyone's spirits. It's the ultimate pick-me-up song. Noddy Holder sings about the future being bright and celebrating but it also has an essential element of a Christmas song and that is nostalgia. Slade reminds listeners of the day of parties and your granny being there. It's about family and good times.
"It came out in 1973, another time when it was pretty hard for folk, and it's still making people happy. I remember watching it on the Christmas Day Top Of The Pops when I was eight or nine, seeing the band look amazing in their big hats, outrageous clothes and glitter."
The song has every chance of appearing on Get It On At Christmas, Burnett's live morning show that has become a festive institution for many listeners each Christmas Day morning.
"It's my favourite show of the year," he said. "The range of people who get in touch – people working shifts, driving from one side of the country to the other to visit family, or stuck in the kitchen, I love to hear from them. It's nice to hear from families sitting down together and it's lovely that people have now made it part of their traditions each year.
"We push back our Christmas Day to accommodate the show. I don't live far from the BBC, so my target is off at noon and a glass of champagne in my hand by 12.15."
The Christmas edition of the show began in 2009, but Get It On started three years earlier, supposedly for eight weeks to fill a schedule gap while the World Cup was on, but it was an instant hit. Burnett will also host a live Hogmanay edition that will take listeners into the New Year.
But he admits his favourite Christmas songs are those tinged with melancholy, like Have Yourself A Merry Little Christmas or Fairytale Of New York.
He added: "There's a Tim Minchin song called White Wine In The Sun that has taken on a life of its own on our show. It's about loved ones being separated on opposite sides of the world and we always have families getting in touch to request it.
"That's my favourite Christmas song but it's quite a sad little number."
Track Santa
We like to watch him start to deliver presents on the other side of the world on Christmas Eve
You can throw money at Christmas trying to make it magical, but Cat Cubie says it's the traditions that really capture the spirit of the season, writes Tracey Bryce.
And tracking Santa is the perfect way to build up the suspense on Christmas Eve, when there's just a few hours left to go.
"We try to keep Christmas low-key, largely because the kids get so overwhelmed," the podcaster and author said. "For a few years now, I've used apps like the Portable North Pole and Santa Trackers.
"It's great. Santa sends video messages to the kids and on Christmas Eve you can watch him travel in real time as he starts to deliver presents to children on the other side of the world. There's a map and satellite images so you can watch him make his way across the globe."
Cubie, mum to Indy, 7, Roar, 5, and Ever who just turned one, says it's easy to get caught up in the chaos of Christmas these days, with the race on to post the picture-perfect tree or front door on social media or take the kids to see Santa.
"There are so many pressures that we put on ourselves and expectations about what Christmas is going to look like that we stop ourselves from enjoying it," she said. "It's a busy time, but you can make it easier on yourself by not taking on too much.
"We don't do things like Elf on the Shelf," said the Sleep Mums podcaster. "It's great if you have the time and you love that sort of thing, but I feel life – and December – can just be too much without adding in extra things to worry about.
"The expectations are so high – from gifts to whether or not you're going to eat your Brussels sprouts! We almost spoil it for ourselves.
"For me it's all about the kids and the magic of Christmas. We do that by having traditions and routines, and that's really what Christmas is all about. That way the kids are comfortable and they know what to expect.
"Tracking Santa is free, takes very little time and it's so exciting for the kids and lovely for us to see their faces. It's a lovely build-up on Christmas Eve – and the kind of thing the kids will remember when they grow up.
"I also love Christmas boxes on Christmas Eve, which help to get the kids all excited. But try to think outside the box …you don't need to buy new things every year.
"And matching Christmas PJs really help us get into the spirit. Of course I always have this fantasy of getting all five of us in front of the Christmas tree for a photo, but it never happens. Not for my Instagram, but just for the memories.
"And, of course, putting out cookies and milk for Santa and a carrot for Rudolf…for me, it's the little things that have the biggest impact. I think planning and preparation are important and that's where the traditions come in.
"This should help take some of the pressure off – but if it all fails, that's what New Year is for…to get everyone – including Santa – back on track again!"
Watch a movie
Well, of course, it's absolutely a Christmas film. Yippee Ki Yay!
Her cinema might have made a tradition of screening enduring Christmas classic It's A Wonderful Life, but Jimmy Stewart is still not top of Allison Gardner's seasonal watchlist, writes Ross Crae.
The chief executive of Glasgow Film, which runs the city's Film Theatre, and co-director of the Glasgow Film Festival, reveals her festive favourite in an expert and conclusive intervention on a perennial debate. So, yes, Die Hard is absolutely a Christmas film.
She says: "It's the one film we as a family always watch every Christmas and, even though I have seen it many times, I always find something new to enjoy.
"I first went to see it at the cinema, I think not long after it was released. It was one of the tent-pole summer action movies of 1988 – that's why there's a debate over it being a Christmas film but there has been much debate on the internet as to whether Die Hard is a Christmas film at all. But of course it is.
"It is set at Christmas, there's Christmas music, they're having their staff Christmas party and people wear Santa hats – even the corpses he sends up in the lift. What more proof do you need? It is funny and action-packed. I love it so much."
But it is not be-vested, barefooted hero Bruce Willis as John McClane who is Gardner's favourite character but his fiendish foe.
"Hans Gruber is my favourite. The late Alan Rickman is the perfect foil to Bruce Willis and the scenes where they meet and Hans pretends to be one of the hostages is both funny and menacing.
"One of the charms is that mobile phones, although in use – think Argyle in the limo – don't play a part in the plot and good old walkie talkies are the communication device of choice.
"We've shown it at the Glasgow Film Theatre this year. It works in the late-night slot. People like a bit of a drink when they come to see it. When you watch it on the big screen, it's a really well-crafted film. It looks so great.
"We always show It's A Wonderful Life too. It's so cross-generational. Grannies bring their grandkids along, parents bring teenagers and they go 'oh no, it's in black and white' and end up blubbing!
"It's an odd Christmas film, because essentially it's about suicide, co-operatives and it's quite anti-bank but it really works. Just like Die Hard.
"My family will be sitting down and enjoying it again this year and relishing the fabulous action and one-liners. Yippee Ki Yay!"
Clink a glass
Add a little sweetness to make it even more Christmassy and it's the perfect choice for cocktails
Popping corks and clinking glasses are the soundtrack to a very Merry Christmas, according to Amber Biggam, writes Alice Hinds.
And to get into the festive spirit, the bartender recommends shaking up a classic cocktail with a Yuletide twist.
"I love a Flat White Martini," said Biggam, who manages The Dam in Glasgow's Merchant City. "The original recipe is vodka, coffee liqueur, a little bit of sugar and coffee but, for me, the festive season is about Baileys. So, swap the vodka for a shot of Baileys and add hazelnut liqueur or something else sweet to make it a bit more Christmassy. It's the perfect choice for after-dinner cocktails."
Serving up all things "fizzy, sparkly or a wee bit glittery" to customers, Biggam says it's been great to see so many people enjoying themselves in the lead-up to Christmas, particularly after two years of lockdowns. This year, she will be working on Christmas Eve and Boxing Day but will spend time with family on the big day – but that doesn't mean she'll be hanging up her Boston shaker.
"There's no doubt I'll end up getting put on the drinks after dinner," she laughed.
For cocktail lovers hoping to replicate bar-worthy drinks at home this December 25, Biggam recommends large blocks of cubed ice to add the professional touch, and says it's worth buying specialist moulds.
She said: "You can buy moulds online that aren't too expensive. I like the sphere moulds for a wee dram. If you are stocking your home bar for Christmas, I would recommend a bottle of Baileys – my favourite – as well as a nice bottle of gin, like Tanqueray Ten, and a gin liqueur. For an easy cocktail, top a shot of gin liqueur with prosecco then add whatever fruit you have to hand. Cranberries or orange slices are a good choice."
Flat White Martini (makes one)
• 50ml Baileys
• 50ml coffee (instant or fresh)
• 25ml Kahlúa, Tia Maria or any other coffee liqueur
• 15-25ml flavoured liqueur to taste
Pour all the ingredients into a cocktail shaker along with a handful of ice. Shake until the outside of the cocktail shaker feels cold. Strain into the chilled martini glasses.
Do a good deed
It's lovely for the giver and the givee. It's win-win and makes us feel good
Committing a little act of everyday kindness is one of the easiest ways to get into the seasonal spirit, writes Tracey Bryce.
However, Claudia Hammond, author of The Keys To Kindness, says a good deed isn't just for Christmas and urges us to try being a little nicer to those around us all year round.
"Kindness can come in a whole range of forms, from making someone a cup of tea to heroic efforts to save someone's life, but often it can be a tiny thing that makes a big impact," Hammond said.
Hammond, presenter of BBC Radio 4's All In The Mind, has taken a dive into kindness and in her book, she explains how we can better build it into our lives.
Hammond draws on the latest research from psychology and neuroscience – and the Kindness Test, a survey of over 60,000 people from 144 countries, looking at attitudes to kindness, and suggests we should value kindness more deeply.
The study showed people viewed kindness in a positive way – and people who received kindness had higher levels of wellbeing and life satisfaction.
"Kindness means something not just to others but ourselves too and can really improve our wellbeing," she said. "It's a lovely thing for the giver, but also the person who receives it. So really being kind is a win-win."
And what better time to be kind than on Christmas Eve. "If I could make a last-minute act of kindness, I'd maybe take something homemade to a lonely neighbour, a pot of soup or some mince pies," Hammond said. "Just showing that you're thinking of them will really make a big difference."
"Being kind can also mean forgiving, or just listening. If someone is telling a story at Christmas, stop and listen. Don't be on your phone or looking out of the window, really take notice and listen to what they are saying. Or if you realise someone is left out of the conversation, involve them.
"One of the effects of kindness is that people feel connected to each other and that's what these things do."
Hammond now tries to make the most of every opportunity where she can be kind.
"From someone noticing a passenger has left their gloves on the seat to giving directions, these are the kinds of kindness that happen every day.
"I am kind whenever I can be. When you look for it, the world is more full of kindness than you might think, but there's always room for a little more."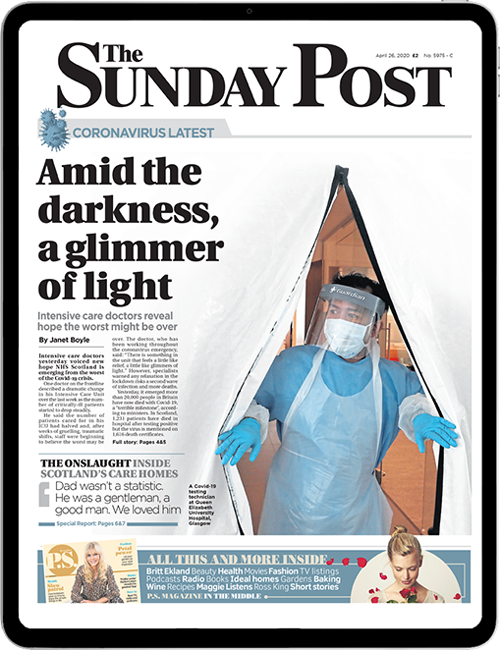 Enjoy the convenience of having The Sunday Post delivered as a digital ePaper straight to your smartphone, tablet or computer.
Subscribe for only £5.49 a month and enjoy all the benefits of the printed paper as a digital replica.
Subscribe