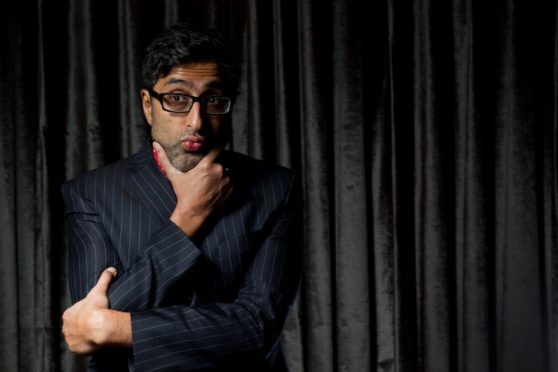 He plays a shopkeeper on TV. He plays a shopkeeper on radio. And, now he's playing a shopkeeper on the big screen.
However, Sanjeev Kohli couldn't be happier after following his behind-the-counter roles in Still Game and his radio comedy Fags, Mags And Bags, with a role in acclaimed comedy Limbo.
He says the chance to be in what promised to be something special was too good to think twice about, while admitting: "I'm not a stranger to the shop scenario."
As well as playing beloved corner-shop grump Navid in Still Game for 17 years, Kohli is also the writer and star of Radio 4 sitcom Fags, Mags And Bags, soon to start work on its 10th series.
He said: "I love shops and I think they're brilliant, they're quite a unique environment in the sense that they're little hubs.
"I've always said none of these shopkeepers are victims, they're the ones that are doing well. So that's part of the appeal as well. I don't mind playing shopkeepers.
"I've always said there's a reason why a disproportionate number of Asian families run shops in Scotland and all over the UK. There's a really, really good work ethic and also a lot of them weren't given opportunities and had to get out and make something happen.
"So I think it's something that should be celebrated as much as it is a stereotype. If it's a well-written character, I'm very happy to play shopkeepers till I'm in the ground."
Swapping Craiglang for South Uist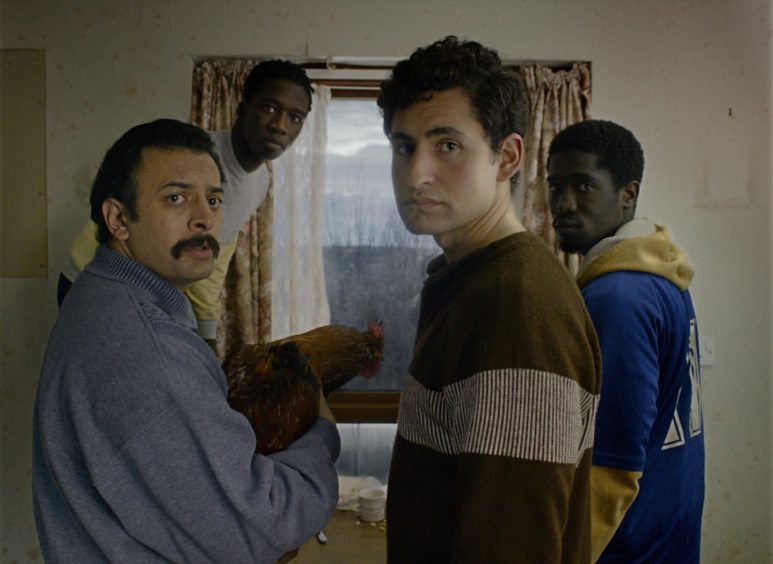 His roles do not all involve playing shop, however, and include portraying café boss AJ in River City since 2015.
In Limbo, a comedy-drama about refugees living in the Hebrides, he is joined by another expat from Shieldinch, Cameron Fulton.
Since they filmed Limbo in the Uists almost three years ago, the soap stars have watched the movie travel even further as it was screened around the world to acclaim at some of the world's most prestigious film festivals.
This week the twice Bafta-nominated movie about asylum seekers living in the islands finally gets its UK cinema release and the two acting pals couldn't be happier to welcome it home.
The film stars Amir El-Masry as a fleeing Syrian musician placed on the island with others awaiting assessment and dealing with the culture shock of swapping the Middle East for life far off the west coast of Scotland.
Alongside Amir El-Masry, Vikesh Bhai, who plays his asylum-seeking housemate, and Borgen and Westworld star Sidse Babett Knudsen, there's a strong Scottish cast of islanders.
Kohli and Fulton were intrigued by the charm and the comedy of director Ben Sharrock's script, but admitted they were stunned by the final product, which was accepted to the later-cancelled Cannes 2020 then lauded at Zurich, Cairo, Munich, Toronto and London events before playing at Glasgow Film Festival earlier this year behind closed doors.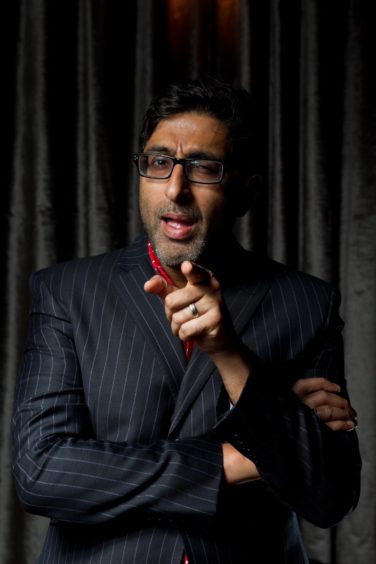 Kohli said: "I didn't know what to expect. Even when we were filming you don't know what it's gonna be like and I'd not worked with Ben before. But when I watched it, I was so impressed – it's incredible.
"You're already proud that you're in a film that's so good and then you see how it's doing at festivals and you're like, 'Oh my God this is going around the world'.
"The film is probably quite a hard sell, about an asylum seeker in the Western Isles, and you're probably thinking this doesn't sound laugh-a-minute. But once people have seen it, they say it's fantastic. It's making very valid points about isolation, it's very, very funny and the tone is perfect."
Fulton, who plays up-and-coming hoodlum Tyler Foulkes in River City, is Plug, the leader of a group of island teens who confront El-Masry's character Omar, highlighting issues of racism and prejudice. He said: "The characters are literally in Limbo, just going from day to day. And that's part of the reason you fall in love with them.
"You do want them to make a successful life of it, and then you show that contrast with the reception they get from some people on the island, and my own character in terms of some moments of hard-hitting racism.
"It does shine a massive light on to that and how people have these preconceived notions as soon as they hear the term 'asylum seeker', and have these negative connotations towards people. Plug is a kind of bridge between the two different worlds. It's about trying to change ideologies that are built in from your parents' generation, and Plug is a great way of doing that."
Shooting in the Hebrides
The cast and crew shot the film in late 2018 on North and South Uist, after Sharrock, who was born in Edinburgh, came up with the story idea in response to the ongoing crisis in Syria.
Limbo was nominated for two Baftas and picked up 10 festival award wins for star el-Masry, director Sharrock, his producer wife Irune Gurtubai and fellow producer Angus Lamont. The director, whose debut Pikadero was a hit at the 2016 Edinburgh Film Festival, spent a year studying in Damascus before the war and has been heartbroken by the impact of the decade-long conflict.
With remote parts of Scotland becoming home to displaced Syrians over the last decade, he was inspired to tell a story not about the war or the politics of the asylum process but about the humanity of those affected.
The resulting poignant and wryly funny story has been compared to classics such as Local Hero and connected with audiences and festivals around the world. And it was the sense of humanity in the script that attracted Kohli to the project in the first place.
"I really liked the part, it's a Scottish Sikh guy who'd gone from Glasgow to the islands and was being racist to this Syrian asylum seeker," he said. "I just thought that was a really interesting dynamic. It says a lot about where he starts off in the island that he's part of being more Scottish and is condescending or sneering towards incomers.
"I liked the dynamic and I thought the dialogue was really funny. I know who this guy is."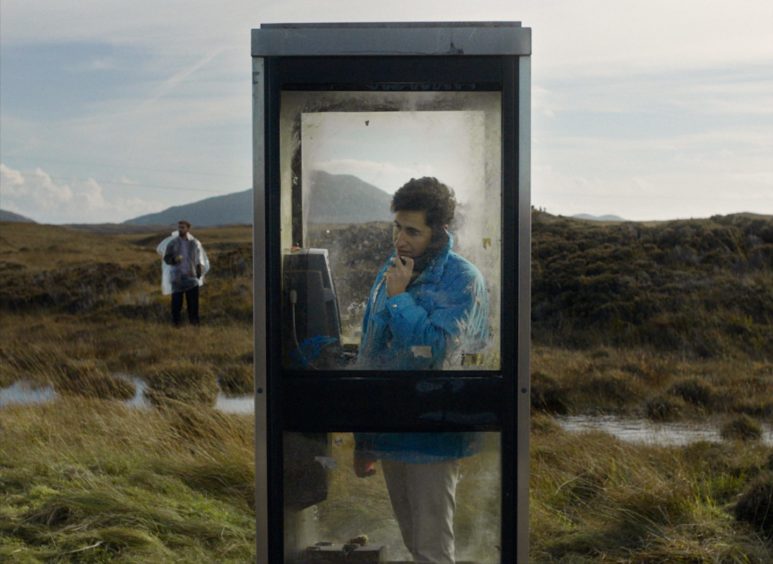 There was a strong camaraderie among the cast and crew sent off to the windswept islands in the chilly autumn.
Kohli also enjoyed the chance to work with one of his favourite actors. "There's something special when you go remotely away with a bunch of people you don't know and get to bond with them, it's really nice," he said.
"I was also very excited to meet Sidse Babbett Knudsen because I'm a massive fan of Borgen, and I couldn't believe I was gonna meet her.
"I didn't have any scenes with her but I was in the Winnebago at one point with her and I had to get a selfie with her.
"I think she was taken aback with this Sikh dude in a turban saying, 'I'm really sorry but I'm slightly obsessed with Borgen'. She's amazing, and her scenes at the beginning of Limbo were so good."
For 29-year-old Fulton, currently filming Amazon Prime series The Rig in Edinburgh with Line Of Duty and The Nest star Martin Compston and Schitt's Creek's Emily Hampshire, it was just as exciting to meet his own hero.
"He won't thank me for saying this but I grew up watching Sanjeev on Still Game so that was the one where you look at the cast list and see his name and it's so cool," he admitted.
"Straight off Limbo we worked on a short film together, and he's someone that I can now call a friend.
"They say you shouldn't meet your heroes but Sanjeev Kohli is one of the nicest people you could ever hope to meet."
---
Limbo is released by Mubi in cinemas on Friday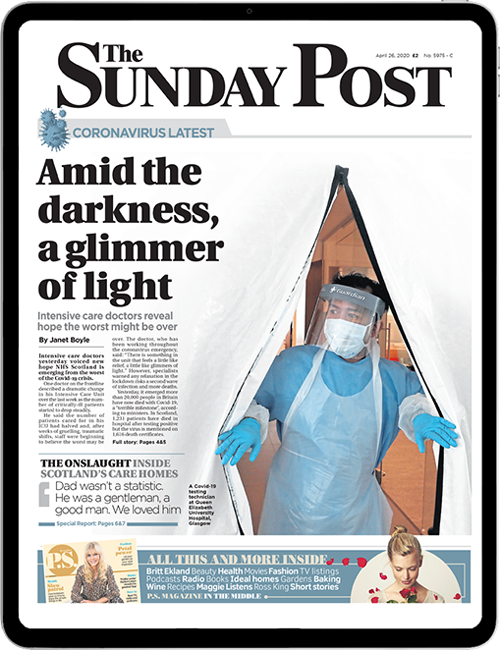 Enjoy the convenience of having The Sunday Post delivered as a digital ePaper straight to your smartphone, tablet or computer.
Subscribe for only £5.49 a month and enjoy all the benefits of the printed paper as a digital replica.
Subscribe