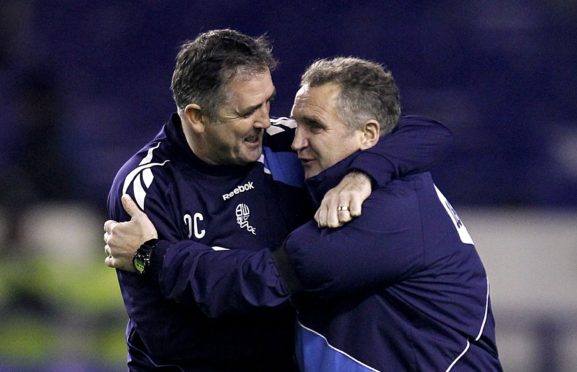 Sandy Stewart became a grandfather last weekend when his daughter, Emma, gave birth to Orla.
He toasted the new arrival in proper style.
Just 24 hours later, Owen Coyle's number popped up on his mobile, and Sandy thought it was to congratulate him on the family's new arrival.
Well, it was. But there was another reason.
Coyle wanted his long-term assistant and confidant to join him in India at Chennaiyin FC, who had just parted company with former Aston Villa and Derby County boss, John Gregory.
Having been with Coyle in the MLS at Houston Dynamo – and even down south for several years at Burnley, Bolton Wanderers, Wigan Athletic and Blackburn Rovers – Stewart thought his days of hitting the road were over.
So he told Coyle he would have to sleep on the opportunity of going to the Indian Super League.
The following day, he was having a frustrating day on his laptop, trying to organise a VISA and other official documentation to rubber-stamp the move to 5,000 miles from his new granddaughter.
Stewart is now on his way over to India, and the brief for him and Coyle is simple.
To get the club up the Indian Super League table, and into the play-offs.
In a 10-team league with 18 matches, they have 12 games in which to do it, kicking off tomorrow night with an away game to Jamshedpur.
Former Airdrie, Partick Thistle and Hearts defender Stewart is looking forward to the opportunity, and told The Sunday Post: "The phone call from Oweny came right out of the blue.
"I asked for time to think about it, but also said to him to feel free to offer the assistant's job to someone else if he didn't want to wait.
"But my decision was that I had to go and try it.
"It's a chance to get back into football, yes.
"It's also an opportunity, however, to work in a new up-and-coming league with a new squad, and also spend three months in a country that I've never been to before.
"I'm interested in what the lifestyle will be like, and the local people's culture and everyday habits.
"This opportunity interests me as much as it intrigues me
"But I'm not going over to India as a tourist. I'm there to work hard and help Chennaiyin FC get up the table.
"Owen and I are aiming for the play-offs. It's an exciting time as it's a progressive league.
"It's also good to be back with Oweny, of course.
"We were last together at Ross County, and that didn't go to plan. We were gone after four or five months.
"However, we have had good times, and Oweny knows how to manage and get the best out of players.
"I know from talking to him that he is right up for this challenge.
"We've known each other for more than 30 years. We work well together, and it's good he wanted me with him.
"There is a trust there, and he knows what I can do for him on the training ground every day, and in the dugout on a match day."
The Indian Super League has been going for six years.
The likes of Matt Kilgallon, Alan Gow, Giles Barnes, David James, Darren O'Dea and Michael Chopra have given it a go.
At Chennaiyin FC, they won the title in 2015 when 2006 Italian World Cup winner, Marco Materazzi, was the manager, and he had Alessandro Nesta with him.
Stewart pointed out: "The Indian Super League has only been going a short time, but there is plenty to talk about and there is optimism about the future.
"Attendances are on the up and there is more and more global interest.
"Ultimately, they'd love to see football put some sort of a challenge into their number one sport, cricket.
"The Indians go wild for cricket, and I have to say I'm a big fan of the ICL.
"So I was thrilled to find out that legendary wicketkeeper-batsman, MS Dhoni, is a part-owner of our football club.
"I hope I get to meet him. He is one of the all-time greats, a true legend.
"Funnily enough, when we were at Houston Dynamo, Oscar de la Hoya was a part-owner of the club.
"I like my boxing and got to meet the great man.
"Now, it's a cricketing hero I may bump into in the next few weeks.
"I'll ask him for a selfie!
"I hope he comes to watch the team, and I hope the supporters can see an improvement in results and performances.
"We will work every day with the players to improve aspects of their game.
"I expect the fans to be demanding. The local people all support the club. They go about the city wearing the club's jersey.
"This is not like Scotland, where you have buses leaving from Dundee, Perth, Aberdeen, Inverness and Ayrshire on a Saturday lunchtime, going to support Celtic or Rangers.
"No, they are all into their local team."
Former Aberdeen and Rangers defender, David Robertson, has been working in India for almost three years now as manager of Real Kashmir, who play in the I-League.
The Scot gained fame as the principal figure in a BBC fly-on-the-wall documentary.
Home for Coyle and Stewart for the next three months will be in a hotel on a coastal resort.
Of their 12 remaining games, only five will be at home, and some of the away trips involve a gruelling schedule.
One game will be two flights and a four-hour bus journey from their city base in the south of the country.
Stewart doesn't mind that, and stressed: "For me, it's all part of the adventure of the job.
"I'm not going over there to moan and find fault. I'll be embracing every challenge that is put in front of me.
"I've been out of football for a month since leaving Ayr United. There isn't much going about Scottish football just now, and this is an opportunity I couldn't turn away from.
"Football is football wherever it is played, and we will go there to win and be successful.
"I've already watched a few of the Chennaiyin FC games on tape and they have some good players. There are Romanians and Brazilians in the squad.
"We will just try our best to improve them, and make sure the lads enjoy coming into work every day.
"Whether success in India leads to anything for us, I'm not so sure.
"That's not the motivation for going there. I don't see it as a stepping stone.
"My focus and commitment is on helping the club and being loyal to the people who have employed me. Oweny and I share the same outlook.
"Football management is a bruising business, and we need to give this our all.
"We've had knocks, but you cannot stay down.
"Very few people will help you back up.
"You need to do it on your own and our determination to succeed in India will be there for all to see."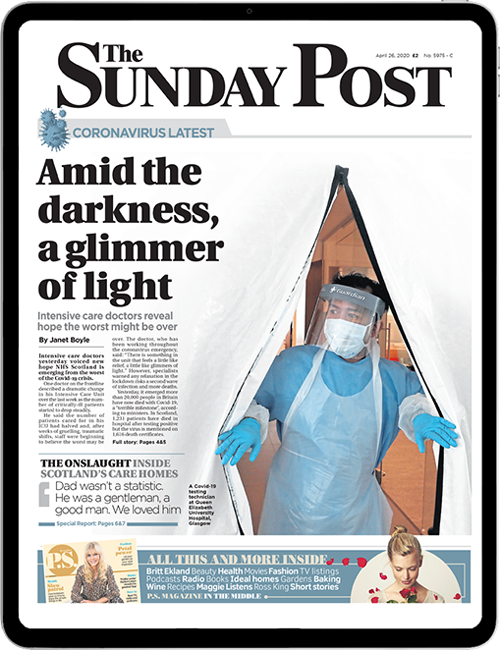 Enjoy the convenience of having The Sunday Post delivered as a digital ePaper straight to your smartphone, tablet or computer.
Subscribe for only £5.49 a month and enjoy all the benefits of the printed paper as a digital replica.
Subscribe