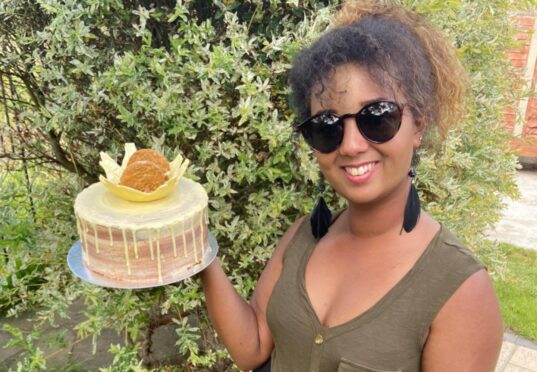 It was Sally El-Arifi's mum who first introduced her to the wonders of turning simple ingredients into outstanding meals, so it only makes sense that the baker and chocolatier's new cookbook was created with her in mind.
Published last week, The Little Book Of Bananas features more than 80 unique, interesting and innovative ways to use the humble bendy fruit, with El-Arifi showing readers how to make everything from cakes, loaves and traybakes to savoury dishes such as barbecued peel and banana-based curries.
"More than 10 years ago, my mum wanted to buy a banana cookbook for her friend but there were none on the market," explained El-Arifi, who studied food science at university before embarking on a career in baking, including formal training in French patisserie.
"She said to me, 'Oh you should make one, there's a gap in the market, give it a go!'
"I kind of brushed it off because I thought I couldn't write a recipe book and no one would want to buy it. I only had a handful of, say, banana bread or banana cupcakes recipes. But as I got older, got more experience, worked in kitchens and started developing more of my own recipes, I returned to the idea and decided to give it a go."
Oh and our shared obsession with baking banana bread during lockdown didn't hurt, did it?
El-Arifi added with a laugh: "Yes, during lockdown bananas became such a massive thing. So. Much. Banana. Bread."
It was, perhaps, a little daunting to come up with so many ways to use bananas in both savoury and sweet dishes but El-Arifi was also spurred on by her passion for reducing food waste. Bananas, she says, are one of the most wasted foods in the kitchen, so she wanted to encourage home chefs to think outside the box, rather than throwing them straight in the bin when spots and dark patches start to appear.
She said: "It's such a worldwide ingredient but it's wasted so much because bananas brown too quickly and people don't know what to do with them.
"People just don't realise how much food waste affects the world, and 70% of it comes from our homes. If we can all do just little things to reduce the amount of food wastage, then it can add up to quite a lot. If someone finds inspiration from one of my recipes to bake with bananas instead of throwing them away, I'll be very happy."
The banana, El-Arifi explains in her book, has a large variety of properties during its lifetime. From green when it is first picked from the tree to black when it has ripened beyond recognition, the starches in the fruit transform into sugars, changing not only its appearance but its taste and texture. So, with every recipe, El-Arifi advises which colour is best for the dish.
Green bananas (incidentally, El-Arifi's favourite way to eat them raw: "They have to be a little bit green, otherwise they're too sweet") have "a potato-like texture" ideal for soaking up flavours in savoury dishes. Yellow bananas, on the other hand, have a good balance of sugars and starch, making them ideal for smoothies and some cake recipes. When turning brown, the fruit can be turned into pancakes, for example, or used as an egg replacer in vegan cooking. Black plantains, although not visually too appealing, are perfect for frying. "I don't think many people realise how versatile they can be – it's just not banana bread," El-Arifi laughed. "It was hard to write the book at the beginning. I initially came up with about 60 recipes, but once I realised that you can use bananas as an egg replacement and that the skin is actually edible, too, it opened up so many more possibilities. It all came quite easily after that."
Using the skin of the banana might seem like a step too far for some foodies but the more unconventional recipes are some of El-Arifi's favourites. She continued: "I love all my recipes – including things like banana bread and banana pancakes – but I also really love the adventurous ones.
"I saw in my research that some people pulled banana peel to make a sort of pulled pork but a lot of the reviews of the recipes online said it wasn't very good or it tasted weird. So, I did quite a few experiments, cooking it in different ways, and I managed to come up with a method that was amazingly good. I really love that it's so unconventional.
"Plus, people don't often know how to save or use their food scraps, so giving people ideas is another way to tackle food waste. There are a lot of banana peel recipes in the book which I think are really great."
Friends and family became taste testers for El-Arifi's fruity concoctions – including "some very interesting flavour combinations and textures" that failed – and her mum, the inspiration behind the book, is happy to finally have her very own banana compendium.
"She loves it," smiled El-Arifi. "Some of the recipes are a bit too crazy for her but she really loved the whole idea, and she's so happy for me."
---
Banana hazelnut brownies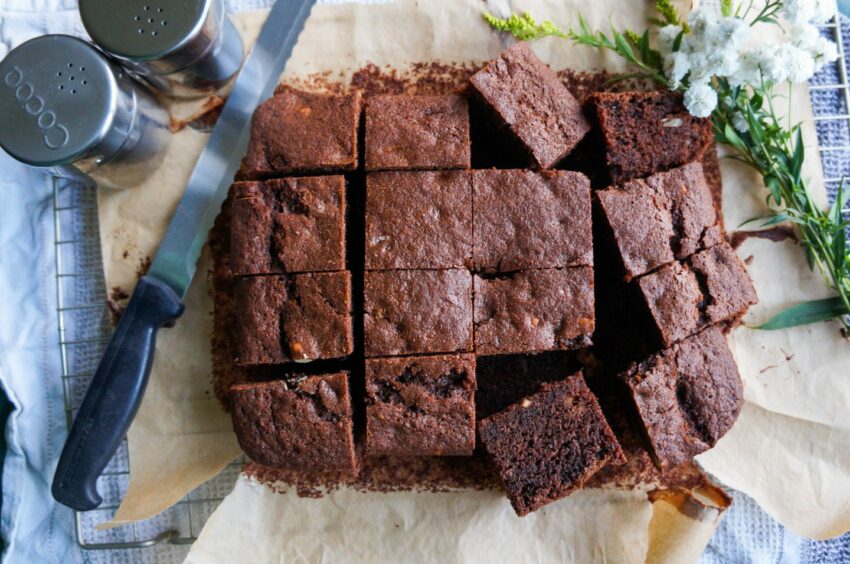 Makes: 16
Prep time: 10–15 mins
Cook time: 1 hour 5 mins
Type of banana: Yellow
Dairy free and vegan, these brownies will tempt every tastebud.
You'll need:
200g plain flour
250g light brown sugar
15g cocoa powder
Pinch of salt
½ tsp bicarbonate of soda
½ tsp baking powder
50g hazelnuts, chopped
1 banana, mashed
250ml non-dairy milk
1 tsp vanilla extract
150ml sunflower oil
50g dark chocolate
Method
Preheat the oven to 180 ̊C/160 ̊C fan/350 ̊F/Gas 4.
Grease the base and sides of a deep 23x18cm (9x7in) baking tray and line with baking parchment.
In a large bowl, mix the flour, sugar, cocoa powder, salt, bicarbonate of soda, baking powder and chopped hazelnuts (tip: you can swap the hazelnuts for any kind of nut, or dried fruit such as cranberries). Place the banana, milk, vanilla, oil and chocolate in a saucepan and warm over a low heat. Make sure to stir the mixture occasionally to stop the chocolate from burning.
Once the chocolate has melted, add to the dry ingredients and beat until smooth and fully combined. Pour the batter into the prepared baking tray.
Bake for 35 minutes and then switch off the oven. Leave in the cooling oven for a further 30 minutes. Remove from the oven and allow to cool completely before cutting into 16 equal pieces.
---
The Little Book Of Bananas by Sally El-Arifi, published by HQ, £9.99, is out now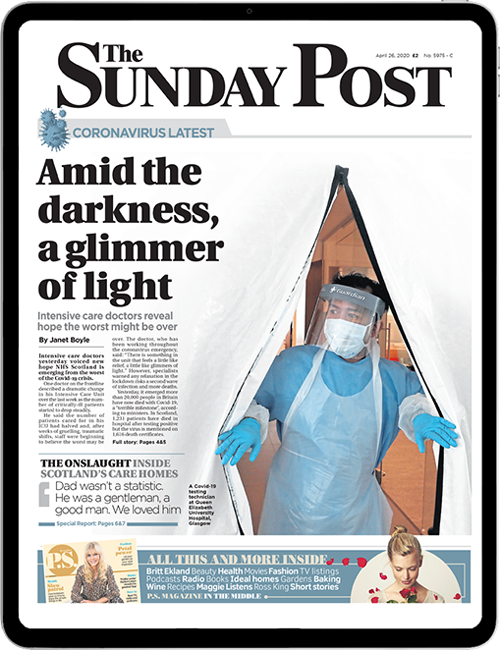 Enjoy the convenience of having The Sunday Post delivered as a digital ePaper straight to your smartphone, tablet or computer.
Subscribe for only £5.49 a month and enjoy all the benefits of the printed paper as a digital replica.
Subscribe