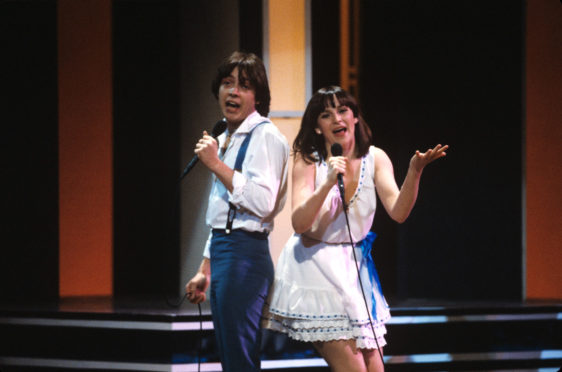 Sally Ann Triplett is something of a Eurovision legend, being one of only four people ever to represent the UK at the annual Song Contest twice.
Now 58 and enjoying a successful career in musical theatre, Sally Ann misses great songs at Eurovision, such as What's Another Year with which Johnny Logan had the first of his two victories for Ireland in 1980 when she was representing us with the group Prima Donna.
"Eurovision used to be about putting forward a great song, not a gimmick or a light show or a bunch of women knitting," says Sally Ann.
"It was about the song, which was why Johnny Logan was so amazing – he was the most incredible singer and What's Another Year was a brilliant song, and he couldn't not win.
"If we did that now, if we put forward an amazing singer singing an amazing song, we would have to get votes. Don't fill it up with lights and silliness."
Born in London in 1962, Sally Ann has something of a showbiz background.
"My nana used to play piano and sing in a Mile End pub called The Victory when she was 14. A lot of my family were singers, but none of them professional.
"My dad was a wine butler at big London hotels but he had a good voice and was a well-regarded extra for over 40 years.
"He was in Star Wars films, Carry On films, a Batman film, and Eyes Wide Shut. Judi Dench and Anthony Hopkins and many others knew him as a friendly extra called John.
"But my greatest influence was Al Jolson – I loved his energy and the way he performed. My parents had to buy me Al Jolson albums for Christmas. After that, I enjoyed watching the MGM films.
"I used to perform from the age of two, so it was always in me. When I was five, my nana said to my mum, 'Sally Ann's name will be in lights one day.'"
After a regular schooling in Finchley, Sally Ann attended Arts Educational at the same time as Martin Clunes.
"All I knew I knew was I wanted to be a performer. Not to make money, be successful or famous; I wanted to do it because it made me feel good. I still have that same feeling. I don't think about being a star or famous, which is maybe why I'm still working."
While aged 17 at Arts Ed, Sally Ann's singing teacher Mary Hammond got her an audition to be a session singer in the studio of supergroup 10CC in Dorking. That led to an audition for Prima Donna, a six-piece band (also including Kate Robbins) put together for Eurovision 1980 which took place in The Hague.
"I remember having a laugh with them the whole time," she says. "The night before, we were out with Johnny Logan's band members and one of them jokingly said: 'Let's get Prima Donna drunk so they can't perform properly tomorrow!' The following morning, Kate knocked on my hotel room door and pretended she couldn't even talk, which was funny."
With the song What's Another Year, Johnny Logan had the first of his two Eurovision victories for Ireland. Prima Donna came third.
Sally Ann then became a presenter on the BBC TV children's show Crackerjack. "That was brilliant fun. Stu Francis was my favourite. He was such a joy to work with."
In 1982, Sally Ann was back at Eurovision – this time at home in Harrogate – as half of duo Bardo with Stephen Fischer.
"We did panto together, and started dating. The day after the panto ended, Stephen did an audition in a London studio for Nichola Martin and Andy Hill," she recalls of the team behind Bucks Fizz's Eurovision triumph in 1981.
"I sat outside, then he came out with Nichola who recognised me from Prima Donna, and she asked me to go in and sing with Stephen. By the end of that day, she lined us up for Song For Europe. It was like what dreams are made of!"
Bardo's song One Step Further, to which they performed quite a raunchy routine, went to No 2 in the UK singles chart, and Bardo were favourites to win the contest. "I loved the song and enjoyed the routine which was fun," adds Sally Ann. "I think everyone loved it."
Sadly not enough Eurovision voters did, as Bardo ended up in seventh place.
Sally Ann had joined Ronnie Carroll, Cliff Richard and Cheryl Baker in representing the UK twice.
As to what happened next… "Bardo released three singles and were famous for a while, and then it all kind of disappeared.
"Stephen and I were then in a band called Co Op City and we recorded an album. We split up [as a couple] after three years. He got married and had two children, and so did I, and we are still good friends. I still have my Bardo dress too!"
Post-Bardo, Sally Ann toured with Sam Brown, did backing vocals and session singing, but turned down the chance of a solo pop career.
"Stock Aitken & Waterman offered me a little deal, but I didn't fancy it. I'd just done Bardo and I wanted to do something else. I went into musical theatre and there I stayed."
Among the West End shows Sally Ann appeared in were Follies, Chess, Cats, Grease and Jolson, which fulfilled a childhood dream. "To play Ruby Keeler in Jolson was amazing. I really wanted to play Al Jolson himself but that was impossible!"
Another memorable role was that of Miss Berta in Acorn Antiques: The Musical!, which enabled Sally Ann to get to know its author and star Victoria Wood.
"She used to give me a lift home in her car every night. She was a very thoughtful, kind and generous lady. Her daughter is called Grace, as is mine, and Victoria used to bring me little things her daughter didn't want anymore, like stickers and pillows with GRACE on."
Sally Ann met actor/singer/dancer Gary Milner when they worked on Jolson. They married in 1999. Their children are Max, 29, and Grace, 18. In 2012, Max was a contestant on ITV's The Voice.
"He gigs all the time, he's made three albums and is working on a fourth," she says. "He had a good part in the Netflix film The Dirt. Grace has an incredible voice and writes fantastic songs but loves film and may go to film school. I don't mind what they do as long as they're happy."
The family have a house in North London, but for five years now they've been based in New York, where Sally Ann has done three Broadway shows.