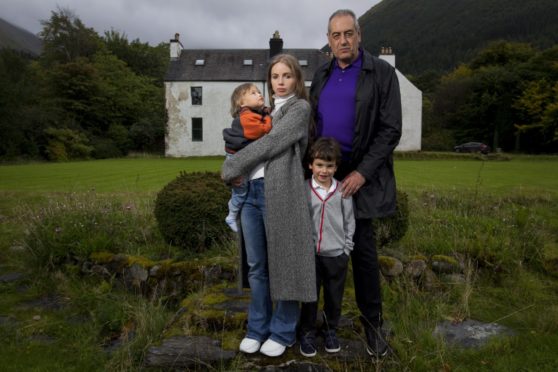 A Russian businessman who accused Vladimir Putin of plotting his murder has won a five-year battle to be granted political asylum in Scotland.
The move follows a failed attempt by the Russian government to extradite Alexander Shapovalov to serve 10 years in prison for fraud.
However, Shapovalov, 59, would still have been at risk of being deported to his homeland by the UK Government had his asylum bid failed.
Now he and his family have been told by the Home Office in London they can remain in Scotland indefinitely, apply for British passports and become British citizens.
Last week Shapovalov, his partner Regina Imamutdinova and their two sons registered their biometric details including photographs and fingerprints at the Passport Office in Glasgow for the first time as part of their naturalisation process.
Shapovalov, who lives in Ballachulish, near Fort William, said: "All I've every wanted for my family is to make a good life for them here in Scotland where they can also be safe and happy.
"The granting of political asylum means I can find a job and support them financially. I can also do more basic things like get a driving licence and open a bank account.
"My eldest, Andrew, is eight, he is doing well at school, loves Scotland and speaks fluent Russian and English. Our youngest Jamie, who is four, was born here and is also settled at nursery. We all now consider Scotland our home and would not wish to be anywhere else. It's been a long battle to have my asylum application accepted by the government but all worth it in the end."
Shapovalov successfully fought the bid to extradite him back to Russia at Edinburgh Sheriff Court in June 2018.
Sheriff Nigel Ross ruled he would be subjected to torture, inhuman or degrading treatment if sent to prison in Russia.
The granting of political asylum means Shapovalov no longer has to report to the police in Fort William each week as he has done for the last five years.
He is also hopeful that a Proceeds of Crime Case for alleged money laundering will be dropped given the success of his asylum application.
After they arrived in Scotland, the couple renovated Ballachulish House, a former hotel and Michelin star restaurant, which Shapovalov had bought in 2009 for £900,000.
However, an inhibition order was placed on the sale of the house in 2016 and £50,000 of cash in a bank account was frozen. Shapovalov said the money was meant to be a safety net for his family in case he was extradited or murdered.
He is the former director-general of the Scientific Centre of Applied Chemistry in St Petersburg – a leading state defence company which supplies the Russian military.
Shapovalov claims President Putin, whom he met on site visits, wants him dead because he refused to pay a contractor linked to the Russian security services.
He fled to Scotland with Regina, 31, shortly before the end of his fraud trial and was sentenced in August 2015 in his absence. The businessman insists the charges are false and fabricated on the orders of the Russian leader.
Last week a report by the House of Commons Intelligence and Security Committee found the Russian government had interfered in the Scottish independence Referendum in 2014 and the Brexit vote two years later.
The news of the Kremlin's involvement in 2014 did not come as a surprise to Shapovalov.
He said: "Russia would like to see an independent Scotland because this would weaken the United Kingdown.
"There would also be a lot of strategic military gains, including the removal of the nuclear submarine base."
He believes that Russia views the UK as its biggest enemy and UK leaders must understand the scale of the threat.
Speaking to The Sunday Post in 2018, he described Vladimir Putin as "very dangerous," claiming that, seen from the Kremlin, "you are the enemy. Britain is the enemy.
"You should be more careful with Putin. The only thing he understands is force."
When asked if he thinks Putin may still try to have him killed, he said: "I really don't know.
"The result of such action would be very damaging for him and there could be a lot more sanctions."
The Home Office and Crown Office declined to comment.
Financial economics professor Sasha Talavera, from Birmingham University, said Russia would like to see the break up of the UK, and the Kremlin would again use social media to try to influence another referendum on Scottish independence.
He said: "Without Scotland the UK would be much weaker and a weak UK would benefit Russia because the UK and Russia have not been best friends over the last 10 years.
"If Russia wanted to affect the outcome of a referendum in future, using Twitter is cheap because you can create hundreds of thousands of automatic accounts – Twitter bots – to spread misinformation which some people will believe to be true because it is trending – they see the popularity of misinformation and believe it."
Professor Talavera previously carried out research which found 400,000 pro-independence tweets were posted by fake accounts thought to be linked to Russia around the time when First Minister Nicola Sturgeon announced she would seek a second referendum.
But the academic said it was now almost impossible to assess what influence pro-Russia automated social media accounts had on the result of the 2014 referendum.
He said: "In 2014 there was very little research related to bots and political events. People did not collect data. The first collections of data – from Twitter, for instance – was around Brexit.
"And Twitter does a lot of cleaning. Of the pro-Brexit bots identified, 50% of them have been removed. You can't get any information about them. If an account is removed, Tweets are removed. You cannot get them."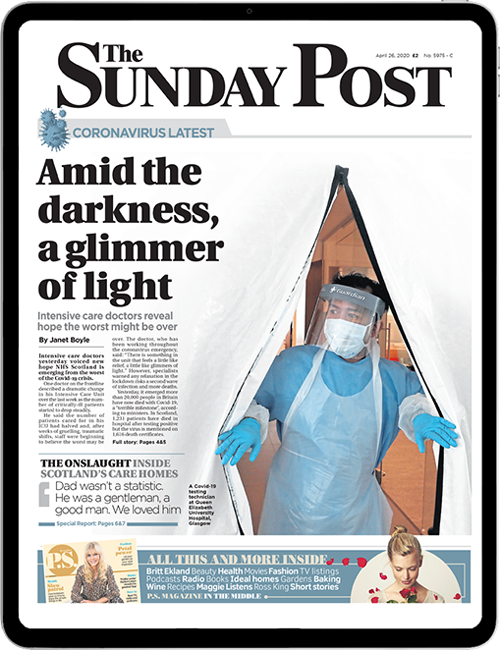 Enjoy the convenience of having The Sunday Post delivered as a digital ePaper straight to your smartphone, tablet or computer.
Subscribe for only £5.49 a month and enjoy all the benefits of the printed paper as a digital replica.
Subscribe