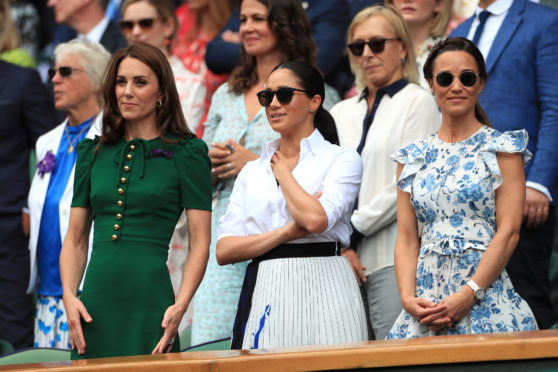 Royal duchesses Meghan and Kate looked as if they were enjoying a love match yesterday as they watched the Wimbledon ladies' singles final.
The two women, both 37, took prime position in the Royal Box as Meghan's friend Serena Williams tried to win a 24th Grand Slam title.
But the American was beaten 6-2, 6-2 as Simona Halep became the first Romanian to lift a Wimbledon singles title.
Meghan, dressed in a tennis whites-style blouse and pleated skirt, smiled as Serena collected the runners-up prize on centre court.
Miss Halep then collected the Venus Rosewater dish before going on to give a curtsy as she met the Duchess of Cambridge.
The new champion also had the two Royals in stitches as she told TV presenter Clare Balding she had not realised Kate would be watching.
She said: "That's amazing – I didn't know that, it is more special now."
Serena, a 37-year-old mother of one, had hoped to end her two-year Gram Slam drought with an historic victory. A win would have equalled the singles record set by Australian Margaret Court in the 1970s.
Meghan is a close friend of Serena, who attended her wedding to Prince Harry last year.
The two duchesses seemed to get on famously as they joked in the royal box and were joined by Kate's younger sister Pippa.
Kate had arrived early to attend a lunch in her capacity as patron of the All England Lawn Tennis and Croquet Club.
She was also given advice on growing strawberries by Marion Regan, owner of Hugh Lowe Farms, the official supplier of strawberries to the tournament, with the pair sharing gardening tips. Kate also spent several minutes speaking to a group of young female tennis players due to appear in a girls' doubles semi-final.
The duchess, wearing a short-sleeved green Dolce and Gabana dress, then took her seat in the royal box wearing a green D&G frock.
The seats around centre court were packed with Poldark star Aidan Turner and actress Lily James among the celebrities in attendance.
Dr Who actress Jodie Whittaker was also there, as was outgoing Prime Minister Theresa May.
But the tennis action was over within an hour as Miss Halep quickly took a commanding lead and secured a straight sets victory.