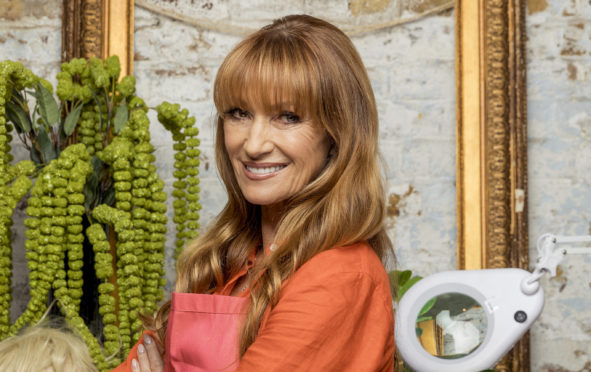 I had a brush with a Bond girl last week – or, more accurately, it was a Bond girl with a brush!
Jane Seymour starred in Live And Let Die, one of my favourite Bond movies, in 1973.
She was of course the very sexy Solitaire.
It was a name I didn't understand, as Solitaire is one of the least sexy games ever invented.
Imagine a Bond girl being named after what your granny played when there was a power cut.
Maybe Daniel Craig will romance Sudoku or Spot The Ball in the next Bond movie.
Anyway, Jane was brilliant opposite Roger Moore in that film, and I've been a fan of her work ever since.
Jane went from Bond to the iconic TV series, Dr Quinn, Medicine Woman.
She's currently starring in BBC1's Celebrity Painting Challenge as she brandishes a brush with other famous folk. I got the chance to chat to her last week.
At one stage she completed a self-portrait at an exceptionally difficult moment – as the devastating wildfires here in California were bearing down on her home.
"I decided to paint myself the way I was at that moment," she explained.
"But then I found out my house was going to burn down in America, and pretty much anything I'd every painted was going to burn as well.
"For me the painting ended up being powerful.
"And they kind of liked it!"
Jane told me she holds the record for being in Playboy three times, once as the oldest ever. That was only last year.
She may have appeared three times, but never in the nude.
Jane chatted about getting the part of Solitaire in Live And Let Die, then leaving the meeting and crashing her VW Beetle into the producer's Rolls-Royce.
As job interviews go, it's not the best impression.
To me she was looking better than ever, and Jane told me she's the happiest she's ever been.
I told her that the creases in my own skin were laughter lines.
"Ross, nothing's that funny!" she quipped.
Unfortunately, I had a bit of sad news last week.
You might not have heard of Jerry Judge, but it's almost certain you've seen his face every time Johnny Depp's pic was in the papers.
Jerry was bodyguard to the stars and sadly passed away at the weekend. He really was a gentle giant.
I hadn't seen him in a while until I was doing my red carpet stuff in Toronto at the Film Festival last year.
He was looking after Mr Depp, as always.
My producer said to me that we'd never get Johnny over for an interview.
"Oh, yes we will," I laughed down my mic.
You'll never believe it but Jerry was my minder on a few occasions when I was a DJ in London on Capital Radio.
I shouted out to Jerry, he turned with that brilliant grin he had, gave me the thumbs up and then Johnny waltzed past everyone and over to me!
My producer was amazed – I think it was more to do with the fact that I actually had a minder at one stage.
Jerry was a gent and will be missed by all. He was one of the good guys.