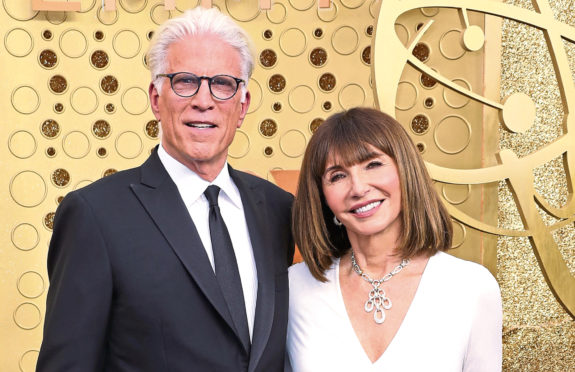 With its scenes of brutality, assassinations and gang violence, you wouldn't think being on the set of The Irishman was a great laugh.
Surprisingly, though, Robert De Niro said that's just what it was. Last week, Martin Scorsese's latest crime epic was nominated for a raft of awards, including at the Oscars.
I chatted to Robert and got the chance to ask him what it was like filming the true story of a mob hitman in the Netflix movie.
"It was good and productive," he said. "I hesitate to call it fun – it depends what you call fun – but it was fun.
"It was a great time working on it with Al (Pacino), Joe (Pesci) and Marty (Scorsese) directing us.
"I couldn't have asked for anything better."
De Niro made the Oscars longlist for Best Actor – but didn't quite make the shortlist.
It was a similar story for Mary Steenburgen. She penned the song Glasgow (No Place Like Home) which featured in the Scotland-set musical drama Wild Rose which just missed out on a Best Original Song nomination last week.
The track was written by Mary, whose partner is Ted Danson, star of Cheers and The Good Place.
I chatted to the couple last week, and asked them to guess where I'm from…
"Glasgow!" said Mary correctly. "Well, I've written you a song…"
Mary revealed she'd been flooded with messages of support on social media from kindhearted Glaswegians.
"When Wild Rose was shooting and they were playing my song, I woke up to hundreds of people saying they were in the scene and they listened to it over and over and they loved the song," she said.
"People have been very lovely about it there.
"It was written with so much love for that amazing city. But also for those amazing actors, Julie Walters and Jessie Buckley.
"Jessie is an honour to write music for. It's a stunning voice."
I wanted to know if Ted got in on the musical action like Mary.
"Not even an ounce," said Ted after a pause. "I couldn't find a word to explain how much I don't sing. But I marvel over what Mary does."
"Not even in the shower, I can testify," added Mary.
You'd think Ted would have given the iconic theme from Cheers a bit of an airing once in a while.
I also chatted to my old pal Dexter Fletcher, too.
He's a star behind the camera now thanks to movies like Bohemian Rhapsody – which he stepped in to help direct – and Rocketman, the Elton John biopic which is nominated at the Oscars in the best original song category.
But I'm not sure Dexter is too keen on ever appearing in front of the lens again.
"There's so much to do in directing," he told me. "Adding that pressure on? I'd crumble. I'd fold like a house of cards!"
More on awards season next week!