My old mate Des O'Connor was one of the best. He made everything he did look easy, and that's because he was brilliant.
News reached me here in Los Angeles that Des had died last week, and I raised a glass in his memory that evening.
Back in the '90s I took over Pebble Mill, the BBC daytime chat show. I'd always looked up to Des because of his casual style and how he always got the best out of his guests – he made them relaxed and was always very giving.
I wrote to Des for advice – that's how far back this was, in the days when you wrote letters!
Amazingly, I received a call from the great man himself. Des couldn't have been more helpful. He invited me to London to watch the rehearsals for his TV show Des O'Connor Tonight, I was on the show itself, which was great fun.
Des then took me out for dinner. His help was invaluable and the pearls of wisdom of how to deal with guests stick with me to this day.
"Always let your guest shine," he said, "and you can bathe and look good in that light, too".
When I moved to America in 2000 I was nervous and excited, as well as being sad about leaving my old life behind. It so happened that Des was on the same flight which took me there.
He actually let me share his buggy to the plane – that was the first and last time I was treated like a VIP at Heathrow!
Just before we boarded, he gave me more advice, on how to deal with big US stars, which I'll always appreciate.
I'll always remember his words to me as we boarded the plane and he turned left and I turned right. He said: "Have a great flight, Ross. But just know if this crashes, you're getting second billing!"
I last saw him at an ITV party a few years ago and he was his usual wonderful, funny self. But more than that he was also was genuinely interested in what I was doing and how it was going in America.
The biggest compliment I can pay Des is that there will not be another like him. When you met him he was everything you wanted him to be: a gent and a true legend.
l Sorry to disappoint my legion of fans!
Last week, late-night talk show host Jimmy Kimmel unveiled the world's sexiest man. And in true 2020 style the winning hunk was kept hidden under a hazmat suit 'til he whipped his mask off to reveal his identity.
Underneath wasn't me, believe it or not. Instead it was Michael B Jordan, star of The Wire, Creed and Black Panther.
I – reluctantly! – concede that smouldering and stylish Michael might be a better candidate for the title than me.
Being "the sexiest man" on earth is cool, said Michael, especially for people who don't know him.
For friends and family – it's something to have a laugh about.
That must be why my friends and family constantly laugh at me!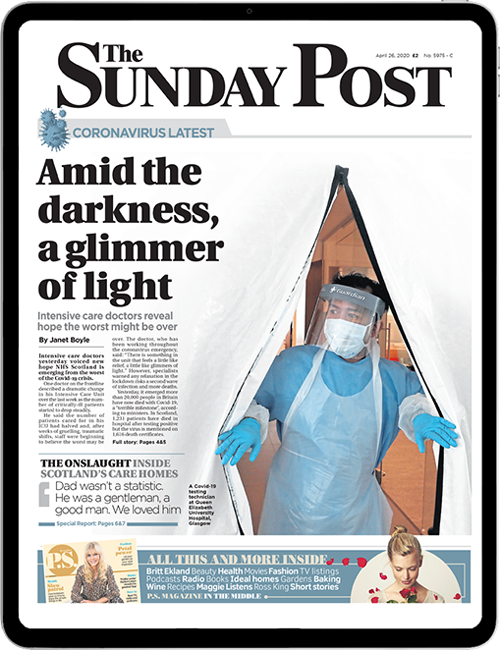 Enjoy the convenience of having The Sunday Post delivered as a digital ePaper straight to your smartphone, tablet or computer.
Subscribe for only £5.49 a month and enjoy all the benefits of the printed paper as a digital replica.
Subscribe