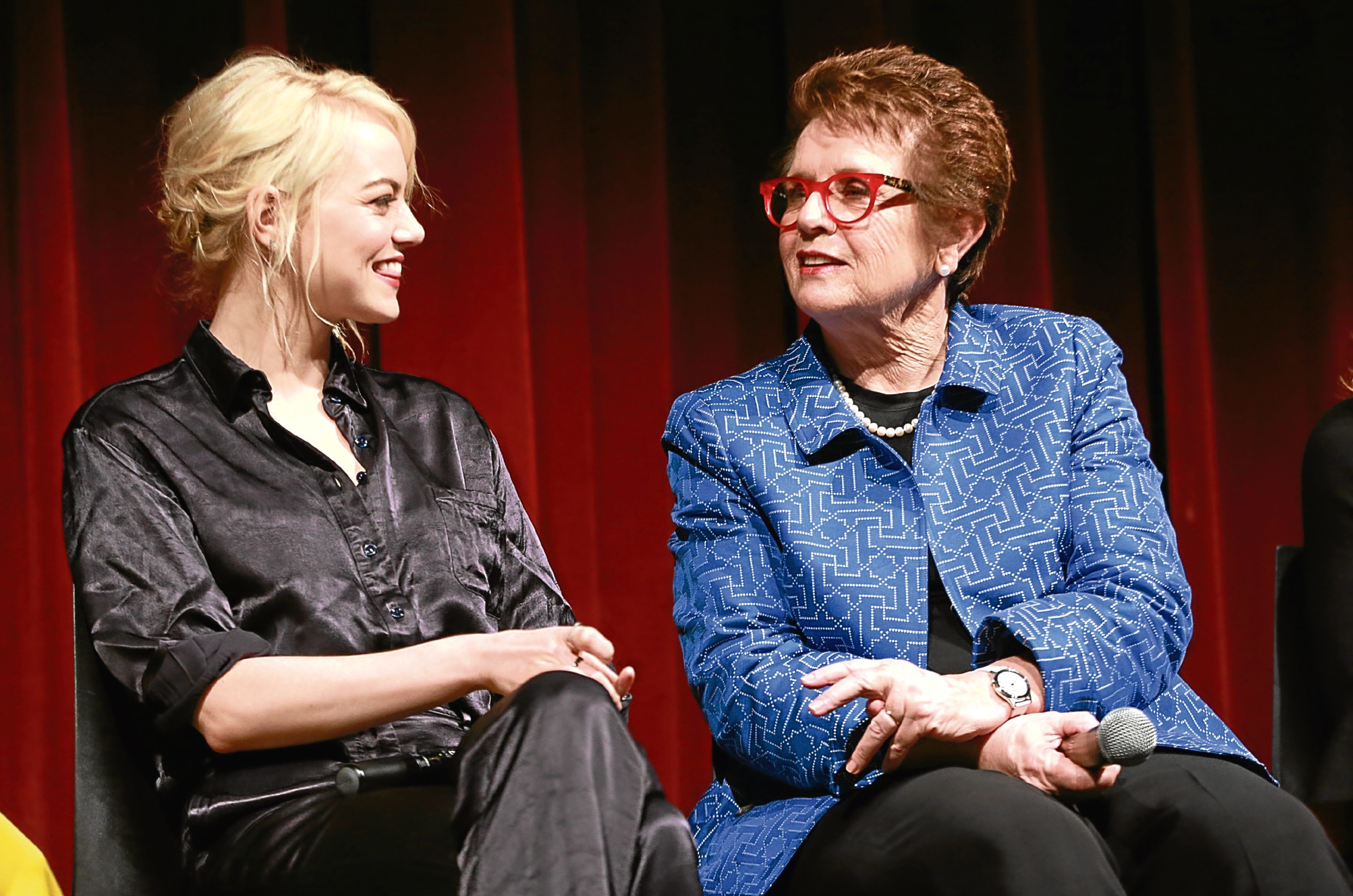 I MAY have mentioned before that I'm a big fan of tennis.
On my days off I swap my microphone for a tennis racquet and my tuxedo for white shorts and a polo shirt.
You'll see me in court more often than Rumpole of the Bailey.
So it was great to finally meet one of my heroes when I sat down with tennis legend Billie Jean King last week for a chat about a new movie.
Oh yeah, and Hollywood Oscar-winner Emma Stone was in the room, too!
Emma plays Billie Jean in a movie called Battle Of The Sexes – about the legendary exhibition tennis match between her and male opponent Bobby Riggs.
It's easy to forget how huge the match was. I remember being one of the millions who tuned in – I was just a boy in short trousers, clutching my Broons Annual.
For those who don't remember, I won't spoil what happened, but the film is very enjoyable and looks like it was filmed in 1973.
I was chuffed when just as we sat down for the chat Billie Jean King paid me a wee compliment before we got started.
"Oh, nice voice," she whispered to Emma as I was doing a wee audio test before our interview. Obviously she hasn't heard me sing!
I asked my pal Sue Barker before this interview about the Battle Of The Sexes and she told me Billie Jean basically sacrificed her career for the match.
It was because it was so important for Billie Jean to make the point that women should be as respected as men.
"Wow, that was kind of Sue," Billie Jean said. "I did what I wanted, though.
"It was something I'd wanted to do since I was 12 – I wanted to make a difference."
La La Land star Emma Stone was delighted to play a character like Billie Jean.
"It was the luckiest thing in the world to meet Billie Jean. She's just so open, warm and compassionate.
"She said, 'Whatever you need, just let me know'.
"We went to the court and knocked balls around and she told me what I, not being an athlete, had in common with athletes.
"She was amazing!"
Billie Jean was open to the idea of staging another Battle of the Sexes, but doesn't think it'll be the same.
"John McEnroe has been trying to do something similar for 15 years. But it won't be the same, even if he played Serena or Venus Williams.
"But it would be fun!"