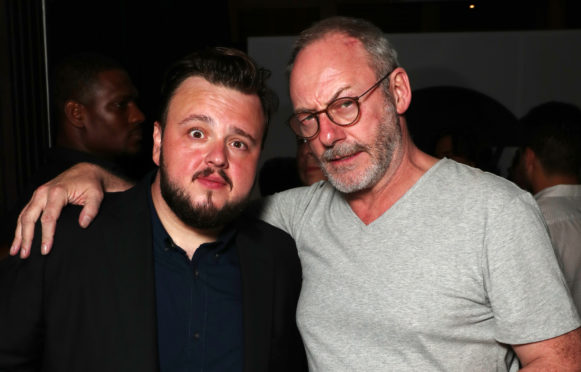 I love when a TV series or movie has a really good blooper – think one of the chariot drivers wearing a watch in Ben Hur, or the Ford Mondeo in the background of Braveheart.
Earlier this year the internet went wild for a scene in final series of the biggest TV show in history – Game Of Thrones.
During a feast set in the fantasy world was a decidedly non-fantastical Starbucks takeaway coffee cup.
Who the cup belonged to has been a bigger mystery than the identity of Jon Snow's parents – but I can exclusively reveal who smuggled it onto the set.
The culprit was series stalwart Liam Cunningham, otherwise known as Ser Davos Seaworth. And he was prompted by John Bradley, also known as Samwell Tarly.
I bumped into the two nicest characters from the show – and they're just as nice in real life, too.
I couldn't help but ask about who left that rogue disposable cup in front of the Mother of Dragons, though.
"He told me to do it! He said it would be a jape!" laughed Liam. "We needed the publicity at the time, didn't we…?"
Another exclusive, straight to you from Los Angeles – or so I thought.
John added: "One day Ross King is going to ask you about this, I told him…"
I get the suspicion John and Liam were only joking – although I know what I'm choosing to believe! John and Liam were on good form here in Hollywood, and I had to ask them what it felt like to no longer be part of life in Westeros.
"One of the difficulties I had was when we were filming the last few scenes, me and Kit would be looking at each other going, 'This is never going to happen again'," explained Liam, who also starred in Hunger and The Wind That Shakes The Barley.
"It was like it was being taken away bit by bit. And it was really difficult to be professional about it because everything was hurting when we said goodbye.
"I remember looking at my costume in my trailer on the last day. I just hung it up and looked at it for a minute. That was my moment to say a personal goodbye to it."
John said every day on the set of the show felt like a goodbye.
"The moment the very last episode was on, that was the moment I thought everything about this is in the past now," he said. "There's nothing about this that exists in the future, Game Of Thrones is not in the future, it's in the past.
"I was shooting the first day and I said, 'oh no, this is the last first day we'll ever have. Every day was the last time we're in this costume, we're at this location. That was a hard thing to get my mind around."
The last series of the popular drama came in for a bit of flak but Liam says the fans of the show haven't given him any stick for it.
"They're gorgeous!" he laughed. "It's the only thing I've ever done where I've felt as much a part of it as the fans do. We just made it, they made it big."