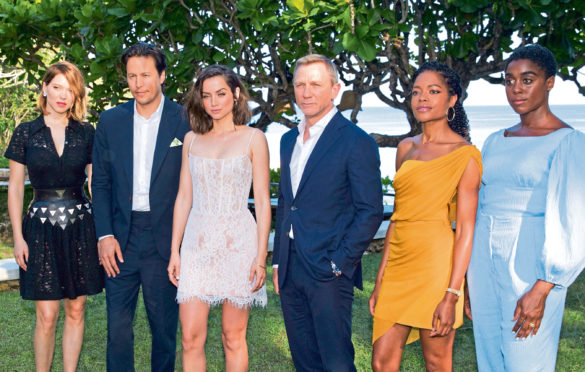 If you ever get the chance, go to Jamaica. It's a beautiful part of the world, the people are lovely – but look out for the technology.
I bought a Bob Marley-branded printer at the airport.
It's always Jammin'…
I found myself in the Caribbean last week for a trip of a lifetime to meet the cast of the next 007 movie which, for now, is called Bond 25.
It's a title that is sure to change, mainly because it sounds like a type of wood glue.
As part of my visit to Jamaica, I got to hang out at Goldeneye. It's the name of Bond author Ian Fleming's home – and it was an absolute pleasure for a Bond fan like me to visit.
I had a chat with James Bond producer Barbara Broccoli.
Unfortunately, the live stream froze midway during my report. Does that make it frozen broccoli?
Among the cast I got to chat with were three Bond girls Naomi Harris, Leah Seydoux and Ana de Armas.
I suggested to Naomi that the plot this time is that Bond saves Brexit.
Although if he did then the movie might be deemed too unrealistic. The plot actually starts with Bond on holiday when a pal asks for a favour.
Just like the time I bumped into that Glaswegian guy on the beach in Santa Ponza who said he knew me from Knightswood and I owed him a tenner.
Ana is Paloma – not a bad Bond girl name if you ask me. Not quite as entertaining as Plenty O'Toole or Pussy Galore, though.
And there's a few cracking names over the years that don't get as much of a mention – like Molly Warmflash or Kissy Suzuki.
I reckon you could come up with your own Bond girl name. Take the first name of your favourite aunt and combine it with the name of your first car.
Mine is Betty Cortina!
Speaking of ladies' names, I doubt we'll be seeing a Jane Bond any time soon.
"I always feel that Bond is a male character," said producer Barbara.
"That's just a fact. We have to make stories about women's stories and female characters, of course. But we have to create women's characters, and not just, for a gimmick, change a male character into a female one."
Rami Malek, who won an Oscar for his role as Freddie Mercury in Bohemian Rhapsody, is going to be the Bond villain this time around. I floated the idea of a singing baddie but Rami said he'd already given that a thought but it would end up on the cutting room floor.
Daniel Craig meanwhile, wouldn't be drawn on his future, although this is expected to be his final outing as 007.
"I'm not thinking about it," he said. "I'm thinking about right now. We all just want to make the best movie."
Barbara is not confirming it's Daniel's last film though – she says she's in "denial".
I also asked Daniel what he would take from playing Bond.
"A couple of suits," he quipped!