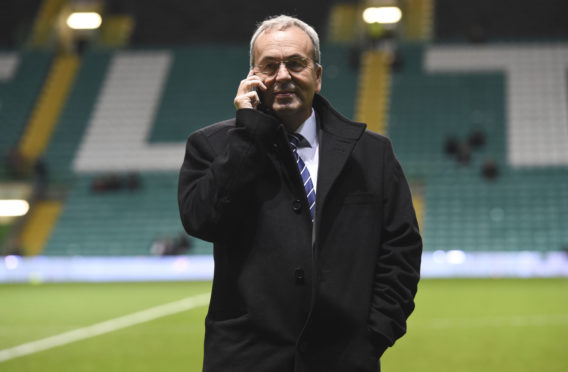 Roy MacGregor last night poured cold water on Rangers' radical proposal to introduce a new league set-up in time for next season.
Under the "innovation paper" drawn up by the Light Blues, Rangers and Celtic would both have 'B' teams in the bottom tier of a 14-14-18 structure.
The Old Firm clubs would both pay a £125,000 joining fee, which would go to third-tier clubs, who would stand to get more payments in seasons to come.
However, while liking aspects of the plan – which would save Hearts and Partick Thistle from relegation – the Ross County chairman argues now is a time for consolidation rather than experimentation.
"Making decisions at time when there is stress in an industry is not clever," he said.
"Everyone needs a wee bit more time. It is just too early to do it this season.
"We are going to get a fixture out in three weeks' time; we can't go back to this situation.
"It might be the right document but my focus is getting my players in next week, making them safe and preparing them to play football, if allowed, on August 1.
"That is a big ask for football clubs.
"I think to try to take a look at something else when we have been through it once or twice will take time.
"This needs to soak and it needs to be right for the full 42 clubs."
"We need to take some time to work through it in a positive way and take all the views of 42 clubs because we will need to carry all 42.
"So for me it is a medium-term project."
MacGregor, whose club have just invested £35,000 in their own coronavirus testing equipment and are ready to meet the £3,000-a-week costs of running it, has praised Rangers for their innovation.
"I think it has some really good things," he said of a proposal that would also bring Kelty Hearts and Brora Rangers, Lowland League and Highland League champions respectively, into the league.
"There are some positive ideas. I have always been a fan of the Colts teams if they can afford it.
"I would like to know what my brothers in the part-time teams thought of the principle.
"But the principle of developing players and getting them to play competitive football with men is really positive.
"We have had an Under-18 team and a reserve team and we haven't had the benefit of getting youngsters playing with men.
"Getting younger players in and sharing them round the Scottish scene, the principle of it seem right.
"It is just the timing."
Asked whether the Highland clubs could unite to run a 'B' team, MacGregor was similarly pragmatic.
"It's a possibility. But I think all clubs will be faced with a financial hill to climb this year.
"I would rather we preserved the stuff below our academy systems to ensure our youngsters are getting football and being trained.
"We have 126 kids in our academy. I want to make sure they have football. Even if they can't play competitively, I want to make sure they are there and their skills aren't going away.
"My next thing is just to preserve that structure of giving youngsters an opportunity."
One way to do so which features in the plan is by increasing the number of loans allowed from four to six.
"It might require a little bit of work to change the rules but it would be win, win," said Stenhousemuir chairman Ian McMenemy who is championing the change as a part of the response to the coronavirus crisis.
"It would be of benefit to lower league clubs in terms of wage bills and identifying players but it would also be of benefit to clubs that may not be running their reserve teams or their youth sides and looking for first team opportunities on a Saturday."