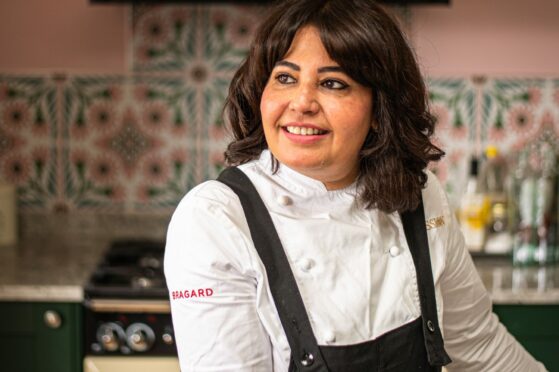 We use the phrase "Indian food" to describe the spicy vindaloos and creamy kormas that have been ever present on the British foodie scene for the best part of a century but rarely do we use the more accurate descriptions of their origins – Bengali, Goan, Keralan, Assamese, Bihari and Punjabi to name but a few.
The curries, rice dishes and savoury sides we've come to know and love have all been woven from a rich tapestry of flavours and spices from a variety of regions and cuisines – something which Romy Gill is hoping to highlight with her new cookery book, which combines vibrant recipes with stories of heritage and history.
Exploring the unique and varied styles of cooking that can be found in the shadows of snow-capped mountains, On The Himalayan Trail is a beautifully illustrated, first-of-its-kind hardback that offers an "intimate window" into the Kashmiri and Ladakhi regions, the lesser-known parts of India that are filled with flavour.
"I am fed up of telling people that it's not just 'Indian food'," laughed the chef and author, who became captivated by Kashmir while watching Bollywood films as a girl growing up in West Bengal.
"It is very diverse, very regional, and at home we cook very differently. I love that I've been given this opportunity to share people's stories with a wider audience, showing how Indian food can be so different in each community."
Having travelled extensively while researching the book, Gill says the locals she met, cooked and ate with helped her to understand more fully how the land, its people and its ingredients have shaped the region's dishes. The resulting recipes, accompanied by evocative travel photography, cover everything from succulent meat curries, such as Kashmiri Rogan Josh, to aromatic vegetable dishes like Kanguch yakhni, which sees morels cooked in spicy gravy – all packed with flavours that Gill insists are easy to replicate at home.
She explained: "The recipes are so easy because in Kashmir they use very basic spices. Cinnamon – especially whole cinnamon – ground fennel, ginger powder, turmeric, saffron, and Kashmiri chillies that provide warmth and colour but not heat. The basic spices stay the same, but the ways of cooking changes to be a little bit different here and there."
What's more, Gill explained, raw ingredients are chosen for sustainability and health: "Indian cooking, in general, is sustainable but it is even more so in Kashmir as, for example, you wouldn't find fresh vegetables in dishes during the winter. They pick fresh vegetables in the summer months and then dry them for use in cooking throughout winter. Lotus is also used a lot because it is grown in the lakes of the region then used dry or fresh, depending on the weather.
"Ingredients are local because they can't rely on importing from other states. They are self-sufficient, and it was fascinating to see how the cooking is so sustainable."
For readers hoping to transport themselves to the Himalayas without the need for a plane ticket, Gill suggests starting with her recipe for haak, a simple yet flavoursome fusion of greens cooked with red chilli.
"In Kashmir, they use collared greens but we would use long spinach here," explained Gill, a regular on the current series of Ready Steady Cook. "It perhaps doesn't look like much but it is the most delicious-tasting dish.
"A lot of people have store cupboard ingredients they don't know what to do with so I would also suggest my saffron chicken. Instead of a traditional Sunday roast, you can use this recipe to spice things up a little – it gives a beautiful warmth to the body, too."
---
Chaman Kaliya: Paneer in yellow gravy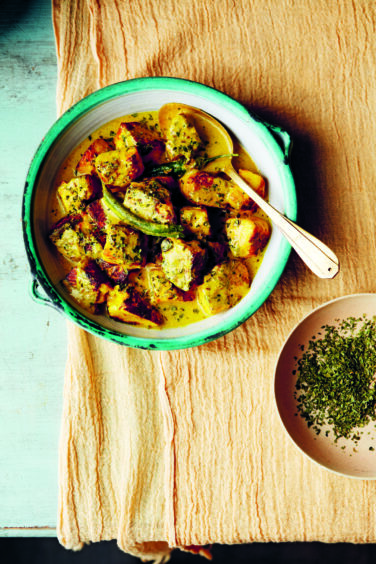 When I was travelling in Kashmir, many restaurants, hotels and home cooks were using paneer and cooking it in ways I wasn't used to.
This particular recipe was inspired by my friends Amit and Prateek's parents, whom I met when they were visiting Kashmir.
I had never eaten paneer this way before. This beautiful, tasty bowl of yellow sunshine is so good that you will be going back for seconds. A simple yet delectable dish.
Serves: 4
You'll need
3 tbsp mustard oil
500g (1lb 2oz) paneer, cut into cubes
8 green cardamom pods
4 black cardamom pods
4 cloves
1 tsp brown cumin seeds
2–3 dried bay leaves
½ tsp asafoetida powder
1 tsp ground turmeric
1 tsp ground ginger
1½ tsp ground fennel
1 tsp salt
2 whole green chillies, halved lengthways
300 ml (10fl oz) hot water
300 ml (10fl oz) full-fat (whole) milk
1 teaspoon dried fenugreek leaves (kasuri methi)
Steamed rice, to serve
Method
Heat the oil in a large pan over a medium heat. Add the paneer and fry until light brown on all sides. Remove from the pan and set aside.
Add all the whole spices and bay leaves to the pan and cook for one minute, then add the asafoetida, turmeric, ginger, fennel, salt and halved chillies. Cook, stirring, for one minute, then pour in the hot water. Increase the heat and bring to the boil.
Now reduce the heat back to medium, add the fried paneer and cook for three minutes.
Pour in the milk and cook for a further five to six minutes until the gravy thickens. Mix through the dried fenugreek leaves and remove from the heat.
Serve with rice.
On The Himalayan Trail: Recipes And Stories From Kashmir To Ladakh, Hardie Grant, £27, out now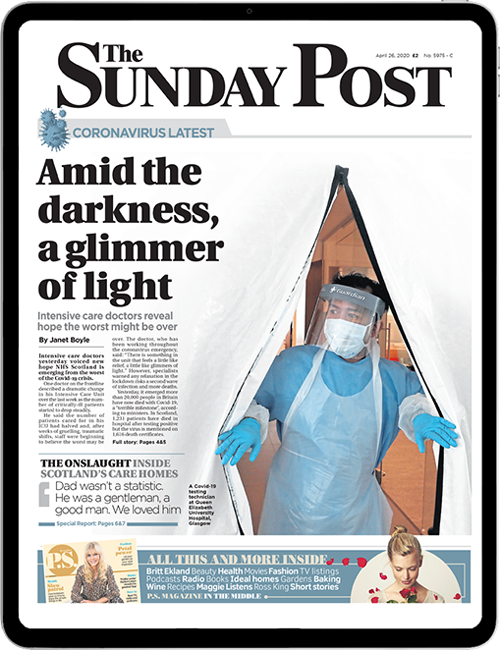 Enjoy the convenience of having The Sunday Post delivered as a digital ePaper straight to your smartphone, tablet or computer.
Subscribe for only £5.49 a month and enjoy all the benefits of the printed paper as a digital replica.
Subscribe