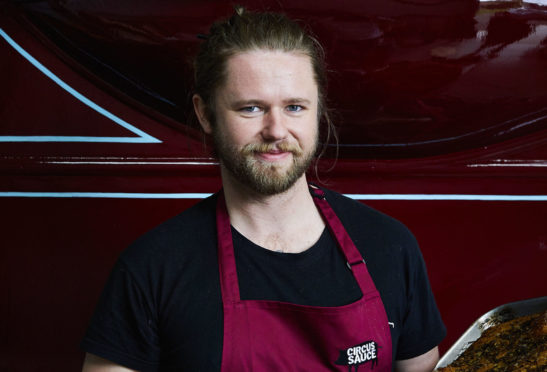 Trying to chop, dice and sauté your way through each step of a recipe can feel like a juggling act – and that's without circus performers popping in for a bowl of soup or a quick sandwich between the lunch and dinner rush.
You see, seven years ago, chef Ols Halas decided to swap the chaos of a professional kitchen for something altogether a little more interesting, serving unique and interesting dishes in a travelling circus tent.
As head chef for Circus Sauce, the on-site restaurant for the famous Giffords Circus, Ols is in charge of feeding the hungry patrons who flock to watch acrobats, tight-rope walkers, magicians and clowns as they tour the country.
"I always knew I'd be doing something a little off-piste, but never in a million years did I think I would be joining the circus," explained Ols, who started work with the travelling troop back in 2013.
"I was working in the French Alps when I received a message from a friend asking, 'Do you want to join the circus?'
"They needed a chef to run a travelling restaurant that followed the big top for the summer. The circus toured through the towns and villages I grew up in and around, so I knew all the local smallholdings and vendors to buy produce from. I was sold."
Ols uses local produce as the inspiration for the restaurant's dishes, which include everything from mouth-watering roasted pork belly rolls and lobster lasagne to rum babas with roast pineapple and sticky mounds of Eton mess.
For Ols, some of the most memorable dishes are when the circus staff come together to share a meal after a long day of moving location.
He said: "Every time we move the circus, and when everyone is knackered, we cook a big meal for when they get to the new site.
"It's a big, one-pot wonder, a goulash or a curry. Everyone sits around the tables in the restaurant tent with a bowl of hot food and a bottle of beer.
He added: "Our inspiration comes from local produce, as well as our travels, the season, restaurant visits, markets, and staff meals where we go over the top.
"For me it's all about the sharing aspect that comes from serving banquet-style.
"We know we're going to have a restaurant full of people sitting down at the same time, so we want to empress them with something extravagant!"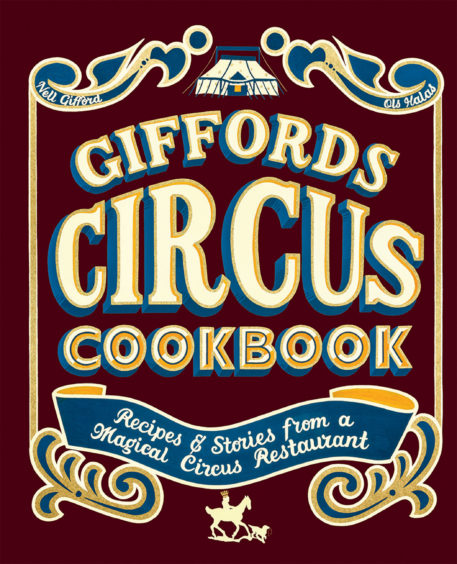 And for those who want to bring the magic of the circus home with them, the new Giffords Circus Cookbook features more than 100 recipes, all connected by the excitement and fun of the fair – including Ols' favourite dish of roast chicken with leek and truffle.
"We knead the suet pastry lid so it blows up like a balloon and you get this wonderful smell as you burst into the pie," he said.
"I like looking down into the restaurant and seeing the steam rise from the tables as people dig in."
The Giffords Circus Cookbook by Nell Gifford & Ols Halas, published by Quadrille, is out now
---
Recipe: Giffords fish pie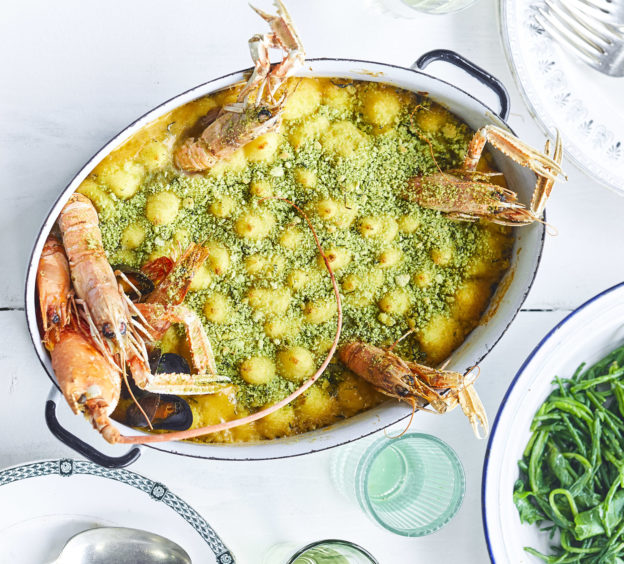 You'll need
For the filling
200g mussels, clams or razor clams, cleaned and bearded
500g salmon, cod and smoked haddock, diced
6–12 raw tiger prawns or langoustines
100ml white wine
500ml double cream
1 tbsp Dijon mustard
2 bay leaves
50g butter
2 banana shallots, thinly sliced
1 fennel bulb, thinly sliced
50g plain flour
3 hard-boiled eggs, shelled and chopped
juice and zest of 1 lemon
sea salt and white pepper
buttered samphire, to serve
For the mash topping
1kg floury potatoes, peeled and cut into chunks
50g unsalted butter, cubed
100ml double cream
2 egg yolks
For the breadcrumb topping
250g fresh breadcrumbs
small handful of dill and tarragon, chopped
50g unsalted butter
Method
Put a saucepan over high heat until extremely hot. Throw in the seafood and white wine and bring to a frantic boil, then lower heat slightly, cover with lid and simmer for 3–4 mins.
Remove lid, take seafood out with a slotted spoon and put into a bowl. Keep the cooking liquor over low heat and add cream, mustard and bay leaves and simmer for a few mins. Reserve for later. Pick the meat from the shellfish and put all prepared seafood in the fridge.
Melt butter in a deep saucepan, add shallots and fennel with a pinch of salt and cook for about 5 mins, stirring often, until softened. Add flour whilst still stirring and cook for a further 5 mins. Gradually ladle in reserved cream mixture, stir until thick.
Season well with salt and pepper and pick out the bay leaves. Leave in fridge, with clingfilm pressed on to surface of the sauce, for 2 hours until cool.
For the mash topping, par-boil potatoes, drain then put back in pan over low heat to steam dry. Pass through a ricer or bash with a masher until smooth. Heat butter and cream in small pan over low heat until piping hot, then stir into the mash with egg yolks and season with salt and pepper.
For breadcrumb topping, blend ingredients together with a good pinch of salt and turn of white pepper until colour of the herbs comes through.
Preheat oven to 170C. Add all the seafood to the cooled sauce with chopped eggs and lemon juice and zest, and mix well. Spoon into a large pie dish, pipe or spoon over the mash, then scatter with the green breadcrumbs. Bake for 30 mins until the crumbs start to get crispy! Serve with buttered samphire.