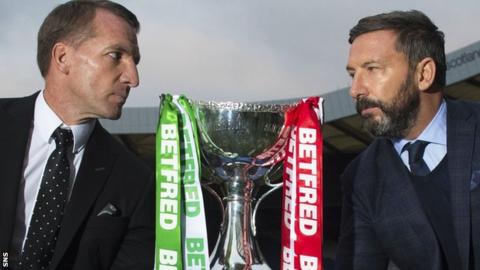 WILL it be the Dons or will it be Hoops?
Managers from Celtic and Aberdeen football clubs give their takes on today's Scottish league cup final.
Brendan Rodgers
"If we win today's Final we won't be having a party, it will be quiet."
Memories of a miserable Motherwell hangover will take the fizz out of Celtic's partying – if they win the Betfred Cup Final today.
Two years ago, the Hoops picked up the first of their half-dozen haul of domestic trophies under Brendan Rodgers, with a 3-0 win over Aberdeen.
And with the style of the victory matching the substance of their success in the showpiece, the manager allowed his players to forget the usual restrictions on alcohol intake, and let their hair down with a post-Final party.
The Celtic manager now believes that was a mistake.
"There was a celebration after our win two years ago. The problem was a week later, we went to Motherwell and at half–time were 2-0 down," Rodgers recalled.
"We came back and won 4-3. But did that tell me something? Absolutely.
"It won't happen again. Absolutely not.
"We have another game down at Motherwell on Wednesday, so if we win the Final, we won't have a party. It will be quiet.
"I think the boys know me well enough now. I treat them like adults, they are not kids with me. I treat them as men and we know when these little busy times are.
"When you are playing so many games, your body is so important. You have to look after it.
"But let's get the job done at the weekend and get another trophy.
"We'll get a period in January where we can reflect on everything if we need to, and enjoy it as we can."
The fact his players dipped post-Final in 2016 was, Rodgers reckons, all the more noticeable because of their performance on the big day.
"That day, we really owned the pitch," the 45-year-old continued.
"The spotlight was on us because we had won the semi-final well, and then were in a Final and played how we wanted to play.
"We were exciting with the ball and in our attacking, and didn't concede by being aggressive defensively. For me, it is important to play well.
"What you win is what we'll be judged on at the end of it, but that's never solely been my own measure.
"I know that for some managers winning is everything, absolutely. It wouldn't give me the satisfaction.
"From time to time, you can win and maybe not play so well, I get that. But over the course of time, I take greater joy on seeing the football and the level that we play.
"If it was just about the winning, it wouldn't fulfil me, it just wouldn't."
Rodgers says he knew he wasn't going to be an ends-justifies-the-means manager a decade ago, back when he was in charge of Watford.
He said: "It was my first job. We had a fantastic result, I remember. Against Roberto Martinez's Swansea.
"They were playing really well at the time, had drawn with Fulham in the FA Cup and then we were playing them in midweek.
"It was at Vicarage Road and we won 2-0.
"Everyone was on a high after the game – Malky Mackay, Sean Dyche, Mark Warburton (left) and Frank Lampard senior.
"They were all on such a high but I was flat because, yes we had won the game, but not how I wanted us to win.
"I think that told me really early on in my career as a manager that it's going to be more than just winning that matters to me.
"Watford's win over Fulham got performance of the week. But, nah, I like my teams to win with a certain identity, while knowing that you can't do it all the time.
"There have been games we have had to dig results out, tough it out, so I get all that.
"I like my teams to play with a certain idea. That was what drew me to coaching, and that for me is what coaching is – that relationship between the training and the game.
"If you can get that fusion, that's what makes me happy.
"This Celtic team is great because it is full of players we have developed or helped develop. It gives the team its identity.
"I am talking the likes of Callum McGregor, James Forrest, Kieran Tierney and Ryan Christie.
"That's what gives me joy.
"Whenever I meet those boys later on in life, then they can look me in the eye and say: 'He really helped me to develop as a player."
Derek McInnes
"Other teams don't get the same stick and they don't even get to the finals."
A year on from his rejection of Rangers, Derek McInnes is bullish in his insistence Aberdeen remain the main Scottish club taking the fight to Celtic.
Since Brendan Rodgers took charge at Celtic Park in the summer of 2016, the Hoops have swept the board domestically.
If they beat the Dons at Hampden this afternoon to lift the Betfred Cup, it will be seven trophies on the trot and the first in the bag in the hunt for a third successive Treble.
Yet if McInnes could privately be forgiven for looking forward to the day his colleague moves on to a fresh challenge, publicly he does a good job of talking up his team as thriving in Celtic's shadows.
"Eras are eras. You are put up against who you're put up against," he said.
"I'm proud that Aberdeen – more than any team outwith Celtic in the last five years – has been in Europe every year, and made seven semi-finals and four finals.
"Nobody else can touch that, and I'm proud of that fact.
"A couple of years ago, we were expected to get pushed aside when everybody was back in.
"Often enough, people said to me, 'Once Hearts, Hibs and Rangers are back in, Aberdeen will be back where they used to be'.
"They thought finishing second and winning a cup didn't really count because Rangers weren't really at it, and Hibs and Hearts were struggling away.
"But we are still there, still getting to cup finals, still qualifying for Europe and we still finished second last year and those clubs have been back up for a couple of seasons now.
"We will be criticised if we lose on Sunday. We get criticised if we lose finals.
"We accept that criticism, but at least we are getting criticised for getting to finals.
"Other clubs don't get the same stick and they don't even get to the finals.
"We're still searching for the perfect performances, and getting to know a lot about our squad.
We have fielded the youngest team in the Premiership this year.
"It's good that we can still find a way to be that competitive team, even though we haven't been at our best this season.
"So the era is what it is, and I'm pleased and proud that we've negotiated our way to another final."
While there is a clear-headed logic behind the assessment of how the land lies from the Aberdeen manager, he acknowledges not everyone who follows the game and, more specifically, his team, will be so pragmatic.
"When we won the League Cup, it was the club's first trophy for almost 20 years," said McInnes.
"The anticipation of that, and the desire and desperation from our support, for us to finally win a trophy again was clear.
"Now we're four-and-a-half years on from that, and I still feel that desperation and demand to win.
"But that's what happens when you manage a club like Aberdeen. The demand is there. You need to accept that responsibility.
"You are never going to please everyone all the time. I get the clamour for trophies, I would be the same myself.
"I'm actually really enjoying the challenge, and regardless of who is manager of Rangers, Celtic, whoever – and regardless of what teams you play – I'd like to think we will be able look back in the future and say we did a lot of good work at Aberdeen.
"Hopefully, there will be more trophies to show for it."
Not just for himself but also, the Dons boss says, for his players and, in particular, Graeme Shinnie.
"I think it's important for Graeme to lift a trophy, because there are those images of Willie Miller, Russell Anderson and Stewart McKimmie – but especially Willie, as he did it most often.
"Graeme did it with Inverness, obviously, but he's a captain in the true sense of the word and it's important for me that he has that image of lifting a trophy.
"It's important for me to have other players with those winners' medals and those important memories.
"If I could give them that winner's medal, I would, because they deserve it – but they've got to go and earn it."