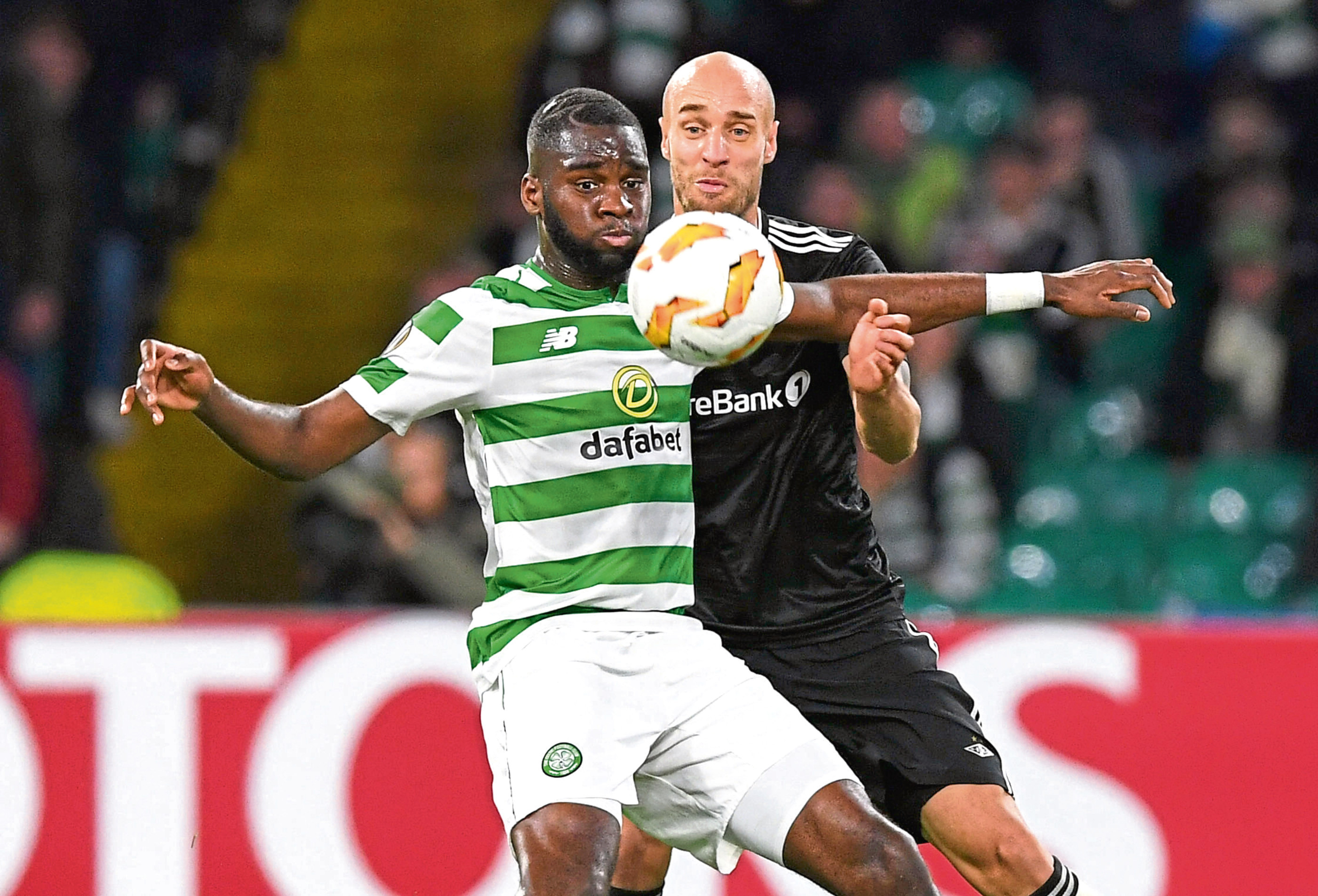 HE hooked him against Rosenborg on Thursday and had reason to be glad he did.
But Brendan Rodgers insists Odsonne Edouard is the man to spearhead Celtic's push for glory at home and abroad.
It was the Frenchman's failure to take a chance that came his way which paved the way for Leigh Griffiths to come off the substitutes bench and score the goal that gave the Hoops' victory in their Europa League opener.
And, while that sent supporters home happy, it also led to murmurings of discontent about the poor form of the £10m striker.
It made it just one goal from his last seven outings, slim pickings given the club-record fee which secured his transfer from Paris Saint-Germain.
"Odsonne's working hard, but confidence is a big thing for players," said Rodgers of the 20-year-old.
"It is not him that is the issue. For us, it's our whole team. Collectively we're not attacking at the same level.
"The offensive side of our game as a whole, from back to front, needs to improve.
"There's no magic formula. The only way you have that confidence and success is by your hard work. So the players are working really hard and, as the season goes on, we'll get better, and he'll get better.
"But Odsonne is more than just good – he is a top-class player.
"For his age, one of the best I've ever worked with. He can do everything.
"He's a different type to Moussa Dembele, a different type to Leigh. He's a player who can play with any top striker."
Dembele, of course, departed for Lyon for £20m ahead of transfer deadline.
It was an acrimonious move, with the player taking to social media the night before he left to make cryptic comments about broken promises.
The Celtic manager, though, rejects claims the loss of the player has unsettled his countrymen still at the club, Edouard and Olivier Ntcham.
"There's nothing in that," he said. "I have to make sure all the players are OK. I always speak to all of them. There's no issue.
"We just have to continue with hunger to succeed. It's also important that we have competition. We've lost players who have given us that, big important players.
"But that will return. While you're searching for that, as long as you are winning, that's important."
Celtic's search for internal competition is likely to be good news for the likes of Lewis Morgan in the short term and, in the slightly longer haul, Daniel Arzani.
"Lewis has looked really good, really strong and dynamic. He's worked really hard since he came in and looks really hungry to play and is not far away," said Rodgers.
A hint, perhaps, to the player's chances of facing St Johnstone in the League Cup quarter-final on Wednesday.
"We'll see. We have to make sure the team is fresh in every game we play," continued the Celtic boss.
"I'm sure there'll be changes for the weekend and more changes for that game. It's important we have that freshness.
"Daniel is a bit behind Lewis in terms of fitness.
"He's a good boy, it's just managing expectation. He came out of nowhere and went to the World Cup with Australia, becoming the youngest player there.
"So, all of a sudden, there's a spotlight on him, so this is about him taking a step back to reality.
"This is a boy who had never played 90 minutes of football, but people are expecting him to come here and be like Eden Hazard or Harry Kewell.
"Sorry to burst the bubble, but he needs a bit of time to build up his fitness and confidence. He's adapting to a new country, and he's still only 19.
"All these things are part of helping him develop, but I'm sure in time he'll prove to be a very, very good young player."