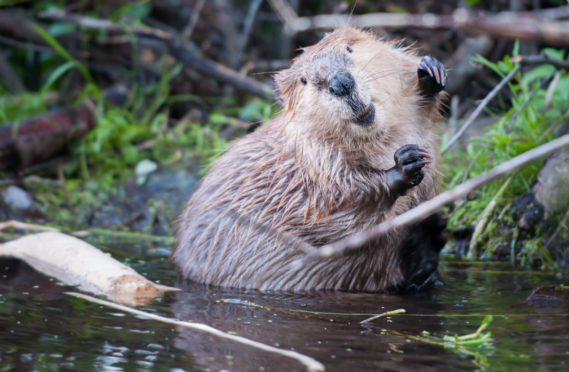 A beaver has been filmed living on Loch Lomond for the first time after embarking on a cross-country trek.
But the animal's solo relocation, hailed by experts as a big step in the development of Scotland's wild beaver population, could mean a lonely life.
Ben Ross, beaver project manager for the wildlife agency Scottish Natural Heritage, says the animal is thought to be a singleton and probably made its way 14 miles across country.
Beavers, which last lived in Scotland more than 400 years ago, were reintroduced to the Tay illegally in the early 2000s, and by the last count in 2017 were thought to number more than 400.
With an estimated 25% growth each year, there could now be 600-plus. There was also a government-backed reintroduction in Knapdale in Argyll, where a handful of animals still live.
Fields in Tayside have been inundated because beavers dam up drainage ditches and burns, stopping crops being sown and harvested. But all Scottish beavers were given legally protected status in May after Environment Secretary Roseanna Cunningham decided benefits to eco-diversity and flood abatement, produced by the animals' dams, outweighed concerns.
They are now to be allowed to expand but only naturally, without any further deliberate introductions, and "mitigation measures" such as devices to drain dams, will be offered to affected farmers. As a last resort beavers can be removed or shot.
The 2017 survey, which looked for sightings and signs of beavers – usually characteristically chewed trees – found they had moved from the Tay into the Forth catchment.
A group was detected on the Forth near Kippen, 14 miles as the crow flies from the mouth of the Endrick Water on Loch Lomond where the beaver was filmed.
This is thought to be the source of the lone animal, although beavers have also been spotted near Crianlarich, eight miles from the head of the loch but 25 miles from the mouth of the Endrick, and on the east end of Loch Katrine.
Workers at Loch Lomond National Nature Reserve near the mouth of the Endrick were first alerted when they saw beaver-gnawed willow branches.
As a result, they set up a night-vision camera trap and captured the beaver on film.
He said: "It is quite a big deal that it has crossed to the west but it is what we expected.
"What we want is good robust populations that are spreading and spreading away from those areas where there is greater conflict."
He pointed out there were still many potential territories to fill around the Forth and Tay, saying: "It could very well be many years until another male or female comes over, then they've got to pair up.
"I think it's just a waiting game for this animal, he or she might be twiddling their thumbs for a while."
He said the arrival was highly unlikely to be as a result of a deliberate introduction of the animal to Loch Lomond – which would be illegal.
"This is well within the range which these animals might be expected to travel. The hop-over from the Tay to the Forth was significant, and this is the start of another significant step."
Sarah Robinson, director of conservation for the Scottish Wildlife Trust charity, said the Scottish Government could solve the plight of the mateless animal. A number of Scottish beavers causing problems to farmers have been relocated to England, but she argued they should be rehomed north of the border, including at Loch Lomond, to help the spread of the animals.
She said it felt "quite constrained" that beavers were expected to populate the whole of Scotland from their bases in Tayside and Knapdale, and removal of animals could reduce the genetic diversity of the Scottish population.
"It would be wonderful if the powers that be would consider the option, when there's an animal that has to be shifted on Tayside, that it could be sent to join the one on its own on Loch Lomond."
James Nairne, a trustee of the Scottish Wild Beaver Group, said: "The boring, safe policy of no further reintroductions is just hampering the spread of these animals unnecessarily."
The Scottish Government said: "We have a robust management and licensing system in place, operated by Scottish Natural Heritage and there are no plans to change current policy.
"We do not intend to support licences for further releases into new areas while our focus is on developing management techniques in existing populations."
The Lomond beaver is thought to have come from a group on the Forth at Kippen, 14 miles away. It may have been forced out when its parents had new kits. While beavers will cross open country in search of a territory, tributaries of the Forth run up to Balfron, potentially giving a beaver watery cover to take it to within six miles of Loch Lomond.
A few hundred yards of open country at Balfron Station separate one small tributary of the Forth from another burn that flows into the Endrick Water, which enters Loch Lomond just south of Balmaha. This could be the route the Lomond beaver took.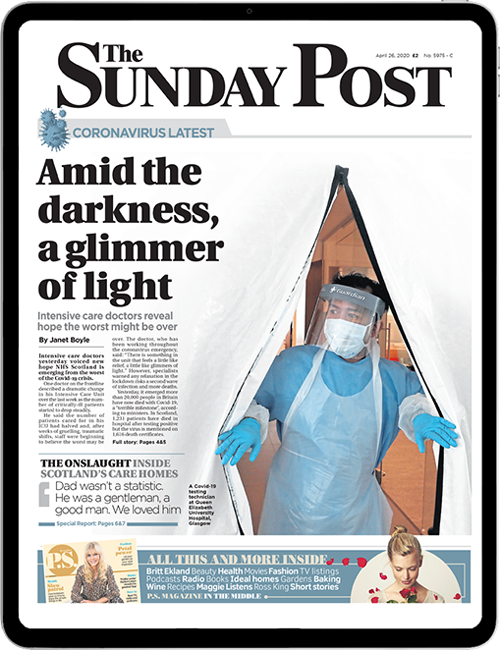 Enjoy the convenience of having The Sunday Post delivered as a digital ePaper straight to your smartphone, tablet or computer.
Subscribe for only £5.49 a month and enjoy all the benefits of the printed paper as a digital replica.
Subscribe