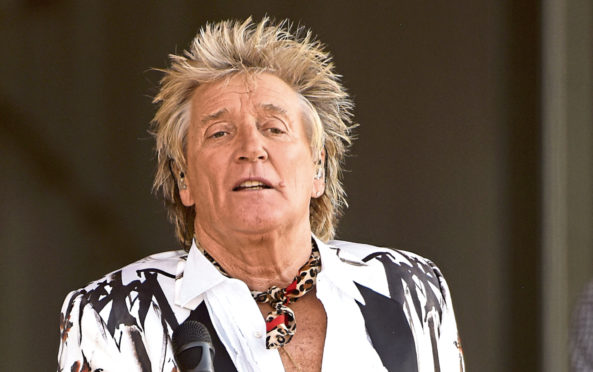 Sir Rod Stewart is still rockin' and is coming to a venue near you. That's the message as he embarks on one of his biggest UK tours for years. It's so long he will be taking at least one holiday break!
"I'm really looking forward to it," said Rod. "I have toured for years of course and often tour some of Britain but this one is going to be huge and I can't wait. We are taking the show to other parts of Europe as well but the big focus is on home and I shall be meeting up with a lot of old friends, I'm sure."
Rod is now 74 but make no mistake, he is not only fit for a fantastic tour but looking to more tours and albums in the future. He is definitely not living on yesterday's success and is very at home in the modern world.
"Memories are great and I like to think and talk about the things we did in the past but today and tomorrow can be just as exciting.
"When you look at the way we record today, for instance, my new album Blood Red Roses was great to make because we did most of the recordings while on tour.
"We would be sitting in a hotel room or backstage and if we felt like doing a bit of recording we just got on with it.
"Modern technology makes that possible. It's fantastic because it captures you in the right mood and it is much more personal somehow. It also means you're not locked in one space for months on end.
"I've spent too many years locked in studios, not really wanting to be in there, busting to get out and do something else.
"Maybe it is a lack of discipline but today's possibilities are much better and everyone who has heard the new album has loved it so that's the icing on the cake."
The music world is much changed since Rod started his still amazing career.
"I grew up in North London the youngest of five," he said. "My dad was from Leith in Scotland and my mother was English. We lived over the family newsagent's shop and I did a paper round as soon as I could. I was into football in a big way and also railway modelling. It was more than just a toy to me, it was real.
"Believe it or not the whole family were Al Jolson fans. I used to personally have his records and used to love seeing his performances on film. He really knew how to handle an audience and have a great relationship with them. I learned a lot from Al Jolson.
"At the same time I used to befriend every dog in the neighbourhood. I didn't mind cats but they were always aloof and would scratch you to put you in your place.
"Dogs were never like that. They always seemed to have a sense of fun and were always up for a game of football, except a lot of them used to pinch the ball and run off with it.
"I had to admire them for that so I think I was a dog lover right from the start.
"Sometimes they would look a bit threatening when I was doing the paper round but that never put me off."
Rod's rise to fame might have been totally different; he has been very open about his ambition to play football professionally.
"I always wanted to be a footballer and perhaps one day play for Scotland," he said. "I played for my school and I wasn't bad. I had trials with Brentford and there was a chance I might join them but at the same time I was getting more and more into my music.
"I had to decide whether I wanted to be a singer and musician or a footballer. I thought I had more chance of singing and also I wasn't sure I would get on with training every day. Playing music seemed an easier option.
"I had a run of jobs while I was waiting to be discovered; I was a silk screen printer, assistant in a funeral parlour, a labourer at Highgate Cemetery and I even did a bit of signwriting.
"So, you could say I had an interesting CV before I got anywhere with anything else. My dad had bought me a guitar when I was about 15 and I tried to copy my heroes, Little Richard and Bill Haley as well as Lonnie Donegan. They were all greats to me.
"I got discovered in the end and here we are today – Sir Roderick Stewart. It still doesn't seem right somehow, I'm delighted of course but I've never seen myself as a knight. I am still Rod, a Scottish bloke born in London."
The tour starts with gigs in Germany, Switzerland, Sweden and the Netherlands before heading on May 22 to Bristol City's Ashton Gate ground then Cork before returning to Nottingham, Southampton, York, Milton Keynes, Ipswich, Wolverhampton, Aberdeen, Bolton and Sheffield.
Then he is off to Germany again as well as Spain, Portugal and France. And that's still not the end of it. Back in the UK he appears at Newcastle, Hove, Lytham St Annes, Manchester, Glasgow, Belfast, Dublin, Liverpool, Leeds, Birmingham and London. Exhausted yet?
"I know it's a big tour but it helps that a lot of the venues are football grounds. It makes me feel like I am playing in an international or something and I get psyched up all the more. I have played football at Wembley so I know what I'm talking about.
"To be honest it was a bit exhausting just reading the list but I am totally up for it and if it works as well as we all hope, then it won't be a farewell tour."
As an international star who has everything he could possibly want why is Rod so keen to do such a punishing tour?
"I love it, simple as that," he said. "Every night is like a party. Singing Da Ya Think I'm Sexy to a packed house in an arena and then stopping for a moment to hear them singing with you is fantastic, and a moment you can treasure when you're feeling low.
"Performing makes me happy and I really am a very happy person.
"I love the music too – I like the new stuff but I also like the old stuff. A lot of those songs are like old friends to me and I just enjoy singing them.
"I never get bored with them. How could I get bored with Maggie May and the others? How could you look at all those amazing people who have taken the trouble to come and see you and sing, 'You're in my heart, you're in my soul…' and not mean it and not love it when they cheer as they recognise the song.
"I am very privileged to have come this far but there's no going back. I've yet to see Scotland win the World Cup but one day, one day…
"In the meantime here's to more gigs and more recording in hotel rooms. It's a great life and I'm enjoying myself."