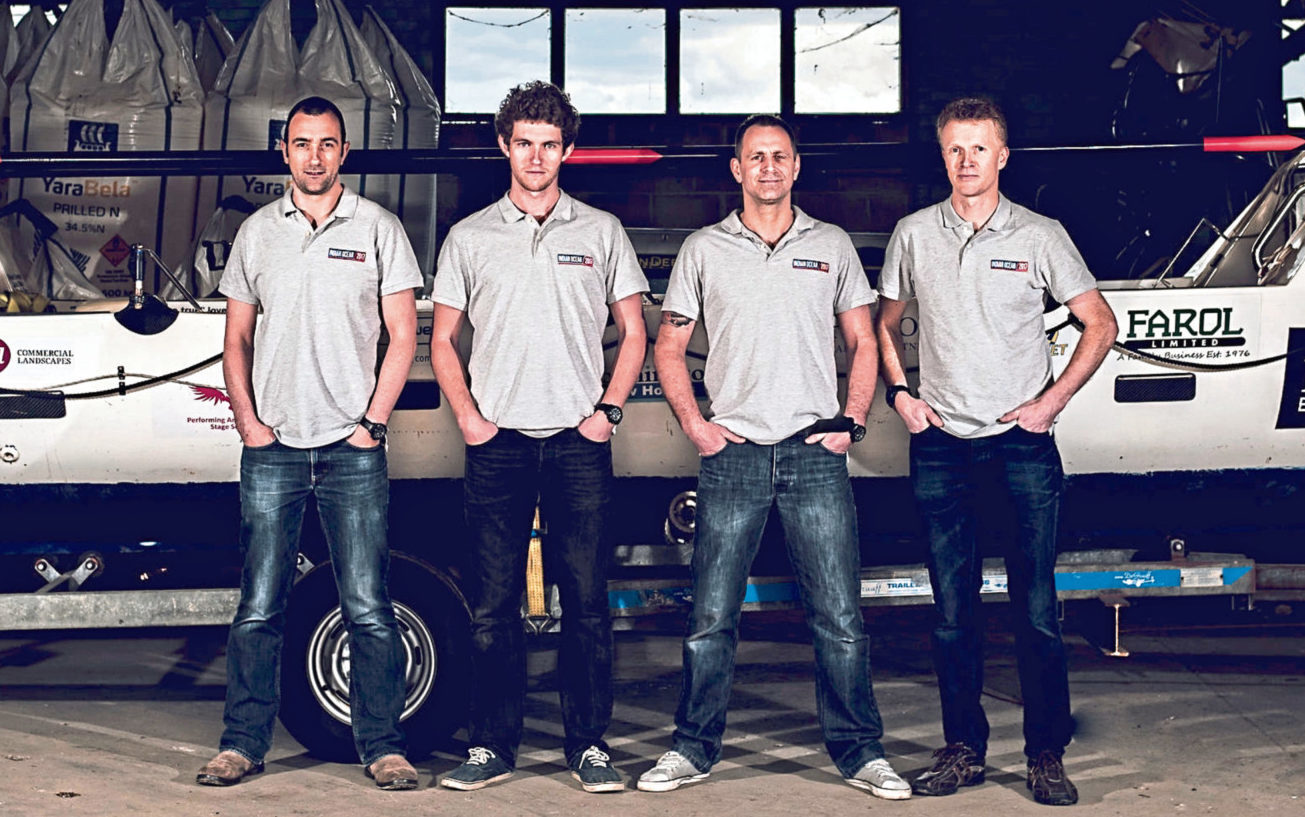 ROBIN BUTTERY didn't have a standard reaction to being diagnosed with young-onset Parkinson's.
He boarded a four-man rowing boat and has just crossed the Indian Ocean, becoming the first person with the disease to row such a distance.
The voyage, of more than 3,500 miles from Western Australia to Mauritius, took Robin and his crew 70 days.
So what's taken the most getting used to after more than two months on a small boat?
"I have got my land legs back," says Robin, 45. "Occasionally they turn back into sea legs but it's only when I'm having a shower or in a slightly-confined space – and walking up stairs is still a bit funny, they're the worst.
"The amount of space is also incredible, just to be able to move and to have a bed where you can sleep and not have somebody else's limb poking into you.
"The speed of daily life is quite difficult to get used to, too. Everything on the boat was on the whole at a consistent speed and then all of a sudden daily life, the bustle or driving in a car feels really, really fast.
"Most people have been on a boat for a short period of time and have an inkling of what it's like but the amount of time we were on the boat was quite epic.
"I've been speaking to lots of boaty people, people with years of experience, and most of them have never been at sea for that amount of time in a one-off go."
I interviewed two young fellas who rowed the Atlantic and the closest they came to blows was when one accidentally dropped the last Kit-Kat overboard.
"I can understand how that happened!"laughs Robin, a dad of one who is a technical instructor at Leicester's De Montfort University.
"We had what we called snack packs which had a Mars Bar and a Marathon as I call it – I believe some people want to call them Snickers but I'm not standing for that nonsense – and Boosts which are fantastic!
"But they were mixed with jelly sweets and I'll be quite happy if I never see another Haribo again.
"They tended to melt and turn to mush. The chocolate bars would melt but chocolate still tastes quite nice when it's a sticky mass!
"We managed to keep enough snack packs that just got us to Mauritius, though the last few had run out of the chocolate so they were just Haribos and didn't get eaten – we ended up throwing them in the bin later.
"The chocolate was the only real treat we had. We made a mistake, we didn't take any alcohol with us at all – what were we thinking?!
"We should have taken fresh fruit. When we got on dry land and had some, it was fantastic, you can't believe how good fresh fruit tastes when you haven't had anything like it for a long time.
"We didn't take anything with crunch, either. I'm a fan of Pringles and we needed crisps."
The guys had a machine to purify sea water for drinking and to rehydrate three months' worth of freeze-dried food.
"Just before we landed, I was going to have another chicken korma which was about the best of the bunch, it was quite tasty, but you are basically eating Pot Noodle which is not the most exciting.
"I was about to have it when the rest of the crew said, 'No, they're going to have food waiting for us' but I'm glad I held off because the food waiting for us was excellent.
"We were lucky to get a sponsor just before we left Australia that happened to be a hotel. They fed us and treated us like kings."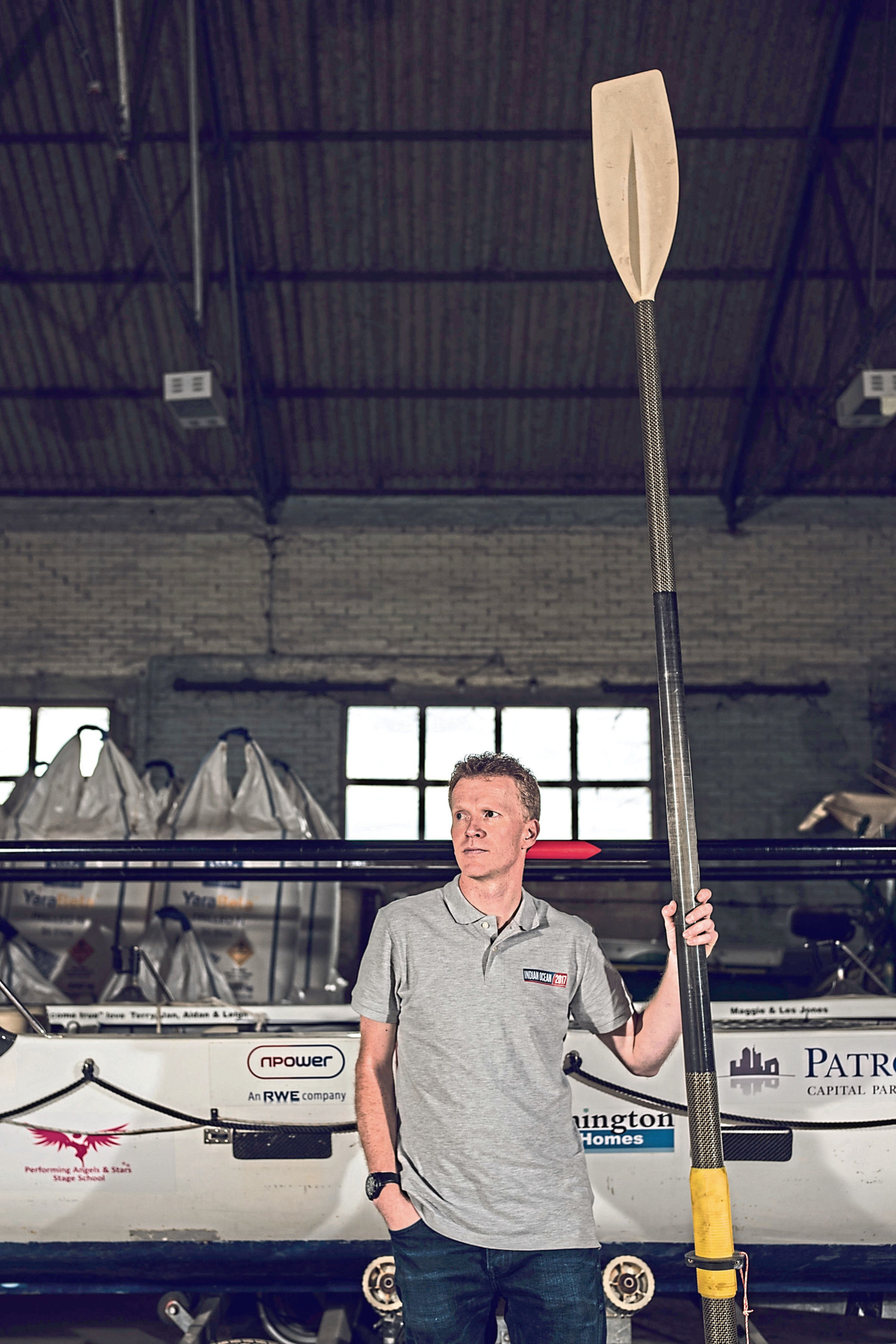 As well as all their food, Robin had to make sure he had all his Parkinson's medication with him. He admits: "There was a point where I was getting a little concerned that I was running out because we had been delayed leaving by a month and that was something I hadn't factored in.
"So I did actually limit some of my medication for a bit so that I always had a month's worth of medication in a grab-bag if we had to bale out. But when we got closer I realised the chances of that were less likely and rescue would be quicker so I started getting back on it properly.
"I had a time when I was retired from rowing for a couple of days. It's difficult to say what caused it, whether it was drug-related, the Parkinson's or physical tiredness but I was also at that point suffering with quite a few salt sores – mostly around the backside which makes it uncomfortable to row.
"But I was also fearful I had an ingrowing hair at the bottom of my spine where my skin was actually breaking up and becoming an open wound, and I was concerned about the potential for infection.
"I stayed busy fixing bits of kit but there's a feeling you're letting down the rest of your team, though they knew it was better for me to recuperate."
Robin's condition caused a few specific problems too. "I get something called trigger finger and that can cause difficulty rowing," he reveals.
"I can usually tell from my hands when it's coming on, it's normally my left hand more than my right, and when it locks that can cause you either to drop what you're holding or not be able to put pressure through your hand.
"It also happens with the toes which climb on top of each other, which can be strange."
Robin first noticed things weren't right last summer, and says: "I was having trouble walking. I actually felt I'd forgotten how to walk.
"I'd always been a very quick walker, it was rare for people to overtake me, and I suddenly realised I was struggling.
"I felt my legs were heavy but then I realised I was dragging my foot as well. I got quite hung up on it, I started counting how many paces I could do before I did a drag.
"I knew something was wrong but like all blokes I left it for a hugely long time before telling my wife, and it was after Christmas before she said we should see the doctor.
"It took about six months to get a diagnosis. I did not at all suspect Parkinson's, I thought I'd got Motor Neurone Disease or multiple sclerosis.
"But my wife, unbeknownst to me, booked me in with a specialist and on our first meeting I asked him for his best guess, and he reluctantly said he thought I had Parkinson's.
"Professor Helen Dawes was monitoring me throughout the journey in the hope of shedding new light on Parkinson's, and I'll have a debriefing with her.
"I think we'll talk about my leg as when I first got back, the one thing that had gone was my limp which I was overjoyed about.
"It took me a couple of days to realise it was completely gone because I hadn't been walking on the boat.
"It feels like it's beginning to come back again but that makes me feel there's an optimum amount of exercise or a specific exercise that I need to be doing on my left leg to walk better."
Robin's crew mates – of whom he says, "We are still talking. Some of the lads didn't think my singing was as good as I do!" – had fairly adventurous backgrounds but he admits: "This was totally out of my comfort zone.
"It was only after the second or third conversation when I was told what the thing was – 'We're going to be rowing the Indian Ocean and it's 3,600 miles' – and you think, 'My God, what are they talking about?'.
"But I wanted to do something positive. I've always been very keen on research into diseases and I do think you have a duty almost to put yourself forward if you feel it's right for you, to move things forward because if you don't, everything grinds to a halt and we never progress.
"I would love there to be a solution tomorrow, a cure for all diseases, but I am a realist. If there's a solution in my time-frame, great, but if this actually moves things forward for other people that's also great.
"I will do whatever I can to help the cause. I hope I'm hitting this with a positive attitude. I've seen people diagnosed at the same time who appear not to be faring as well so I do think mental attitude can make a big difference.
"I'm trying to live my life as normally as I can. I'm not burying my head in the sand. I want to do as much as I can for as long as I can. Parkinson's is not going to stop me doing things today that I know it may well tomorrow."
Robin and the crew were raising money in aid of Young Onset Parkinson's Disease via Clear Trust. Donations can be made at www.ior18.com
You can read his blog at www.rowtheindianocean.com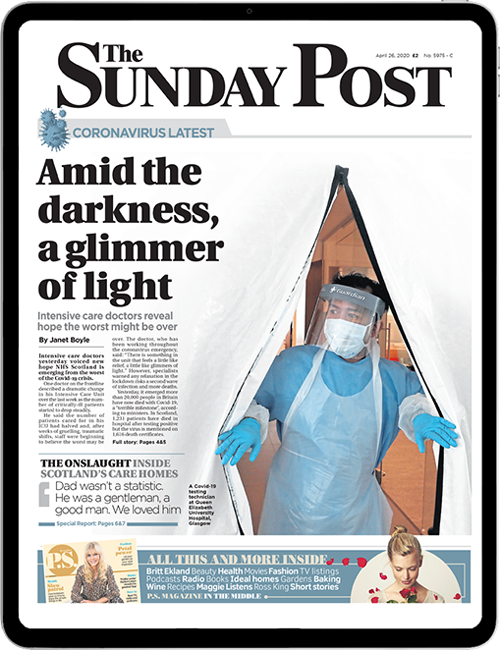 Enjoy the convenience of having The Sunday Post delivered as a digital ePaper straight to your smartphone, tablet or computer.
Subscribe for only £5.49 a month and enjoy all the benefits of the printed paper as a digital replica.
Subscribe