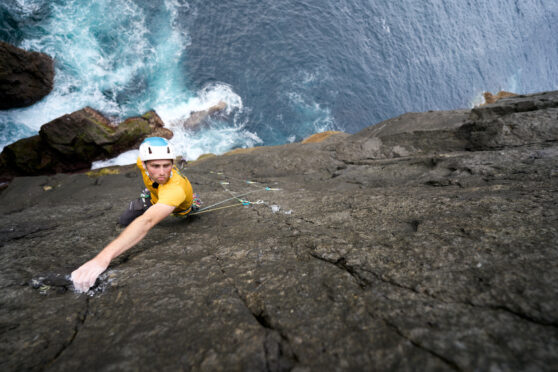 They were, according to ­rescue teams, "incredibly stupid" but the two climbers plucked to safety after heading up Ben Nevis in midwinter in jeans and ­ trainers are, sadly, not alone.
Being properly prepared is key according to one of the most skilled climbers in the UK, Robbie Phillips, who has completed a string of spectacular climbs around Scotland and the world.
Avoidable mistakes due to inexperience are one of the biggest dangers, he says, while insisting the most experienced mountaineers take few unnecessary risks.
"People get the wrong idea, ­especially non-climbers, that it's an adrenaline sport like sky-diving or base-jumping," he said. "It's not like that at all, it's actually very slow. Honestly, if you were to film climbing and not edit it, it would be a very boring thing to watch.
"Mountain biking, you hurl ­yourself off a hill, go down very fast, and something can go wrong in an instant and you have a second to make a decision that will either be the right one or wrong one. In climbing, often the things that go wrong, you know they've gone wrong and then you've got quite a long time to make a decision and figure it out. It's why I think climbing isn't a crazy adrenaline sport.
"We're not adrenaline junkies. We're really all about overcoming challenges and personal limitations but, just like anything in else in life, we work towards it. We don't just jump into the deep end, it's something that takes time.
"Climbing is a puzzle, and a lot of the best climbers I know are ­mathematicians, physicists or scientists of some sort. They love problem-solving, number crunching."
Phillips doesn't attach a "don't try this at home" message to the footage he posts on YouTube, but is a firm advocate of ensuring people looking to have a go make things as safe as possible.
"Climbers are very good at ­analysing risk," he explained. "I think it often looks very dangerous, but actually a lot of the things I do are actually incredibly safe. There might be very small periods that aren't, and I put all the pieces in place to make myself as safe as possible.
"I'm a big advocate of educating climbers and non-climbers that the way to be a good climber is to make the climb as safe as possible, like having the experience to find the right gear, or building your skills so that your ability keeps you safe.
"Going out without the right kit is a rookie error," he said. "A lot of accidents that happen are from people who have barely started climbing and don't understand how to go about things. Education is really important. It's not just jumping straight into the deep end. When you build up experience, understanding and knowledge then you can make yourself relatively safe."
Phillips, 32, is one of the speakers at next month's Fort William Mountain Festival, which takes place in the shadow of Ben Nevis.
Born and raised in Edinburgh, he spent a lot of his childhood with his grandad, who would regale him with tales from across the globe working as an engineer on oil tankers. This ignited an adventurous streak and, at 15, he fell in love with climbing through the Duke of Edinburgh award at his school, George Watson's College. He ended up competing for the GB climbing team, and coaching the Scottish team.
At 19, he started travelling the globe and racking up climbs on all types of rock in various disciplines. He has attracted thousands of viewers online to videos of his adventures, from the Highlands to St Kilda, Australia to the Alps.
Phillips says it's crucial to build ­confidence, skill, experience, strength and technique to be able to do things safely. He knows that all too well, having had an fall in his early years climbing.
"I had an accident where I fell off the climb and hit the ground," he recalled. "It could have paralysed me for life. There's a video online, it's awful, but I just winded myself.
"What happened there was, because I'd just started doing this type of climbing, I thought it was all about being really brave and going for it. In some ways, being lucky.
"I had the accident and realised that's not what traditional climbing is about, it's about making yourself as safe as possible so that you can try hard. You don't want to put yourself in situations where you think you're going to hurt yourself."
He returned to the scene of the fall to successfully complete it a couple of years later.
"The danger of that climb on paper doesn't ever change. The gear, the climb, the holds are always the same, but I went back and did it. It was something I wanted to do, a mental battle.
"All I had to do was figure out the moves a bit better, learn the body positions and balance, and build that confidence in my mind. When I actually did it, it felt easy and there was no chance I was going to fall. The first time I was gung-ho and that's the wrong way to be."
At the festival, Phillips will be ­showing his latest video, which sees him and climbing partner Alex Moore scale one of the world's hardest sea cliff climbs on the sheer sandstone of St John's Head in the Orkney Islands.
When putting together the film, Not A Hope In Hoy, he made sure to show not just the climb itself but also the work that goes in beforehand.
"Quite a lot of climbing films gloss over the period before they climb where they put all the effort into preparation," he said. "It's almost like they just rock up to the bottom of the cliff.
"In the film I also show the vulnerability of me and my climbing partner Alex on the wall, and the steps we take to get ourselves prepared for this. That was a really important part of the film."
When the puzzle of reaching the top is solved, Phillips still feels the same sense of jubilation – although he admits that, like many climbers, he often finds that moment is short-lived.
"There is this moment of elation, ­followed by an even stronger feeling of 'what next'," he said.
"There's never one ultimate goal – do this and you can retire. It's like a staircase, every step is a new objective, you're learning something which allows you to get to the next climb."
So, what adventure is next for him?
"My next project is sitting right beside me, she's very hairy and sleeping," he laughs. "My new puppy, Bonnie, is going to be my crag dog, my adventure pup and I'm going to spend the next year training her.
"Ultimately all the big projects that I have are here. I've got some stuff up north I'm really keen to do. The thing that'll excite most people is that I want to go back to St Kilda. I was there last summer for five days which was amazing.
"I discovered some incredible rock faces up there on Soay, the western most tip of the British Isles, literally as remote as you can get."
At one with the environment
Robbie Phillips' love of adventure and travel has taken him across the globe where he has climbed pretty much every type of rock type in every style.
In a time where the environment is at the forefront of many people's minds, he believes it is crucial we all keep in touch with nature.
"Climbing allows you to become one with your environment and connects you very intrinsically to it, which is more important now than ever considering climate change and the way the world is going.
"Becoming more connected with our outdoors spaces is really important. I was talking to some friends the other day about this, when we're out climbing it connects us to our environment and I think it just gives us more urgency to protect these spaces that we play in."
Phillips is an ambassador for Protect Our Winter UK, which raises awareness of climate change and inspire action in the outdoor community, and also for Urban Uprising, which seeks to empower young people through climbing.
"Indoor climbing is booming now, walls are popping up all over the shop," he said.
"Edinburgh has a fifth one opening in the summer. Urban Uprising's aim is to give disadvantaged kids an opportunity to go climbing, experience all the life skills that it can teach.
"Through the summer the aim is to get outside, but in the winter when going outdoors is really hard, indoor climbing walls provide the perfect platform.
"I grew up in Edinburgh, still live there, when I'm home most of my time is spent training in climbing walls.
"It's part-training, part-socialising, it's my community and it's a huge part of what climbing is, friends, working together, to solve the problem of the wall but it's also about hanging out and having a cup of tea in between trying a boulder problem, It's a wonderful sport in that way."
---
Robbie Phillips is speaking at the Fort William Mountain Festival, visit ­mountainfestival.co.uk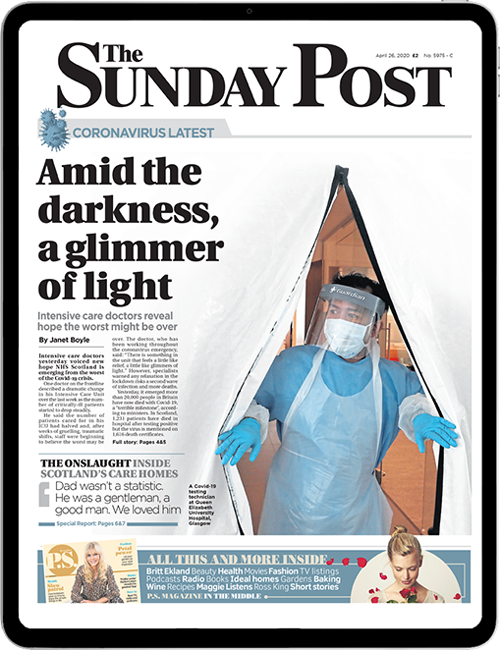 Enjoy the convenience of having The Sunday Post delivered as a digital ePaper straight to your smartphone, tablet or computer.
Subscribe for only £5.49 a month and enjoy all the benefits of the printed paper as a digital replica.
Subscribe