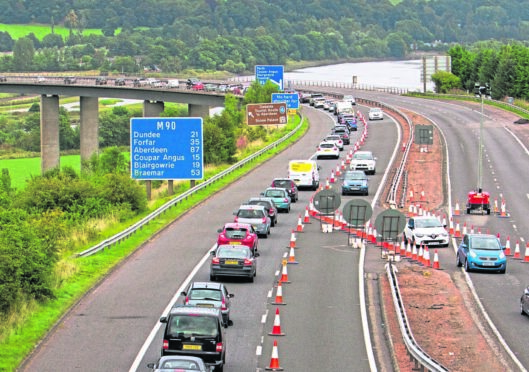 Roadworks have hit record levels in Scotland, with a new stretch of highway closed and dug up every four minutes last year.
Town hall cuts and the pandemic have combined to create a crisis on our roads – just as train services have been slashed and islands are hit with a ferry shortage. Now motorists, already plagued by potholes, are facing tailbacks and diversions as Scotland slowly grinds to a halt. Businesses struggling to recover from the pandemic are also seeing the disruption chip away at wafer-thin profit margins.
We discovered some roads have been shut for 10 years due to crumbling bridges and walls as the list of jobs-to-do gets even longer. Now the AA has called on ministers and ­ councils to get a grip of the problem.
Jack Cousens, AA head of roads policy, said: "Scottish roads are crumbling faster than a shortbread biscuit. Only a serious plan with significant funding will solve the problem.
"Roadworks are a necessary evil for all road users. If we want smoother surfaces and upgrades to the infrastructure that lies under the tarmac, then we have little option but to put up with rows of cones and congestion.
"However, there are good and bad examples of workmanship and planning. Far too often we see one utility company dig a hole only for the same hole to be reopened weeks later by a different utility company.
"While there are big pushes for net-zero carbon emissions, the role road surfaces play in that target is often overlooked. Many people are hesitant to switch shorter car journeys in favour of walking or cycling because the surface of roads and pavements are often just a collection of craters.
"Sadly, roads and pavements are resurfaced far too infrequently due to a lack of funding. This needs to be addressed once and for all so cyclists, drivers and pedestrians can enjoy smoother, safer journeys."
An annual count of Scottish ­roadworks has been kept since 2014/15. In the past financial year, an unprecedented total of 141,743 new works were started – up 18% on the 2020/21 figure of 119,724. The previous highest was 131,699 in 2014/15.
A quarter of roadworks are ­carried out by councils with the remainder being the responsibility of utilities or highways management companies.
In our survey of Scotland's councils, Aberdeenshire had a dozen roads shut long-term while Stirling and North Lanarkshire had 10 each.
We identified 15 that have been shut for more than a year.
Back Dykes in Anstruther, Fife, was closed when a developer removed a garden wall that made the road surface unsafe. More than 10 years later, it remains shut with no prospect of it reopening.
A bridge over the Clerkland Burn, near Stewarton, Ayrshire, was declared unsafe for vehicles in June 2012. A ­decade on, though, the C26 country road is still closed with council officials now seeking a Compulsory Purchase Order to carry out repair work.
The hamlet of Pettinain, Lanarkshire, has been cut off from neighbouring Carstairs since 2018 because a concrete bridge over the River Clyde was deemed too weak for traffic. It left locals with a six-mile detour to catch a train to Edinburgh. And there's no end in sight as South Lanarkshire Council told residents in January that, due to the rocketing price of steel and cement, it can't afford the £7 million bill to replace it. Another faulty bridge on the B818 near Balfron, Stirlingshire, has brought misery to motorists since February last year.
Meanwhile, a roadworks ­programme at the Woodside Viaduct on the M8 through Glasgow, which has wreaked havoc for commuters since last spring, is to take another four years to complete.
Even more motorists are expected to be driving to work now that a third of ScotRail services have been indefinitely axed as a result of a pay dispute with train drivers.
But for the period up until the end of this month, the Scottish Roadworks Commissioner has been informed of 2,845 high- impact works, including 481 in Glasgow, 363 in Edinburgh, 99 in Dundee and 134 in Aberdeen.
The number of potholes on Scotland's trunk roads has exploded since 2007/08. Back then, there were 3,981 reported – but that figure swelled to 20,988 in 2020/21.
The cost of fixing potholes on all Scotland's roads would be a staggering £1.68 billion, according to a recent survey of councils under Freedom of Information laws. Dumfries and Galloway's backlog would take £217m to deal with and Highland's £194m.
The pinch is also being felt by shops and companies trying to get back on their feet after the Covid emergency. Colin Borland, director of devolved nations for the Federation of Small Businesses, said: "You don't need to drive very far around Scotland before you see your first line of cones or set of temporary traffic lights.
"It's obviously good for ­business when, say, the broadband infrastructure is being upgraded or worn-out roads are being resurfaced and potholes filled. The problem, of course, is the disruption caused when these works are carried out – especially if they run over schedule or last for an extended period. Deliveries get delayed, passing trade takes a hit and potential customers might choose to avoid an area altogether if the traffic is seen as unmanageable.
"We know the vast majority of small businesses see the road network and their car or van as vitally important to their daily operations, so it's crucial we get our roads running smoothly and work through the maintenance backlog as efficiently as we can."
But a Scottish Government adviser – who didn't want to be named – told The Sunday Post that, faced with budgets under growing pressure, local authorities were choosing to prioritise other services.
Data shows councils spent £458m on roads in 2020/21 – less than education (£5.5bn), social work (£3.5bn), environmental services (£726m) and cultural services (£582m).
Roads accounted for 4.1% of budgets compared with 4.3% in 2017/18 – although the figure dipped as low as 3.4% in 2019/20.
Our source said: "It may be controversial but maybe it's time to take the highways off the councils and have a national roads service, managed by contractors. Government has to do more – it has to be innovative. The impact of crumbling roads on the Scottish population is massive.
"It's not just car owners who are affected, it's those who use bicycles and public transport. And our shop shelves are only filled because lorries bring the goods to the stores."
The Scottish Government said: "Despite con­tinued economic uncertainty facing us all due to the pandemic, we are treating councils fairly and providing a real-terms increase of 6.3% to local authority budgets for the coming year.
"Maintenance of the local road network is the responsibility of local authorities and it is the responsibility of individual councils to manage their own budgets and to allocate the resources available to them on the basis of local needs and priorities."
Transport Scotland said: "Through our Operating Companies we are responsible for the management and maintenance of the strategic trunk road network, including motorways. Repair of potholes on all other roads is the responsibility of local authorities.
"In 2021/22 we invested £556m in managing, maintaining, and safely operating the Scottish ­motorway and trunk road network. We have contracts in place with the Operating Companies to ensure Scottish they are safe, efficient and well-managed.
"They recorded and repaired approximately 12,700 Category 1 potholes in 2020/21."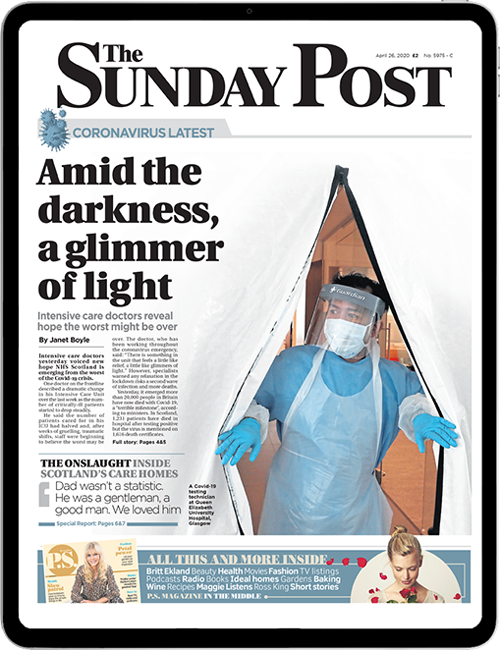 Enjoy the convenience of having The Sunday Post delivered as a digital ePaper straight to your smartphone, tablet or computer.
Subscribe for only £5.49 a month and enjoy all the benefits of the printed paper as a digital replica.
Subscribe