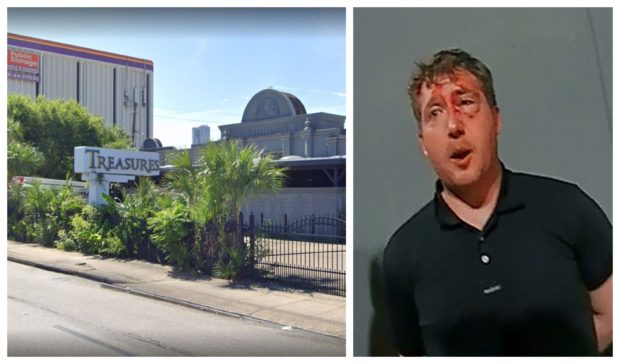 A Scots oil industry worker has sued a notorious strip club in Texas after being hit with a $1,500 bill; being badly beaten when he refused to pay; being arrested and thrown in jail for three days; and being trapped in the States for a month until he was well enough to fly home.
Lawyers claimed Wesley O'Neill was only the latest customer at Treasures to be beaten or subjected to extortion, credit card fraud and theft while at the club in incidents going back years.
Mr O'Neill, 40, an IT expert who works in Aberdeen for an American oil firm, was on his way back from a night out during a business trip to Houston when his taxi driver suggested he stop off at the club. He claimed things turned nasty when he was asked to pay $1,500 – around £1,200 – for a bottle of Champagne which he had been told would cost $300, and a private dance.
Mr O'Neill, suffered a serious eye injury in the ensuing fracas, ended up handcuffed in the back of a police car and spent almost three days in the Harris County Jail before a charge against him for "theft of service" was dismissed. He launched a civil action against the club and its manager, Jason Brannen, claiming the fracas was contrived to force him to pay up.
Mr O'Neill suffered a shattered left eye socket and a broken facial bone, which meant he was unfit to fly home to Scotland for almost a month.
Body-cam footage from police officers taken on the night of the incident, in September 2017, ends with Mr O'Neill handcuffed in the back of their car.
Mr O'Neill said two girls had taken him to a private VIP area of the club for a dance, which they said would cost around $300.
Footage shows him saying: "Being a foreigner to such places, I didn't know what was going on."
He said that he did not get what he paid for, and insisted: "Why am I paying this money?"
I was raising a bit of concern of why am I paying this money. So I tried to stick up for myself and I got punched. After I got punched, three guys sat on me and put the handcuffs on me. And that's all I can remember.

– Wesley O'Neill
Mr O'Neill claims that when he questioned the bill, he was accused of assault.
He told the officer: "I don't like people, whether it be a pretty girl or a big guy, making a victim of me. I stuck up for myself and then I got punched. After I got punched, three guys sat on me and put handcuffs on me.
"That's all that I remember."
Mr O'Neill, who was born in Stirling, told the officer that Treasures was "very different from a Scottish strip club" adding: "I'm not a cheat. I pay for things."
But when the officer asked if he wanted to pay, he refused saying: "Let's go to court."
Court papers reveal that Mr O'Neill was taken to jail for three days before a criminal charge of "theft of services" was dismissed.
He claimed 40% responsibility for the flare-up, and his lawyers presented evidence they said showed there had been a history of similar behaviour from staff.
When police investigated, Mr Brannen claimed Mr O'Neill became aggressive with a dancer before staff closed his tab and asked him to pay. He told police Mr O'Neill owed money for drinks and the dancer's time. Mr O'Neill sued the club and Mr Brannen for exemplary damages on grounds including injury to his eye and face; false imprisonment when staff pinned him to the ground and handcuffed him, and malicious criminal prosecution for claiming a theft of services occurred when this was not the case, causing him to be locked up.
Court papers from Mr O'Neill's lawyers allege the club was involved in an "extortion practice".
They also detailed a series of other incidents at the club – including one on the same night – where they say customers were overcharged. They state that a man named Henry Waller swore under oath that on the same night as the alleged assault on Mr O'Neill, he was also charged twice the amount he should have incurred, almost £3,000, but he paid up.
The papers state: "Mr Waller provided a detailed affidavit, whereby his claims mirror those of Mr O'Neill with one stark exception– Mr Waller paid the extortion penalty whereas Mr O'Neill did not and was beaten as a result."
They also claimed that on January 29, 2011, a Treasures customer filed a police report claiming a female employee got his wallet and his American Express card was charged in excess of £10,000.
A catalogue of similar incidents stretched back years, according to Mr O'Neill's lawyers, including how in 2011 a customer claimed a Treasures manager overcharged him by thousands of dollars.
In 2010, another claimed multiple unauthorized transactions had occurred on his credit card.
And earlier that year a customer claimed employees improperly and illegally used his card.
In 2009, another customer claimed he had been punched in the nose after bumping into a female. That October, a customer claimed a waitress overbilled his credit card by thousands of dollars. And in May of the same year a customer claimed he was chased down and pulled out of his car by bouncers.
In November 2010, a customer claimed Treasures added a $2,400 fraudulent charge to his bill.
Mr O'Neill's lawyers claimed Mr Brannen only received £55 a shift per night, which caused him to seek income from other sources, primarily "tips" from dancers. They claimed dancers would tip Brannen when unpaid or disputed bills were settled.
Court papers show that the case was settled but both Mr O'Neill and his lawyer in the US, Andrew J Cobos, refused to discuss the case or the settlement. The club and police were also contacted for comment.
In court papers the attorney for Treasures, David Medina, denied O'Neill's claims that there was any plan to use violence to force customers to pay inflated bills.
He said: "It is unclear how a manager's use of physical force against a customer would cause the customer to give more tips to either the dancer or the manager.
"Moreover, there is no conceivable reason that a manager would be incentivised to use force against customers to persuade them to pay overinflated bills because presumably, the bills are paid to Treasures, not to the managers."
---
Authorities tried to close club linked to drugs and trafficking
City authorities tried to shut down the notorious strip club where Mr O'Neill claims to have been cheated and beaten.
The two-storey venue claims to be the biggest strip club in Texas, making multi million pound profits, including £3.3 million in just one year, but was branded a "public nuisance" by authorities.
However, seven years ago, Houston and Harris County officials filed a lawsuit alleging Treasures was involved in drugs, prostitution and people trafficking including the transportation of dancers from Las Vegas to Texas.
"The evidence of human trafficking makes this place especially abhorrent," said City Attorney David Feldman at the time. "Law enforcement efforts alone have not stopped the habitual criminal activity occurring there."
County Attorney Vince Ryan said: "When a place allows criminal acts to continue, criminals keep coming back. You must take away the habitat to fix the problem."
The lawsuit went on to claim: "Treasures allows pimps to traffic their women inside Treasures.
"And through force, fraud or coercion, pimps cause these women to engage in prostitution. Treasures knowingly receives a benefit from participating in the prostitution trafficking venture."
Treasures and other Houston clubs eventually made a £80,000 settlement agreement with authorities to fund police investigations into trafficking and faced extra scrutiny from officials including threats over alcohol licences and being forced to cover girls up.
Anti-trafficking campaigners claim settlement cash is "blood money" which allows city and county officials to turn a blind eye to what goes on in the clubs,
The city is home to one of the largest concentrations of strip clubs in the US, with more than 100 believed to be operating at varying levels of legality. Sales of spirits, beer and wine sales at the 16 clubs totalled nearly $25 million in 2012.
---
Victim's claim of club rip-off mirrors plot to J-Lo movie
Wesley O'Neill's claims of being ripped off at Treasures mirrors the plot of a new movie starring Jennifer Lopez.
Hustlers tells the story of a group of exotic dancers who steal money from rich Wall Street workers after drugging them and charging their credit cards.
The hit film is based on a 2015 New York Magazine article "The Hustlers at Scores" which told the true story of a group of strippers in the Big Apple.
They were making up to $100,000 a night and spending it on a lavish lifestyle.
Lopez's character is based on Samantha Barbash, one of the ringleaders of the gang, featured in the magazine article.
The 50-year-old plays dancer Ramona Vega, alongside Constance Wu as lead character, Destiny. Rapper Cardi B also stars.
However cracks appear to show as Destiny feels she can no longer justify the crimes. Barbash praised Lopez but criticised some scenes in the film, saying: "I was impressed with Jennifer. She was incredible. Her body looked incredible. She had it down to a T, but it wasn't factual."
The real-life gang were eventually charged with forgery, conspiracy, grand larceny and assault, which all of the women pleaded guilty to.
Two of them served weekends in jail for four months plus five weeks' probation. Barbash and another woman escaped jail altogether.