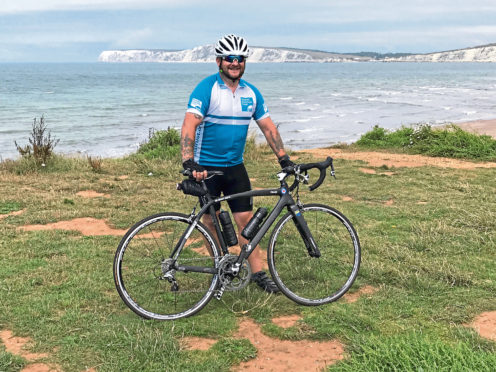 Serisl challenge champ Kenny Smith is taking on his biggest task to date.
The charity fundraiser is cycling more than 2,600 miles around Britain, solo and unsupported.
And as if that's not enough of a challenge, he aims to complete his marathon stint in the saddle in Chichester on July 31, just 50 days after he set off from the West Sussex town.
The significance is that this would have been his big sister Kathleen's 50th birthday.
"That's an emotional day in store, I think," says Kenny, 48.
"Kathleen was young to be diagnosed with MS, just 21. This was 1994 and back then it was usually middle-aged people getting diagnosed.
"It affects females more and now there are girls as young as 13 being diagnosed. It's a lot more common than we realised, to be honest.
"It's cruel. You can basically become a prisoner in your own body but Kathleen never let it get her down.
"She was a strong character and enjoyed life as much as she could and obviously that's been my inspiration.
"But, unfortunately, the only way you'll ever be rid of MS is when it kills you at the end of the day and it's nearly five years ago since we lost her.
"Since then I've really upped my game and taken on a lot more challenges and we've raised over 300 grand now. I'd like to get to the half-million mark before the knees give up!"
Kenny reckons this is his biggest challenge yet, saying: "I've done 10 London Marathons, I've climbed Kilimanjaro and up to Everest Base Camp, I've trekked through the Sahara, the Grand Canyon and up to Machu Pichu.
"But this one's taken two and a half years of planning and being away for 50 days makes it that much tougher as well, although the wonders of modern technology help with WhatsApp and Facetime.
"I've got three daughters and a granddaughter. I'm outnumbered. Even when we had a dog she was a girl!"
Kenny's also skydived and run cake stalls to raise money for the MS Trust, as he says: "It doesn't matter what you're doing, as long as you're doing something.
"Even sitting in a bath full of baked beans, you're making a difference and that's the main thing.
"This is going very well. It's better when the sun's out, for my first week in Scotland I had two dry days and only one sunny one!"
But surely the worst part's over – looking at the map it's all downhill from Inverness?
"So everyone says! I think the hardest bit's behind me. The A9 up to Inverness is a horrible, horrible road but other than that it's all been plain sailing.
"Going through Glencoe was the worst. It was absolutely chucking it down all the way through and I had a head-on wind. My mum and dad kept saying to me, 'There are some lovely views in Glencoe, you'll love it' but I couldn't see a thing.
"There was nowhere I was dreading but I always said to my wife that once I got day nine out of the way, I'd be happy because Cornwall is quite hilly.
"Scotland has long hills but they're a lot easier to get up but Cornwall's are just like walls, you just come to a standstill – there was one point my satnav actually paused because it thought I'd stopped, I was going that slowly!
"In the Lake District, I cycled up Honister Pass – which meant most of the time out of the saddle, it's that steep – and stayed in a mate's camper van near Coniston Water.
"I got off the bike and just jumped straight in and it was absolutely gorgeous – just the best thing ever for my legs."
Looking at the map of his route, I'm amazed Kenny's missing out East Anglia. Surely that's the flattest bit of the country?
"Because I'm doing it over 50 days I had to come inland a bit, and there were places I wanted to go.
"I cut out that bit because I wanted to go to Letchworth which is the home of the MS Trust and I wanted to pop in."
As for riding solo, he admits: "It's quite funny. I find myself having conversations with the sheep and cows as I go past!
"And, obviously, when I get to my accommodation in the evening it's quite nice to actually speak to another human."
Kenny's obviously a fit chap but he admits: "I try to keep fit but I do love a beer, and the truth is I haven't had one since New Year's Eve.
"The number of people that have said to me, 'I bet you're looking forward to that first pint when you cross the line.'
"But I reply, 'I'm actually looking forward to the second pint because the first one I'm not even going to taste. It'll go straight down!'."
From everything he's done and his no-nonsense attitude to a challenge, I guessed Kenny has a forces background but he says: "You're not the first to think that. I wanted to go into the Paras but unfortunately I couldn't join up because I'm asthmatic.
"I'm a traditional carpenter and joiner. I run my own business but I just love a good challenge and I like to keep the body guessing what's coming next!"
---
To find out more about Kenny's challenge, and how you can support it, visit https://uk.virginmoneygiving.com/kennysmith or www.mstrust.org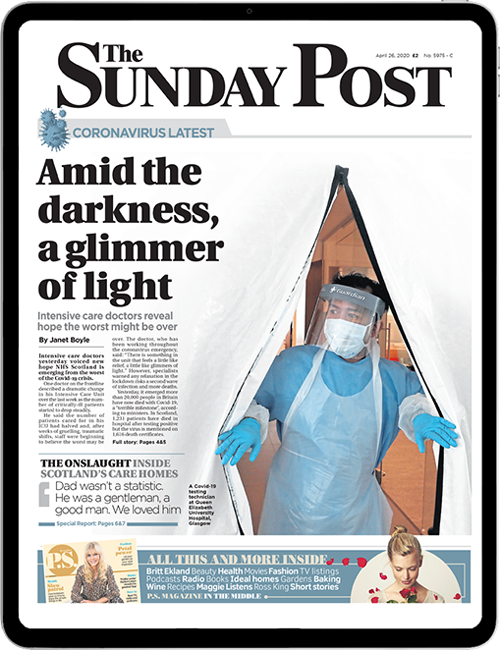 Enjoy the convenience of having The Sunday Post delivered as a digital ePaper straight to your smartphone, tablet or computer.
Subscribe for only £5.49 a month and enjoy all the benefits of the printed paper as a digital replica.
Subscribe