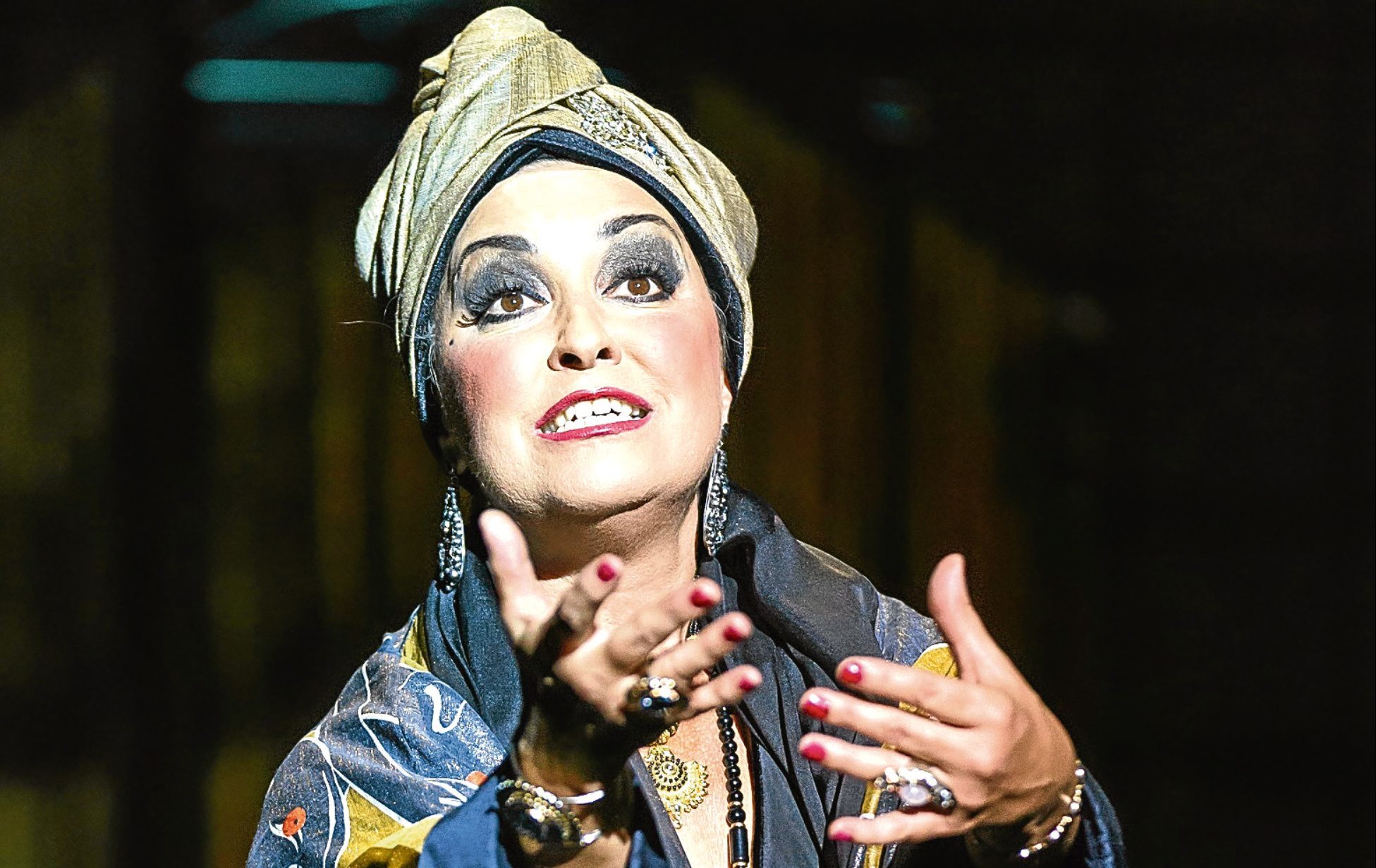 RIA JONES sat in her dressing room and took a deep breath.
She turned off the tannoy so she didn't hear the announcement confirming Hollywood star Glenn Close would not be performing that night.
But she could still hear the audience's reaction, one man shouting he wanted his money back, the annoyed and disappointed grumblings of others.
As Glenn's understudy, Ria would soon have to step out on stage at the London Coliseum and perform as Norma Desmond in Sunset Boulevard.
What happened next is the stuff of fairytales.
"I was nervous and knew I would be met with disgruntled faces," said Ria.
"I understand if you have paid a lot of money to see a specific star and they don't perform you'll be disappointed, but I knew the show was wonderful and I just wanted to go out there and do my job.
"I felt a sense of the underdog and it made me want to prove to myself and other people that I could do it.
"I had done my homework, and after the first song the whole theatre just went crazy. That was a very emotional moment for me."
Her performance was a triumph and she received several standing ovations. She performed the next three evenings to a similar reaction.
Having been a musical theatre performer for more than 30 years at that point, Welsh singer Ria thought long and hard before taking on the understudy role for the five-week run.
"My friends said it would be like going backwards. But it's not every day you get to see a Hollywood A-lister work up close. I felt I could learn from it.
"I loved every day, going into rehearsals and watching the process. I thought, 'if I get on it will be the cherry on top, but if not I'll still come away feeling fulfilled'.
"I don't think I would have taken the role of understudy for anyone other than someone of Glenn's stature."
The production was so high profile thanks to Glenn's involvement and Ria saw the benefits. "Those four shows changed my career path and I was in the right place at the right time," she smiled.
"All eyes were on the Coliseum due to Glenn's involvement, so it catapulted me into the public eye.
"I've had more publicity in the past 18 months than the previous 33 years!
"It led to me doing three months in Paris doing 42nd Street and now the current UK tour of Sunset Boulevard, again playing Norma."
Born in Swansea to parents who were both singers, Ria aspired to be a Welsh teacher. But when she was paid for her first summer season at 15, she realised singing would be a viable career path.
She performed in social clubs in order to gain her equity card and then joined the touring production of Joseph And His Amazing Technicolor Dreamcoat 34 years ago, aged just 16.
Ria auditioned for Evita at 18 and became the youngest actress to play Eva Peron at 19.
It seems apt she is finally playing Norma in Sunset Boulevard, having helped create the role for Andrew Lloyd Webber in a workshop at his home in 1991.
"He would invite people round and he asked me to play Norma," Ria explained. "It was a great experience to be there from the beginning, sitting next to Andrew at the piano as he wrote some of the songs.
"I was only 24, too young for the role, but I joked to him that one day I might get to do the revival. Andrew sent me a lovely message from New York after the Coliseum shows, saying he was thrilled that the original Norma was now playing her."
As she prepares to come to Edinburgh with the show, Ria has never been happier after a breast cancer diagnosis four years ago made her re-evaluate her life.
"It did me a favour, to be honest," she added. "I was taking life for granted, moaning about the silliest things, but being told I had cancer made me decide to live and do all the things I wanted to do. It really changed my outlook.
"I'm glad to be out the other side but I remain grateful every day.
"I'm still getting to do what I want to do."
Sunset Boulevard, Edinburgh Playhouse, Tues-Sat, His Majesty's, Aberdeen, Nov 6-11