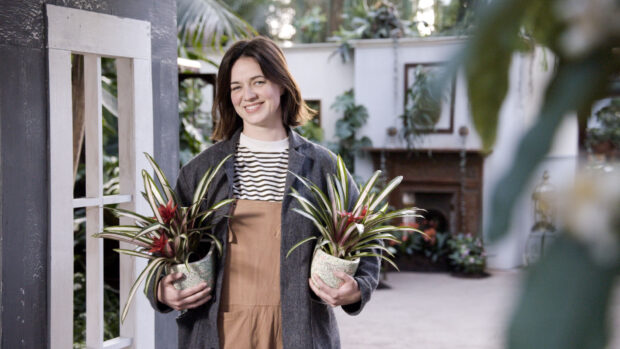 With the world finally opening up again, greenfingered Scots might be feeling guilty their garden is not getting the same love and affection as last year but, according to the experts, they shouldn't.
A passionate and dedicated group of gardeners and nature conservationists increasingly believe gardens should be encouraged to embrace their wild sides.
Rewilding is a new horticultural movement that is encouraging people to re-centre nature at the heart of their gardens, and to allow wildlife and even weeds into their outdoor spaces to help ecosystems thrive and grow.
For those of us who are used to keeping our lawns neat and tidy, however, it can feel against our own nature to turn off the lawnmower and put down the garden shears.
"I think it's a human instinct to try to control our environment," said Frances Tophill, Gardeners' World presenter and author of the book Rewild Your Garden.
"We have this huge tradition of weeding and keeping everything tidy and it's partly for our own protection but a lot of the time people feel the pressure to do it and we don't always question why.
"It pays to stop and think, 'why am I doing this? Do I need to do this, or am I doing it because my neighbour, who's been gardening for 50 years, told me I should?' And if that's the answer, then maybe try doing it your own way and rethinking it because nature doesn't need to be controlled. Maybe we should just throw out the rulebook sometimes."
Over the last 100 years, the UK has seen a significant loss of its wildlife habitats. Farms have become more streamlined and efficient with the use of powerful fertilisers and pesticides that skyrocket food production but lay waste to wildlife populations, especially those that historically lived on the edges of fields or amongst cereal crops.
Housing and road expansions have uprooted delicate ecosystems and increased pollution, which when combined with that from factories and cars can potentially change an area's soil chemistry and leave whatever is left for wildlife inhospitable anyway.
Even if it is the morally sound thing to do, however, you might be put off the idea of rewilding because you like your outdoor space the way it is, or don't want to be the talk of your street for letting your grass grow too long or hedges too high.
But your garden can be both a safe haven for your local ecosystem and a lovely space for you and your family to enjoy, said Tophill, as long as you have a plan. "Anything can look neat as long as it's in a really well thought out space," she said. "I visited a lovely guy's garden in Glasgow for Gardeners' World, a child minder by profession, and he would educate the children about wildlife.
"His whole garden was built to support wildlife and he had these beautifully structured insect houses that were made from porous materials with a really bold, really beautiful design. It contained all the wildness but still looked intentional."
Another simple thing you can do is throw out everything you thought you knew about weeds. "They have a bad reputation and I don't know why," said Tophill. "People will say 'I want poppies in the garden' and call them flowers, and yet don't recognise that other wildflowers, like buttercups, are just the same."
She recalled a time when a man with an allotment near her own plot advised her to remove some ragwort, because it's poisonous to horses. Tophill countered: "It's also the host species for the cinnabar moth and is the only plant that they can live on.
"I showed him that there were around 100 cinnabar caterpillars on the ragwort and he was like, 'wow, that's amazing!'
"The next time I came in, there was a group of about five old men and he was showing them the ragwort caterpillars, and then they were all letting the ragwort grow on their plots too.
"It's about education and getting to know your weeds, which ones you really don't want, and which ones are actually really beneficial and just keeping them under control."
If you think your garden is too small to be rewilded, or don't have a garden at all, there's still plenty you can do to join in, said Tophill, adding: "A wild area doesn't need to be a woodland or a meadow – it can be a little forgotten corner behind a bin.
"Even someone with the tiniest outdoor space can provide a bit of water because it's a massively important part of the life cycles of many, many animals but also gives foxes and mice and even wasps and bees somewhere to drink from, as well as somewhere for birds to bathe in.
"I've also seen people create 'living walls', putting shelves up and filling them with bamboo tubes, rocks, pinecones, bits of wood and even bottles and glass. It can make a really rich habitat and look stylish too."
Tophill believes the reason the rewilding movement is now growing so strongly is because people genuinely care about their environments and the creatures, big and small, that live within it.
"There's an awareness that wildlife is really struggling. We're all doing everything that we can, and if people are lucky enough to have a garden space it's one area that can be an active place of regeneration."
Alistair Whyte, head of Plantlife Scotland, a nature conservation charity that aims to conserve and restore wild plants across the country, said small changes could have a huge impact.
He said: "Gardens are, or can be, one of the last refuges for some of our species. If we manage them properly, gardens can become hugely important because of the catastrophic decline in habitat happening in the wider countryside."
He went down a simpler route by merely allowing a portion of grass on his lawn grow uninterrupted.
"It's really exciting to see what comes up and I think it can be quite fun," said Whyte. "I've sat back and watched all these different species pop up like wildfire."
Wild gardens don't need to be an eyesore
Despite working outdoors as a conservationist and wildlife rehabilitator, author Polly Pullar was initially apprehensive about handing her garden back over to nature.
"I'm a really tidy person, so it goes against the grain with me to leave my garden looking completely overgrown. But then I realised that when you don't mow and you don't strim, you end up with all these fantastic wildflowers."
Polly set to work to transform her outdoor space into a haven for small creatures and plants that depend on the humble garden to survive, and even wrote a book about her process called MeWilding.
She said: "We can all contribute to helping nature – without nature, we're nothing basically."
Polly created her own wildflower meadow by cutting her lawn very low in autumn and planting yellow rattle to weaken dominant grasses, allowing the wildflower mix she scattered to grow strong and create much-needed pollen for pollinators like bees.
She dug small garden ponds that attracted a plethora of wildlife, making sure to strategically place some rocks in case a clumsy hedgehog fell in so that it could easily climb back out. She stopped burning old logs and leaves, instead creating habitat piles where insects could live and toads could hibernate.
"You can make it tidy so that it looks like you've done it on purpose, it doesn't have to be an eyesore," said Polly. There's always more work to do, but Polly said that it's been very rewarding to see nature find a home in her garden.
"I love it when I stumble across a wild bee." And there are other benefits. She said: "I have a friend who cuts his garden to the bare bone and when there's a drought, his lawn is brown – but ours is still beautifully green."
---
Gardens are now arks for all the wildlife that has been driven to the very brink of extinction

– Agnes Stevenson, Sunday Post gardening expert
A couple of years ago, if you showed visitors to your garden a patch of nettles or long grass, they would have sucked air through their teeth and been forthcoming with all kinds of advice on chemical remedies to rid you of the problem.
How things have changed. Today it is striped lawns and moss-free patios that provoke approbation while Scottish seed company Scotia Seeds sells packets of kidney vetch, melancholy thistle and other hedgerow natives that would once have been dismissed as weeds.
If our wild landscape was not in peril then there would be no need to invite it into our gardens, but it is and so our plots have become arks for all those things that in nature have been driven to the brink of extinction by climate change, over-development and agricultural policies that have ignored the vital role that farmers must play as custodians of our landscapes.
Maybe one day we will be able to return to growing flowers so over-bred that they have no benefit to pollinators, or we will enjoy the freedom to lay decking without thinking twice about the habitat lost beneath its wooden boards. But for now we are in the midst of an ecological crisis and so our gardens, however cramped, have become the 21st-Century equivalent of that flotilla of little boats that plucked survivors off the beaches of Normandy.
If we put our minds to it, gardeners can rescue our threatened flowers, insects, birds and animals, and ultimately even our planet, one tiny species at a time.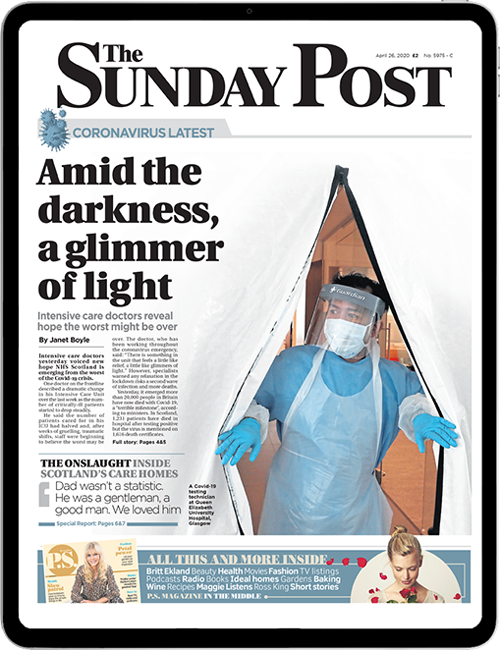 Enjoy the convenience of having The Sunday Post delivered as a digital ePaper straight to your smartphone, tablet or computer.
Subscribe for only £5.49 a month and enjoy all the benefits of the printed paper as a digital replica.
Subscribe