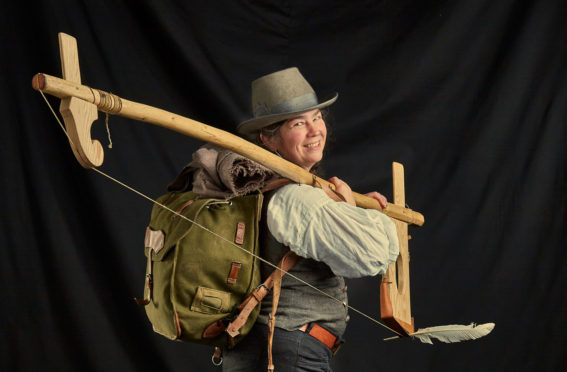 Rachel Frost, 45, traditional felt hat-maker, Selkirk
To the best of my knowledge, I'm the only person in Europe who handcrafts traditional felt hats in this way.
In the 16th Century, Britain was home to the best felt-makers in the world but hand-felting fell into obscurity after the process was mechanised during the Industrial Revolution. Now this ancient tradition is nearly extinct around the world.
I come from a family of artists so I was brought up in a very creative environment and was always interested in traditional crafts. I studied model animation at Edinburgh College of Art but after graduating I started working with felt and experimented with hat-making. I saw these exquisite, 400-year-old felt hats in museums and couldn't believe they were handmade, so I decided to learn how to make one myself.
My first attempt was over 20 years ago. It was terrible. I went out into the fields near where I live in the Scottish Borders to gather sheep's wool that had caught on fences and used very basic instructions I found in a book. I made a very crude felt hat. But it sparked an interest that turned into a unique career.
I found a niche demand for felt hats made using traditional materials, tools and processes. Now, through my business, The Crafty Beggars, I create bespoke, hand-felted historic hats for the heritage industry, re-enactors, museums, theatres and film companies.
My hats have been worn by actors in Twelfth Night on Broadway, on historical TV programmes such as Tudor Monastery Farm and Time Crashers, by TV historian and presenter Ruth Goodman, and gone on display in the V&A.
I never had anyone to learn from, so I taught myself by studying original references in manuscripts and learned by experimenting.
I would never call myself a milliner because I don't use any modern methods or materials. I've made all the tools I use myself. The one I'm pictured with here is a bow carder. It's integral to the whole process, as it turns sheep's wool into the loose fibres you need to make felt. I made a copy based on ones I'd seen in museums and taught myself how to use it.
The bow carder is hung horizontally over wool laid out on a table. It has a gut string running along it. When plucked, it vibrates like a guitar string and that vibration opens up the fibres in sheep's wool and forces them to separate. Eventually, a dense pile of wool is turned into a fluffy cloud of fibres that are randomly mixed together.
To make felt, I press the fibres on to a hot plate or mould and agitate them with my hands until they tangle and fuse together. Once matted, animal fibres are very hard to untangle (imagine how hard it is to get a knot out of your hair) so, the more they are rubbed together, the denser the material becomes until it becomes felt.
Once I have a loose sheet of felt, I fold it like an envelope around a template to create a cone, felt it further and then shape it into different styles. Making one hat can take from two days to two weeks.
Even though the craft has been extinct in Britain for a long time, I've found it is still practised in a handful of countries around the world. But the people making felt hats this way are the last to do so, and the tradition is dying with them.
Most of my recent knowledge comes from a master hatter from Hungary. I never got to meet him – he died three years ago – but I did visit his workshop. I was in contact with another in Austria but he refused to share his knowledge and passed away last year.
I finally managed to track down the last traditional felt hat-maker in Mexico, 78-year-old Lucino Martinez. He's from the town of Miahuatlan where, at one point, they had many craftsmen making hand-felted hats but now he's the last.
I'm going over there to learn from him this week. He will be the first person I've met that uses this technique. I'll travel with a translator and photographer to document and preserve the memory of his work.
I'm very lucky because most master craftsmen are secretive and guarded about their knowledge. I will definitely pass on what I know one day but I keep putting it off because I feel like I'm constantly learning.
There's a growing interest in heritage crafts and my customer base has grown over time. I'm now planning to branch into fashion. I'll stay true to the original techniques and materials but will experiment with my own designs.
I've spent over 20 years learning this craft. Now it's time to be more creative with it.
As told to Laura Smith