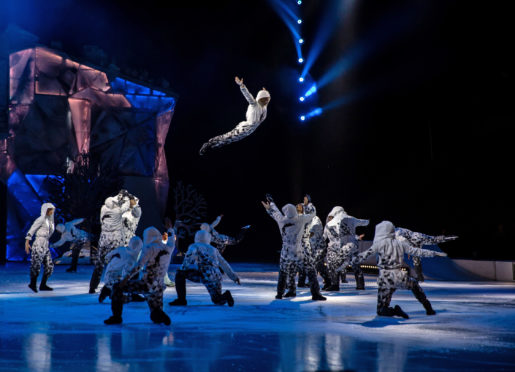 Soaring through the air with a succession of skilfully manoeuvred backflips, leaps and vaults, Cirque du Soleil performers seem to have the power to defy gravity — a handy skill when you're suspended 30 feet above a slick sheet of ice.
You see, when the iconic circus show arrived in Glasgow this week, the awe-inspiring acrobats added a new element of danger to their routine by taking their performance to the ice for the first time, swapping shoes for skates and making audiences gasp even more than usual.
Having previously enjoyed a Cirque show while in Las Vegas, I had high hopes for this new iteration, which sees circus arts blended with figure skating. And from the moment I sat in my seat at the Braehead Arena, CRYSTAL did not disappoint.
Telling the story of a young woman who falls through the ice into an upside-down world, the show begins with beautiful figure skating and quickly descends into a surreal, strange world of hooded gangs, over-sized playgrounds, gliding office workers carrying suitcases, and even a human pinball machine. Cirque are known for their off-the-wall sets and whimsical themes, so at points it does feel as if you're trapped inside a fast-moving fever dream.
Each act is utterly captivating, not only because the storyline, live orchestral music, light projections, and brightly coloured costumes combine to make a feast for the senses, but because the sheer artistry of the performers is astounding. With each jump and move, it was hard to ignore the exclamations (sometimes laughter, often cries of relief) from the audience.
Every few seconds my hand flew nervously to my mouth as I waited for the performers to nail their landing — it's nerve-wracking enough to watch someone navigate a slippery pond of ice, but even worse when they're also climbing poles and jumping over obstacles without a harness.
Without doubt, the most memorable part of the show came towards the end, when only two performers remained on the stage. Hanging only from scarlet ribbons, a male acrobat swooped and swung in the air before picking up the lead female skater, suspending both their bodies through strength alone.
Following closely behind, my adrenaline went through the roof as one acrobat climbed a tower of chairs, unsupported, before balancing upside down with a handstand more than 40 feet in the air. There was a lump in my throat and a chill on my spine until I saw both his feet step safely back onto the ice.
Lasting more than two hours, the show really is a treat for the whole family (kids will love the jugglers and slapstick physical comedy), and even a small delay for some technical difficulties didn't hamper our enjoyment.
But a word of warning — if you head along to their next performance, get ready to sit on the edge of your seat.
---
Cirque du Soleil CRYSTAL is at the Braehead Arena in Glasgow until March 15. Tickets for all UK arena shows are on sale now from www.cirquedusoleil.com/crystal or www.livenation.co.uk