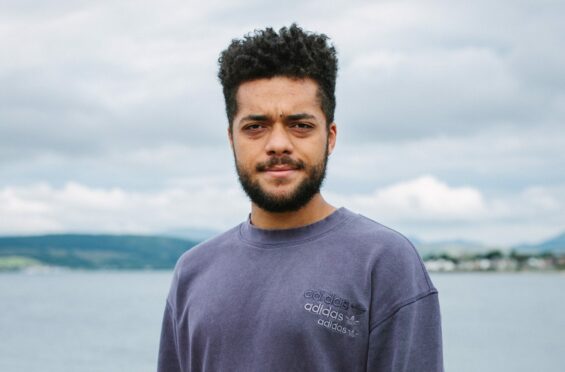 His name is inscribed on a brass plaque on the dressing-room door, but even as he runs his fingers over the letters the accomplishment does not feel real.
Reuben Joseph looks at his name shining back at him, catches a glimpse of his reflected face, and feels a shiver run up his spine. As the Helensburgh actor settles down in his dressing-room chair, he tries to find the words to describe his first week of playing the lead role in one of the world's biggest musicals in one of the West End's most prestigious theatres.
The 25-year-old has joined the cast of Broadway phenomenon Hamilton as the founding father of America, Alexander Hamilton. It is one of theatre's most-sought-after jobs and it belongs to him.
"The first week has been amazing but it has also been the most full-on week of my life. I don't think I can articulate what it means to me, because I've been in love with the show for five years," he said.
Joseph has been here, at the Victoria Palace Theatre, before. It was June 2017 and he was a second-year drama student at Langside College in Glasgow. He had been tipped off about an open casting call for the debut West End production of Hamilton and sent in a tape. It won him an audition for the company's swings and standbys group.
"It was my first time auditioning for a professional production and they could sense I was nervous in some areas and that I wasn't used to this level of auditioning, but they were incredibly encouraging and kind with their time," he recalled. "They even paid my travel for those first few auditions."
He made it all the way to the final round of auditions but ultimately was told it was too soon for him. "I was gutted at the time but I didn't think it was too bad getting that far and they clearly remembered me, because years later I got to come back and audition for the lead role. There's a gorgeous arc there."
The intervening five years saw Joseph pick up a wealth of experience with shows like Midsummer and The Cheviot, The Stag And The Black, Black Oil with the National Theatre of Scotland, and TV roles in Vigil and Traces. It was while he was appearing in The Tragedy Of Macbeth at the Almeida Theatre in London that he was approached to audition for the Alexander Hamilton role.
"I had to think about it at first because I had made peace with not getting in the first time but people around me told me not to be an idiot – this was a show I'd loved for all this time. So, on this occasion, I had the mindset of it'll either happen or it won't; there was no point humming and hawing over each step of how it went. In retrospect, I think that's the self-assuredness you need going for the Hamilton role and I hadn't had that attitude the first time.
"I auditioned in October and had three rounds of going in and doing different songs until December when it was sent off to the American casting team. I was told Lin-Manuel Miranda (creator and original star) had watched the tapes and liked it, so it just had to go through the final stage of Cameron Mackintosh for approval.
"When I went back for the last in-person audition, it wasn't perfect – I had to start a song again. But I feel I had left a wee part of myself in that room in 2017. So, when I went back in, I picked up where I had left behind, and I knew it was the best I had to give on that day, and whatever would be would be."
His thoughts drifted back to when he was first invited to audition in 2017.
"I had just arrived in New York for my first trip there. The first thing I did when I got to Penn Station was go straight to Rodgers Theatre and took a picture of the Hamilton sign. By the time I got to where I was staying and connected to the wifi, I had an email from Hamilton in London saying they would like to see me for an audition the following week. I had to come home early, which I wouldn't have been able to do without the support of my uncle and family, who sorted me out with flights. Thank goodness they did because, even though it didn't pay off then, it has now. Who knows if I would be where I am now were it not for that."
Hamilton: An American Musical was created by Miranda after he read Ron Chernow's 2004 biography of Alexander Hamilton. Casting non-white actors as the founding fathers of the United States and other historical figures, and drawing heavily on hip-hop as well as traditional-style musical tunes, Miranda described the concept as being about America then, as told by America now.
It opened off-Broadway in February 2015 to near-universal acclaim, and transferred to Broadway in August of that year. It received a record-breaking 16 nominations at the Tony Awards, winning 11, including best musical, and received the Pulitzer Prize for drama in 2016.
Joseph's road to Hamilton began at school in Helensburgh a decade earlier. Watching his older sister, Florence, take part in school productions, he decided it looked like fun and joined in. He said: "People were complimentary and I knew it brought me a lot of joy. I felt I couldn't do anything else and I'm privileged to say I had the support of my family to give acting a try."
Joseph found out earlier this year, while he was on holiday, that he had earned the Hamilton role. He broke the news to his family on FaceTime, and his mum surprised him by turning up on opening night on June 21.
"I'd asked people not to come to opening night, because I'm always funny about openings. It should be the worst you'll ever do the show.
"I got more comfortable as rehearsals went on, though, and thought it might have been nice for someone to have been there, so it was a lovely surprise when my mum appeared at the stage door afterwards."
Immediately before Hamilton, Joseph had one of the lead roles in the National Theatre of Scotland's musical adaptation of Orphans, based on the Peter Mullan film. "I finished the run of Orphans in Inverness on the Saturday, then had until Friday to pack up my belongings in Glasgow and move to London on Friday, starting rehearsals on Monday," he said. "During the Orphans rehearsals I was getting London flat viewings over WhatsApp video calls, which was pretty mad, but I knew I had no time to go and physically see a flat.
"Life hasn't felt normal for quite a while now and it doesn't feel like I've stopped."
Joseph has been contracted to Hamilton for a year initially, and he intends to enjoy every moment of it. He performs in seven of the eight shows per weekly schedule, and is barely off stage during the show.
"In my opinion, no other part in musical theatre allows me to do what I get to do here. When theatre is working at its best, I feel it generates empathy for people you might not otherwise have possessed it for, and this show does a great job of that.
"So far, things are working out for me, but you can't rest on the assumption that things are going to be OK or they'll work out. You need to possess that same level of hunger you've always had, and hopefully I'll hang on to that no matter where I go."
Action on racism in schools is work in progress
Two years ago, as Black Lives Matters demonstrations swept the world in the wake of George Floyd's murder, Reuben Joseph and his siblings wrote an open letter to the Scottish Government calling for reform of what they called systemic racism in the country's education system.
Reuben, elder sibling Florence and younger sisters Madeleine and Juliet used their own memories at school to call on improved education on the black, Asian and ethnic minority experience, a more diverse teaching staff, and for learning materials written by people of colour.
"Racism is learned… it can be unlearned": Sibling campaigners lead calls to reform how race is tackled in Scotland's schools
More than 14,000 people, including teachers and parents, signed their petition, Reparations In Education: Addressing Race In Scottish Schools.
Then-education minister John Swinney later promised changes, but the Reuben siblings said at the time that his comments didn't go far enough. Two years on, Reuben considers the family's appeal to be a "work in progress".
He said: "We were keen to get the word out and we had great chats with teachers' unions in regard to how race is addressed in the curriculum and also of how racism is dealt with in the classroom, as that didn't have a specific way of being addressed. It fell under the banner of bullying, which it is, but it requires that extra attention and care. We also encouraged diversity across the teaching staff.
"In terms of where it's ended up, I underestimated how much it takes out of you and it was the first activism we've done – it was reacting to a very stressful time in the world. We've had some chats recently about how we think we can refocus this in ways that we feel well-versed, in order to spread the message. It's definitely still a work in progress."
Alexander Hamilton was 'proud of Scots ancestory'
It seems only fitting that Alexander Hamilton will be played by a Scot since he was the grandson of the laird of Grange in Stevenston, Ayrshire, and historians say he was proud of his Scottish heritage.
Hamilton fought in the American Revolutionary War and was an adviser to George Washington. When Washington was elected president in 1789, Hamilton became the first US Treasury secretary and created the financial system still in use today.
Michael E Newton, author of Alexander Hamilton: The Formative Years, said: "Hamilton was proud he descended from Scottish aristocracy. He was proud of his Scottish ancestry but he never explicitly wrote it."
Yale history professor Joanne Freeman said: "Hamilton was very aware of his Scottish heritage. He belonged to the St Andrew's Society in America."
Hamilton was active in ending the legality of the international slave trade. He died in 1804 following a duel with Vice President Aaron Burr, who was running for governor of New York State. Hamilton had been campaigning against him, stating he was unworthy.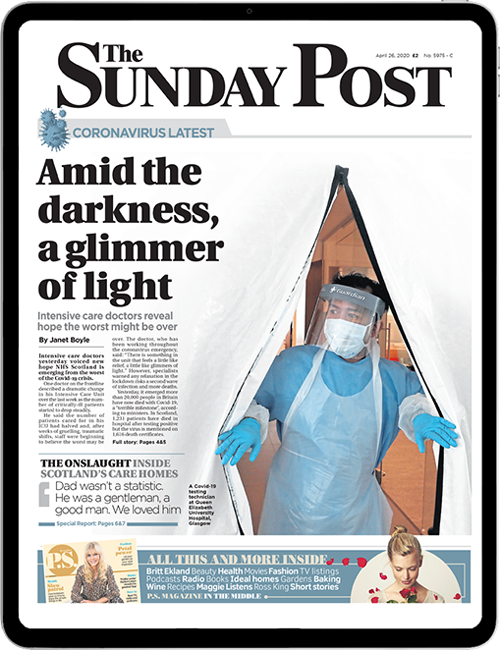 Enjoy the convenience of having The Sunday Post delivered as a digital ePaper straight to your smartphone, tablet or computer.
Subscribe for only £5.49 a month and enjoy all the benefits of the printed paper as a digital replica.
Subscribe