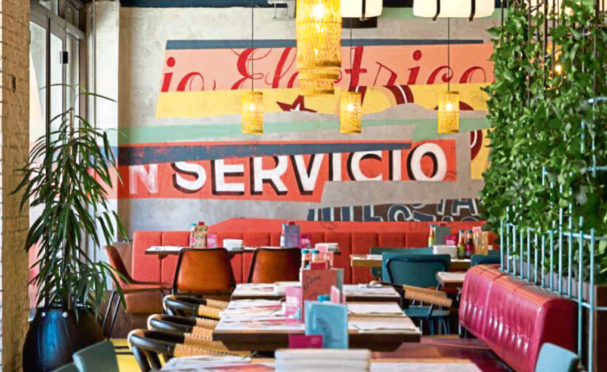 Wahaca was started by former Masterchef winner Thomasina Miers, and Mark Selby.
Both were at Edinburgh University in the late 1990s. It's now an award-winning chain.
---
Location
A short dander up from Princes St, very handy if you want to escape the tourist bustle of the capital.
First impressions
Walk into Wahaca and you'll be forgiven for thinking it's a Mexican cocktail bar. But behind this holding area lies a colourful jumble of a Mexican cantina. The walls have quite funky murals by artist Max Rippon, inspired by street signs and texts he saw in the Mexican city of Oaxaca. Which is pronounced, wait for it, Wahaca.
Service
Great on a very busy night. No booking, so you're given one of those pager things while you get wired into the margaritas. My companion is on a gluten-free diet, which prompts our waiter to fetch his boss to take the order. This could make you feel either awkward or special, depending on what sort of person you are.
Menu
In the '90s, tacos used to be served in hard corn shells and were stuffed with overseasoned chili con carne, but thankfully things have changed. The range of tacos here is plentiful – from buttermilk chicken to cactus and courgette. Both are lovely. We also order a Sonora salad, which comes with a corn and black bean salsa. Go on, be a diablo.
Taste
The highlight is the guacamole and chips. It's proper, freshly made guac with chunks of red onion and tomato, just the way it should be. And we both order fish tacos – which is a bit like a fish finger sandwich, albeit from south of the Rio Grande. Not bad at all, but we could have eaten more.
Ambience
It's Edinburgh, so there are plenty of tourists in baseball caps clutching shopping bags and maps of the Old Town. Bustling and busy.
Price
Not too shabby at £38 for a good feed and a couple of drinks.
Toilets
Clean and tidy.